Rep. Judy Chu Says Trump's 'China Virus' Rhetoric Undermined Anti-Asian Hate Crimes Legislation
As congressional leaders work to pass legislation that would establish systems for tracking and better addressing hate crimes in the U.S., California Congresswoman Judy Chu discussed the influence of Donald Trump's rhetoric on discrimination and violence targeting Asian American people.
Chu is one of several federal lawmakers who have noted that last week's deadly shootings in Atlanta were likely rooted in racism. Eight people, including women of Asian descent, were killed during the shootings, which came amid a nationwide spike in anti-Asian hate crimes that have persisted throughout the coronavirus pandemic.
"I do strongly believe that this is a hate crime," the Democratic congresswoman told ABC News' Martha Raddatz during a Sunday morning appearance on the network's This Week program.
Chu also spoke about the dual pieces of proposed legislation that congressional members are pushing forward, the COVID-19 Hate Crimes Act and the NO HATE Act, which would appoint a Department of Justice member to track U.S. hate crimes and amend reporting procedures, respectively.
The lawmaker acknowledged President Joe Biden's support for the former bill after referencing the ways in which Trump's racist rhetoric surrounding COVID-19's origins directly contradicted its goals.
"Let me say that we have been working for a year to try to get some action done against these anti-Asian hate crimes. But President Trump doubled down with his rhetoric about the 'China virus' and the 'Wuhan virus' and even 'Kung Flu,'" Chu said. "And it wasn't until President Biden came and issued that executive memorandum saying that the Asian community should be able to meet with the Department of Justice to provide solutions to these anti-Asian hate crimes that we were able to actually move forward. And in fact, we had that meeting with the Department of Justice last week."
Newsweek contacted Trump's office for comment.
Other lawmakers underscored the gravity of last week's Atlanta shootings, in the context of increasing hate crimes against Asian Americans, in separate televised appearances over the weekend.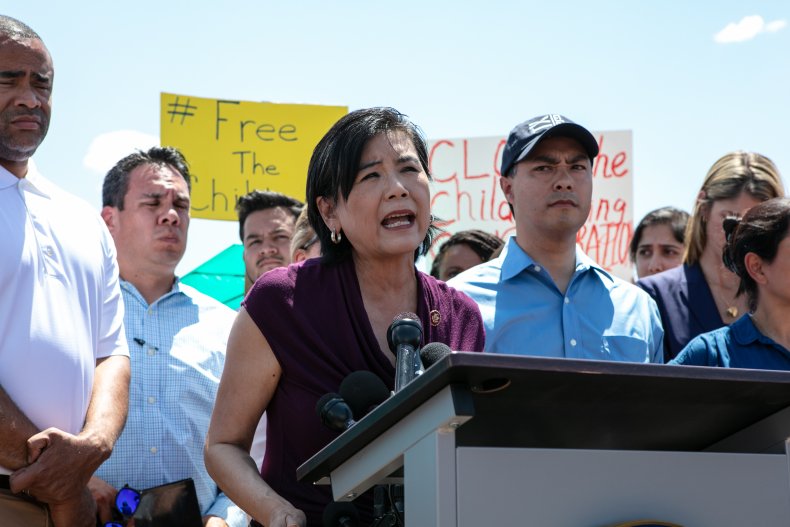 California Republican Reps. Michelle Steel and Young Kim, two of the first three Korean American women elected to Congress—the third, Washington Democratic Rep. Marilyn Strickland, began her debut congressional term alongside Steele and Kim this year—shared their personal experiences with racism during a prerecorded segment that aired as part of CNN's State of the Union Sunday.
Illinois Senator Tammy Duckworth, a cosponsor of the COVID-19 Hate Crimes Act, reiterated calls for a "deeper investigation" into whether the shootings were racially motivated in comments to CBS News' Margaret Brennan on Face the Nation.
"It looks racially motivated to me, but I'm not a police officer. I'm not investigating the crimes," Duckworth said. "What I have done, though, is I have actually sent a letter to [FBI Director Christopher Wray] and to [U.S. Attorney General Merrick Garland] asking for a deeper investigation into crimes that involve Asian Americans, to see how many crimes have actually been underreported as hate crimes."
The senator cited data that shows a documented 150 percent increase in hate crimes targeting Asian Americans in major cities over the past year, but recognized the figure probably does not reflect the true incidence.
"We also know that many of these crimes go underreported as hate crimes and are just classified as a mugging, or harassment, or vandalism, when really they were targeted at Asian Americans and Pacific Islanders in particular," Duckworth finished.
Updated at 4:54 p.m., ET.