Representative Kim Schrier panned fellow House member Madison Cawthorn on Sunday over his "absurd" comparison of mask mandates to child abuse.
Cawthorn, a North Carolina Republican, attended a Buncombe School board meeting Thursday evening, where he berated members of the board for passing a mask mandate for students. "You have sacrificed the social, emotional, and psychological development of our children on the altar of wokeness," he said, "forcing our children to wear masks is nothing short of psychological child abuse."
Schrier, a Washington Democrat who worked as a pediatrician before running for office, disputed Cawthorn's comments during an appearance on MSNBC.
"What he said was absolutely absurd," Schrier said. "He's not following the science and putting people in his district and across the country who are listening to him at high risk."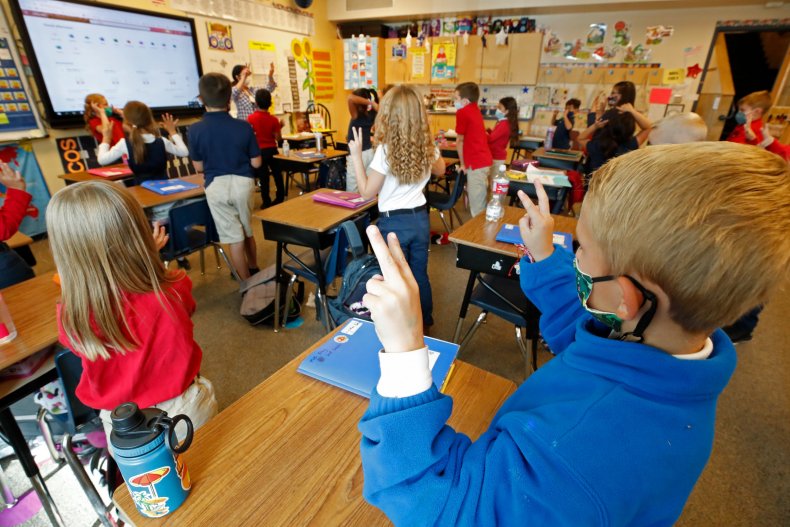 "With regard to the social and emotional health of children, Madison Cawthorn, though closer to a child's age than I am, really does not have any perspective on this," she added. "The reality is that kids need to be in school. What is damaging to their psyche, to their social and emotional development is not being able to be around children because schools are closed. The masks are not a problem."
Several states have reinforced face mask mandates for their schools as the highly virulent Delta variant continues to drive up COVID-19 cases and hospitalizations across the country. New Jersey Governor Phil Murphy reversed his position Friday and ordered students in K-12 schools to wear masks when the academic year starts in September.
California has ordered students to wear face masks on school property, and Colorado has gone even further, mandating face masks for all students and teachers regardless of an individual's vaccination status.
The Centers for Disease Control and Prevention (CDC) updated its face mask recommendation last week to advise mask use for teachers, students and other staff members in schools, a reversal from its advice in July. The shift led to Washington state, Virginia, Illinois, Wisconsin and Washington D.C. requiring face masks for its students.
Numerous school districts in states that don't require masks, including Pennsylvania, North Carolina, Alabama, Georgia, Idaho, Maryland, Florida and New York, have implemented their own mask mandates.
Arkansas Governor Asa Hutchinson said Sunday that he regrets banning school face mask mandates and has changed his decision in the face of rising COVID-19 cases.
"Facts change and leaders have to adjust the new facts that you have and the reality of what you have to deal with. When I signed that law, our cases were low, we were hoping that the whole thing was gone in terms of the virus but it roared back with the Delta variant," the Republican governor said on CNN's Face the Nation.