Rep. Stefanik Calls on Cuomo to Resign, Says Others Complicit in Alleged Harassment if They Don't
Representative Elise Stefanik of New York called upon Governor Andrew Cuomo to resign after his former aide Lindsey Boylan accused him of repeated sexual harassment in a Medium post published Wednesday.
Cuomo's press secretary denied the allegations later in the day, saying they were "quite simply false" in a statement shared with Newsweek.
Stefanik, a Republican representing New York's 21st District in Congress, said other elected officials should join her in calling for the Democratic governor's resignation. She added that those who do not will be "complicit in allowing a sexual predator to continue leading the great state of New York."
"Governor Cuomo has earned his title as Worst Governor in America, and now every New Yorker knows that he is a criminal sexual predator," Stefanik's statement began. "On December 14th, I was one of the first and one of the only elected officials in New York State to call for an investigation into Governor Cuomo's sexual harassment of Ms. Boylan. It is an inexcusable disgrace that almost every other elected official in New York State quietly brushed this serious and credible allegation under the rug."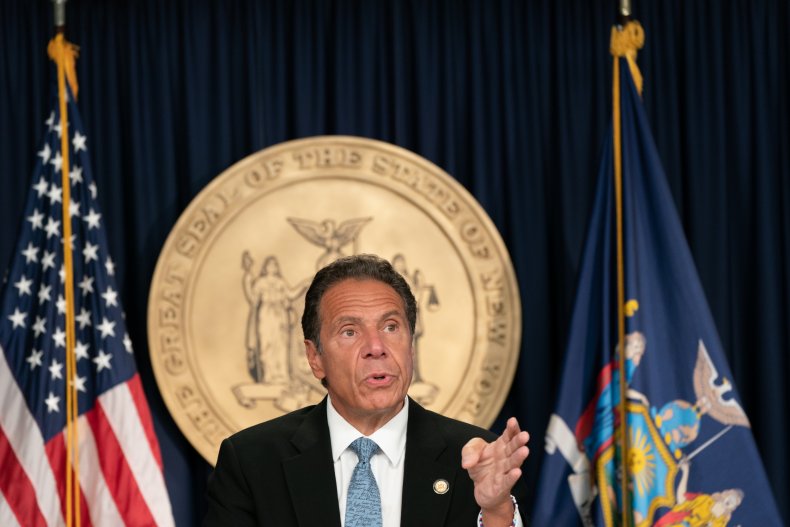 Stefanik continued, "Sadly, much of the media in the state either ignored this matter or chose to report the sexiest character and professional smears of Ms. Boylan by Governor Cuomo's taxpayer-funded staff."
She added that "sexual harassment and sexual abuse in the workplace is not a political issue, it is about right and wrong" and said the governor must immediately resign.
"And any elected official who does not immediately call for his resignation is complicit in allowing a sexual predator to continue leading the great state of New York," Stefanik's statement concluded.
Before Boylan's allegations on Wednesday, Cuomo was already facing extensive criticism on another issue: the state's reporting of COVID-19 deaths in nursing homes. Several Democrats in the Legislature broke with the governor earlier this month to join Republicans in calling for a repeal of his expanded pandemic emergency powers. He is also facing a potential censure vote in connection with his handling of nursing home data during the pandemic. Stefanik is among those who have repeatedly called for investigations into the Cuomo administration regarding its reporting of COVID-19 nursing home deaths.
As Stefanik mentioned in her Wednesday statement, she called for an investigation into Cuomo in December—one day after Boylan went public on Twitter with her allegations about the governor.
"I am publicly calling for an independent investigation into the serious allegations of pervasive workplace sexual harassment & verbal abuse by Governor Andrew Cuomo," Stefanik tweeted on December 14. "The people of New York deserve a Governor who lives up to his own public statements on sexual harassment."
According to her Medium post, Boylan outlined several incidents in which Cuomo allegedly harassed her. She said other women on Cuomo's staff were familiar with the alleged behavior.
"Governor Andrew Cuomo has created a culture within his administration where sexual harassment and bullying is so pervasive that it is not only condoned but expected," Boylan wrote. She said his alleged behavior "was an affirmation that he liked you."
"He used intimidation to silence his critics. And if you dared to speak up, you would face consequences," she wrote.
Boylan included in the Medium post screenshots of emails and text messages from 2016 in which she shared the alleged incidents with family and co-workers. After work promotions led to her becoming a special adviser to the governor in 2018, Boylan said she decided to resign the position that September because of the personal toll it was taking.
"I came to work nauseous every day," Boylan wrote. "My relationship with his senior team—mostly women—grew hostile after I started speaking up for myself. I was reprimanded and told to get in line by his top aides, but I could no longer ignore it."
Boylan wrote that she first decided to go public with the allegations in December as rumors were swirling that President Joe Biden would nominate Cuomo to become the next U.S. attorney general.
"Yes, ‪@NYGovCuomo sexually harassed me for years. Many saw it, and watched," Boylan's December 13 Twitter thread said. "I could never anticipate what to expect: would I be grilled on my work (which was very good) or harassed about my looks. Or would it be both in the same conversation? This was the way for years.
"Not knowing what to expect [is] what's the most upsetting part aside from knowing that no one would do a damn thing even when they saw it. No one. And I *know* I am not the only woman," her thread continued.
Boylan wrote that, before posting the Twitter thread, she learned about another former staff member who alleged Cuomo sexually harassed her. She added that she has since heard from others who alleged they had similar experiences.
Boylan decided to share her allegations in greater detail on Medium after New York State Assembly member Ron Kim accused Cuomo of bullying earlier this month, the post said.
After Boylan published her allegations on Wednesday, Kim tweeted support for her and reiterated his own criticisms of the governor.
"Cuomo is a coward who has abused his powers. His pattern of abuse and harassment toward his aides, journalists, lawmakers, and critiques is despicable. As a lawmaker, I have the duty to hold him accountable. I will not stand down. I will stand with Lindsey Boylan," Kim tweeted.
Caitlin Girouard, Cuomo's press secretary, denied Boylan's allegations in a Wednesday statement.
"As we said before, Ms. Boylan's claims of inappropriate behavior are quite simply false," Girouard said.
The statement went on to reference one of the alleged incidents Boylan described in her Medium post, in which Boylan alleged Cuomo invited her to "play strip poker" during an October 2017 flight. Boylan said she was seated close to Cuomo on the flight, with his press aide and a state trooper nearby.
"We were on each of these October flights and this conversation did not happen," a shared statement from John Maggiore, Howard Zemsky, Dani Lever and Abbey Fashouer Collins said. At the time of the flight, Zemsky worked as the president and CEO of Empire State Development, Maggiore served as Cuomo's director of policy, and both Lever and Abbey Fashouer Collins worked on Cuomo's press team, Girouard's statement said.
At no time was Boylan alone on a flight with Cuomo, one press aide and a state trooper, Girouard said.
This story was updated at 2:58 p.m. with additional information, background and a statement from Governor Cuomo's press secretary.