Repealing NY Governor's Expanded Emergency Powers Would Invite Greater Oversight During Pandemic
As New York state legislators push to lessen the extent of Governor Andrew Cuomo's executive influence during the pandemic, questions have emerged about how such a change might impact coronavirus response strategies going forward.
Officials are proposing that sweeping emergency powers, granted to the governor in light of COVID-19, be scaled back after remaining effective for nearly a year, in a move that would ideally invite more collaborative oversight while the state continues to grapple with outbreak management.
Fourteen New York state senators issued a statement on Friday requesting an end to Cuomo's expanded emergency powers, which were originally broadened when the pandemic began. Legislation passed in March gave him the ability to issue "any directive necessary" if it concerned New York's response to a "state disaster emergency," heightening the governor's authority as it related to matters concerning COVID-19.
The group of legislators argue that Cuomo's wide-ranging influence is "no longer appropriate" and suggest instead that additional voices are involved in decision-making.
"Without exception, the New York State Constitution calls for the Legislature to govern as a co-equal branch of government," state senators said on Friday. "While COVID-19 has tested the limits of our people and state—and, early during the pandemic, required the government to restructure decision making to render rapid, necessary public health judgements — it is clear that the expanded emergency powers granted to the Governor are no longer appropriate."
Cuomo faced widespread backlash for an early pandemic policy that ordered New York's long term care facilities to accept COVID-19 patients, which preceded numerous outbreaks and climbing death tolls among facility residents statewide.
The governor's controversial role in New York's nursing home crisis reentered the national conversation at the end of January, when Attorney General Letitia James released an extensive report that indicated the state undercounted COVID-19 deaths of long term care facility residents.
Some state senators who support the repeal of Cuomo's expanded emergency powers cited James' findings as one reason for a more cooperative approach to New York's pandemic policies. Democrat Andrew Gounardes, who represents New York's 22nd district in the state senate, told Newsweek the controversy over nursing home data illustrates an unbalanced relationship between the governor and legislative body.
A number of state senators referenced Cuomo's decision to withhold data from legislators, even when it was requested, in statements explaining their support for revoking his emergency powers.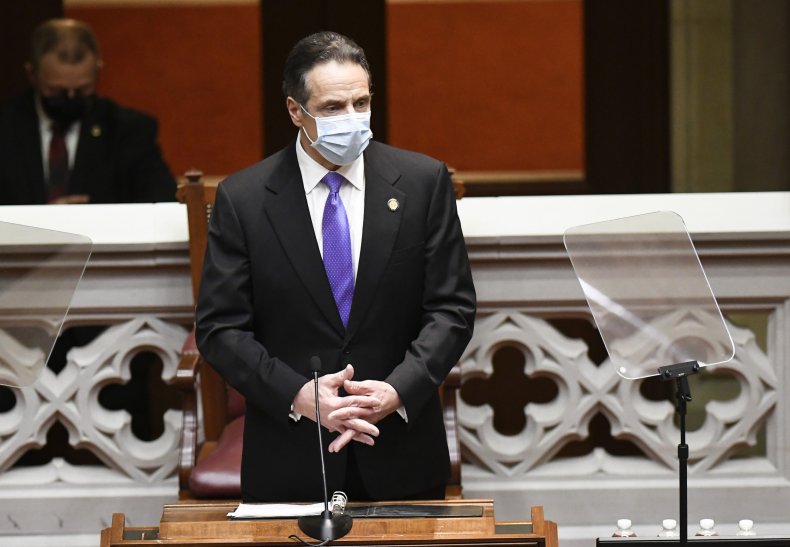 "When we have a situation like this, where information is being knowingly withheld for months and months and months, when the legislature is not able to do its job of oversight because we asked for the information and were being stonewalled...well, that, I think, calls into question how much faith and trust we should be putting into the governor, who has incredibly broad powers that were granted to him to help lead us through this crisis," Gounardes said.
"We are not looking to micromanage a public health crisis. We don't want to have health designations and directives issued by legislative committees," he added, emphasizing that legislators want to ensure their inclusion in decision-making processes, as well as their capacity "to reassert [their] oversight responsibilities."
John Liu, who represents New York's 11th district in the state senate, additionally told Newsweek that "revoking [Cuomo's] emergency powers does not mean that the governor will be powerless." His authorities prior to the expansion passed in March would remain.
"The rules will still be in place," Liu said. "This administration already has issue many rules and directives. Going forward though, the manner in which those rules and directives are issued would be subject to more oversight."
Newsweek reached out to Governor Cuomo's office for comment.