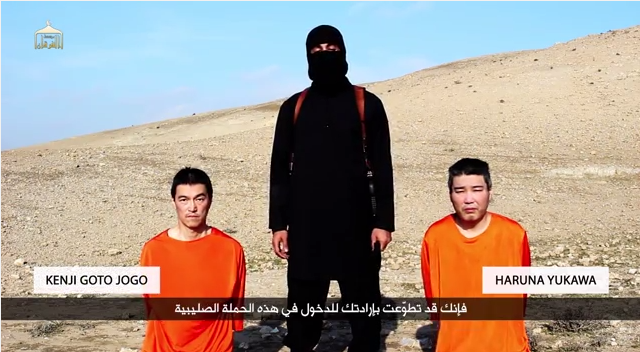 Updated | A new video was circulating Saturday that purported to show the murdered body of Haruna Yukawa, one of two Japanese men held captive by the Islamic State (ISIS). The video was reviewed by the SITE Intel Group, a watchdog of extremist groups. The men's lives were first threatened early Tuesday morning, when ISIS released a video asking for a $200 million in ransom, $100 million for each man.
The threat, made by an ISIS member thought to be the known executioner "Jihadi John," was said to be a result of Japan's recent pledge of $200 million toward fighting the Islamic State.
In the newly released video, Kenji Goto Jogo, the remaining hostage, holds an image of Yukawa's beheaded body and narrates the video, saying he will be executed next if new demands are not met. "You have seen the photo of my cellmate Haruna slaughtered in the land of ISIS. You were warned," he says.
Rather than seek the ransom money, ISIS has asked for Sajida al-Rishawi to be released from Jordan as part of a prisoner exchange. She is an accused would-be suicide bomber.
"This is an outrageous and unacceptable act of violence," said Japan's Prime Minister Shinzo Abe, calling for Jogo's immediate release. The United States National Security Council also spoke out against the video. "The United States strongly condemns ISIL's [ISIS] actions and we call for the immediate release of all remaining hostages," spokesperson Patrick Ventrell said in a statement. "The United States is fully supportive of Japan in this matter. We stand in solidarity with Japan and are coordinating closely."
"We stand shoulder to shoulder with our ally Japan and applaud its commitment to peace and development in a region far from its shores," President Barack Obama said in a statement.
The video has not yet been authenticated and its validity could not be independently confirmed by Newsweek. The United States is aiding in efforts to confirm the authenticity of the video.