New Video Shows ISIS Threatening Lives of Japanese Hostages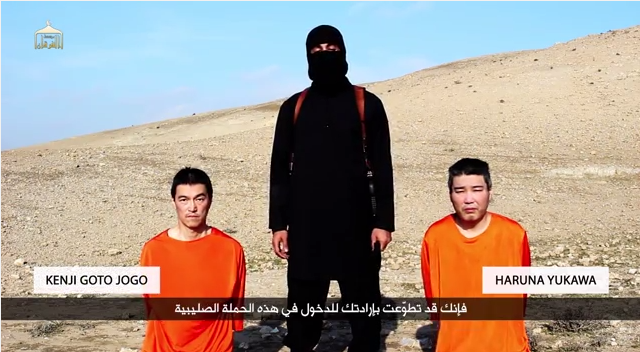 A new video purports to show a member of the Islamic State (ISIS) threatening to kill two Japanese hostages. Two men, Kenji Goto Jogo and Haruna Yukawa, appear in the video which is filmed in the same style to those that showed James Foley, Steven Sotloff, and other western hostages killed since August 2014. Both men appear kneeling on the ground in a desert and are wearing similar orange jumpsuits to those worn by other such hostages.
The video shows a man who appears similar to, and may in fact be, "Jiahdi John," a member of ISIS believed to hail from the United Kingdom. "John" has appeared in several other videos released by the terrorist organization, including footage showing the murders of other ISIS hostages.
The video was distributed on social media by al-Furqan Media, a propaganda media organization controlled by ISIS. The opening of the video shows a news anchor discussing Japan's recent pledge of $200 million to fighting the Islamic State.
The black-clad militant then says: "To the prime minister of Japan, although you are more than 8,500 kilometers away from the Islamic State, you willingly have volunteered to take part in this crusade, you have proudly donated $100 million to kill our women and children, to destroy the homes of the muslims." He then demanded $100 million in ransom for each hostage and said both men would be executed in 72 hours if the ransom was not received.
Japan is now working to verify the video and Reuters has reported that the foreign ministry in Tokyo has said: "Such a threat by taking hostages is unacceptable and we are extremely resentful."