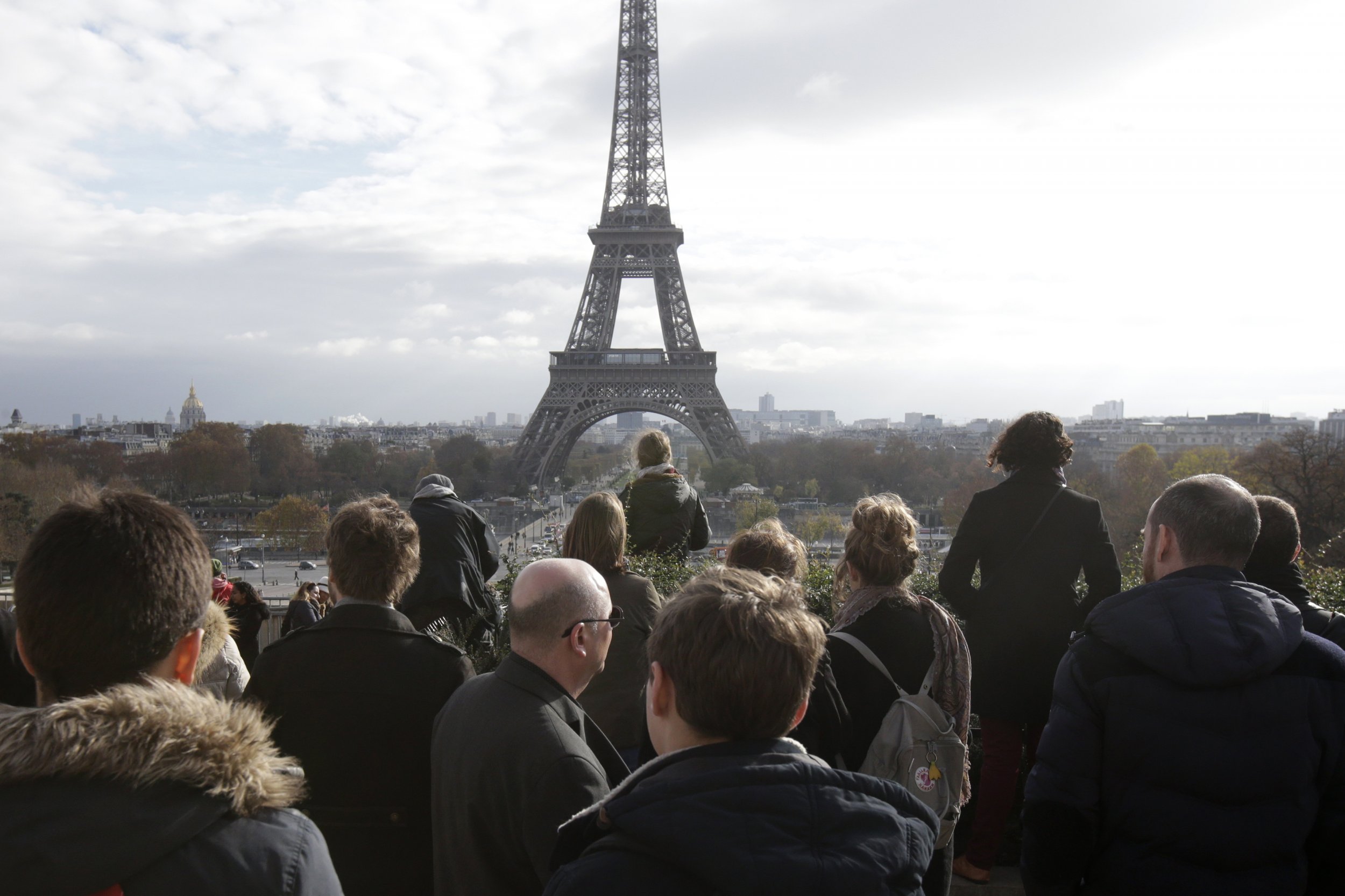 Updated | Surveillance video discovered by French authorities shows a possible ninth assailant in last Friday's deadly attacks on Paris, the BBC reported Tuesday.
The video reportedly captures a third person in the car that brought gunmen to several bars and restaurants. The BBC's report, which cites anonymous security sources, did not make clear which location the video depicts or if the man was a shooter in the attacks that left 129 people dead and at least 99 in critical condition.
In addition, a cellphone believed to be used by one of the Paris assailants has been recovered, with a message sent before Friday's simultaneous attacks indicating the assailants were "ready," CNN reported Tuesday.
It is unclear which of the more than a half-dozen attackers the phone belonged to. Counterterrorism and intelligence officials reportedly told CNN that the phone could bring insight into the Friday attacks. The network reported that officials said the phone indicated a message along the lines of "OK, we're ready."
On Tuesday afternoon, French officials announced they are seeking a second suspect in Friday's attacks. Earlier in the day, the country's military launched another wave of airstrikes in Syria and has now called for an expanded coalition to defeat the Islamic State militant group (ISIS).
"For the second time in 24 hours, the French military conducted an air raid against [ISIS] in Raqqa in Syria," the French Ministry of Defense said in a statement Tuesday.
On Monday, French aircraft dropped 20 bombs on the city of Raqqa, ISIS's main stronghold. The strikes targeted a recruitment center, a training center and an arms depot. No civilians casualties were reported by activists in the city.
In Tuesday's strikes, 10 Rafale and Mirage 2000 fighter jets destroyed a command center and a training center, the ministry said.
"Both targets were hit and destroyed simultaneously," the statement read. "Conducted in coordination with U.S. forces, the raid was aimed at sites identified during reconnaissance missions previously carried out by France."
French President François Hollande called for a united anti-ISIS coalition that includes Russia in his address to the French Parliament on Monday. U.S. Secretary of Defense Ashton Carter said he hopes other countries will join the fight.
"We're looking to do more. We're looking for every opportunity we can to get in there and go at [ISIS], but we need others to...get in the game as well," Carter said Monday at a forum in Washington, D.C. "I'm hoping that this tragedy has the effect of galvanizing others as it has galvanized the French."
French and Belgian police are still searching for a suspected Paris attacker identified as Salah Abdeslam, after a major operation by Belgian special forces to capture him resulted in no arrests on Monday.
In addition to Abdeslam, a second fugitive is now wanted for direct involvement in Friday's attacks, three anonymous officials told the Associated Press on Tuesday. It is not clear what role the unidentified fugitive played in the attacks.
Authorities in Paris told the AP there have been 104 police raids since the attacks and 16 people have been arrested. The raids are targeting "people, arms and objects likely to be linked to activities of a terrorist nature," authorities said.
French Interior Minister Bernard Cazeneuve said Tuesday that France has deployed 115,000 soldiers and police onto the country's streets to ensure national security in the aftermath of the attacks. He also pledged to increase police funding and said a further 128 counterterrorism raids took place overnight.
Another French government minister, Ségolène Royal, whose portfolio covers transport and ecology, has called for metal detector gates to be installed at all railway stations in France.
"I asked SNCF [the French railway company] to look into putting into place these measures so that there are the same type of checks as there are for getting on to planes," Royal said. "It is done for international trains, and I think it could also be done for trains in France."
Despite the attacks, France and England will meet in an international friendly soccer match on Tuesday night. However, the Belgian Football Association canceled Tuesday's match against Spain after the country's government raised the official national-security threat level. It is now Level 3—defined as "serious threat"—out of four as the manhunt continues for Abdeslam.
On Tuesday, France also invoked a clause in the European Union's treaty that requested that the bloc's member states provide "aid and assistance by all means in their power." All 28 member states agreed, EU foreign policy chief Federica Mogherini confirmed.
"Today, France asked the European Union for aid and assistance. And today the whole of Europe replied in unison: Yes," she tweeted in French.
The Eiffel Tower was closed Tuesday after briefly reopening to the public on Monday. Tower spokeswoman Marthe Ozbolt declined to give a specific reason for the closing when speaking with the AP. On Monday evening, the iconic tower was lit up in blue, white and red:
This is a developing story and will be updated as more information becomes available.