Reporter Attacked During Antifa Rally in Charlottesville: 'F*** You Snitch Ass News B****'
NBC News reporters covering demonstrations marking the one-year anniversary of the deadly "Unite the Right" rally in Charlottesville, Virginia, said they were attacked by protesters they identified as members of anti-fascist group Antifa.
Reporter Cal Perry tweeted videos late on Saturday of at least one protester shouting obscenities at him and batting away his camera.
"F*** you, snitch ass news b****," one protester shouted as he hit Perry's camera with his hand.
Perry noted in a separate tweet that protesters were being "very aggressive with the media," sharing video of rallygoers placing their hands in front of his camera.
One protester asked: "Could you stop filming please," before covering his camera with her hand. Perry said the protesters were "almost exclusively Antifa at that point."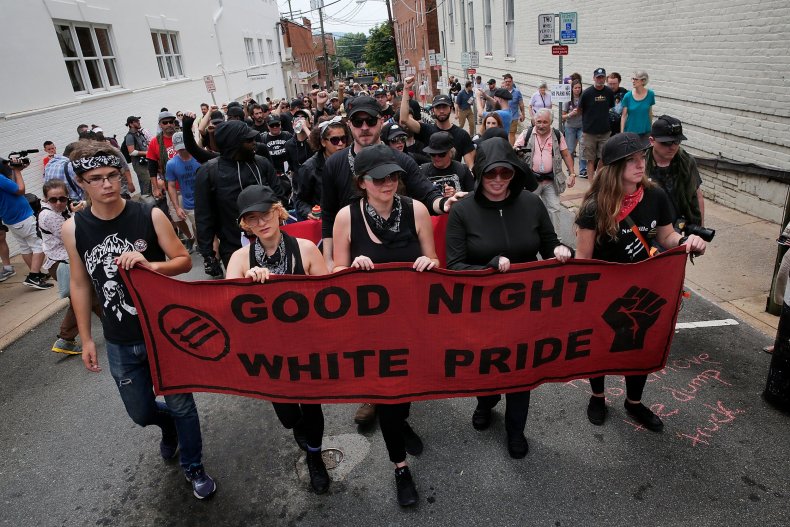 CNN reporters Jake Tapper and Brian Stelter condemned Antifa members over the incident, calling their behavior "unacceptable."
"Unacceptable behavior by a protester in C'Ville last night—violently swatting away a journalist's camera," Stelter wrote on Twitter, sharing Perry's video of the incident.
Tapper agreed, calling the incident "totally unacceptable," adding that it was "not at all out of the norm for Antifa."
In his coverage of the weekend demonstrations, Perry noted that Antifa protesters appeared to be expressing outrage over how police handled last August's "Unite the Right" demonstrations, which resulted in the death of 32-year-old Heather when a driver plowed his vehicle into a group of counterprotesters.
The Charlottesville Police Department has faced widespread criticism over its slow response to the violence at the 2017 rallies, with many saying earlier police intervention might have prevented Heyer's death.
This year, police appeared to have a strong presence at protests marking the one-year anniversary of the deadly rally.
Protesters rallying against the "Unite the Right" events appeared to be protesting local law enforcement just as much, with many chanting such slogans as "AK-47, put the cops in piggy heaven."
Officials in Charlottesville said officers seized a slew of prohibited items, including brass knuckles, multipurpose knives and razorblades, from people passing through security checkpoints around the city.
In his coverage, Perry noted that the protests showed the clear divide in Charlottesville over what people think about the way law enforcement handled last year's events.
Protesters held similar rallies this weekend outside the White House in Washington, D.C., after Jason Kessler, the white nationalist who helped organize last year's "Unite the Right" rally, announced that he would be holding an event there to mark the one-year anniversary of the Charlottesville demonstration.
Kessler said that his event in Washington would focus partly on how "both sides" were "violated by the conduct of the Charlottesville Police Department, and their stand-down last year."
Few people attended Kessler's rally, with counterprotesters outnumbering those in support of his "Unite the Right 2" event.
NBC News and Perry have not immediately responded to a request for comment.