Reporter Surrounded, Heckled for 'Fake News' as Trucker Convoy Nears D.C.
Demonstrators encircled and shouted taunts at a local television news reporter as the convoy of truckers protesting pandemic measures drew closer to Washington, D.C.
A video of the crowd confronting the reporter was posted to Twitter Friday as the People's Convoy rolled through Hagerstown, Maryland, on its way to a demonstration in the Beltway area. The convoy is a spinoff of Canada's Freedom Convoy, which caused the country's prime minister to invoke emergency powers after protesters blocked trade routes and occupied a section of its capital city.
The video shows a group of protesters pointing cellphones or cameras at the reporter. Over the blare of horns from big rigs passing by, the group appears to harangue or engage the reporter in heated argument. Another protester holding a loudspeaker shouts unintelligible comments.
"Fake news media here," a man can be heard saying in the video. "They're grilling 'em. That's the only mainstream media I've seen, and they're going to pack it up I'm sure. They're getting grilled by the patriots here."
The targeted reporter appears to be Heather Graf of ABC affiliate WJLA-TV, based out of Washington, D.C.
Newsweek has reached out to Graf for comment.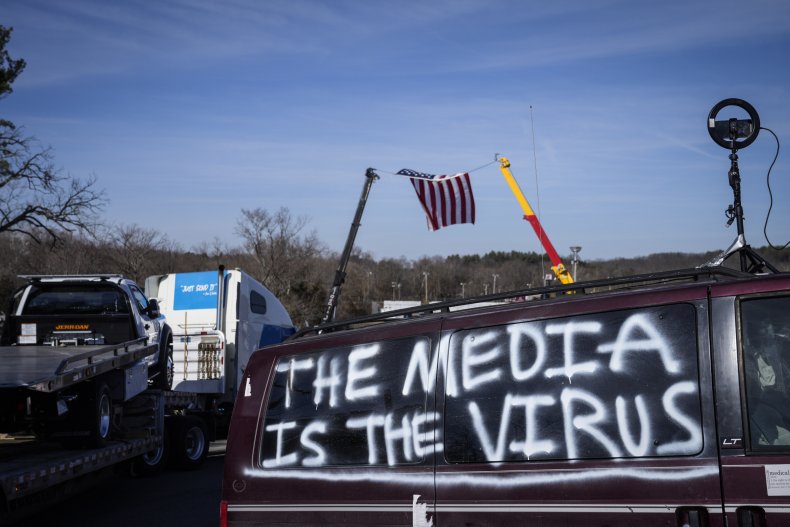 The People's Convoy began late last month when a group of truckers left Adelanto, California, for an 11-day trip to Washington, D.C., to demand an end to all remaining COVID-19 mandates. The protest comes at a time when state governments are increasingly relaxing remaining restrictions as case numbers continue to fall.
The group's Facebook page states that it's concerned with what it calls "a government that has forgotten its place and has no regard for our founding fathers instructions, The Constitution."
"Americans love our freedoms and love the Constitution of The United States of America," reads the group's Facebook page. "This convoy aims to bring back our freedoms, our civil liberties, and bring an end to all unconstitutional mandates. This is about our rights, as well as the freedom of future generations."
Previously, convoy organizers have said they will leave Maryland for D.C. and arrive in the Beltway area Saturday night. However, the group has said it will "abide by agreements with local authorities" and will terminate in the vicinity of D.C., but will not cross the district's boundaries.
In preparation of the convoy, Maryland State Police said in a statement that it will be working with other agencies in Virginia and D.C. to "address any violations of law and to maintain the free flow of traffic."
"Citizens are also reminded of the potential for misinformation and disinformation that could be spread on social media in regards to potential protests," the statement said.
Maryland State Police added that law enforcement and transportation agencies will be "jointly assessing the situation as it develops."
Newsweek has reached out to organizers of the People's Convoy for comment.