Sean Hannity Threatens to Sue NBC Reporter Who Tied His Rhetoric to Pipe Bomb Threats
Fox News host Sean Hannity said he would like to sue an NBC News reporter who linked incendiary rhetoric from conservatives to the string of explosive devices targeting prominent Democratic figures.
Speaking about the explosives sent to George Soros, Barack Obama, Maxine Waters, the Clintons, Robert DeNiro and Joe Biden in recent days, journalist Ben Collins wrote that Fox News has provided a platform for extremist political views.
"There will be a rush to pin these mailbombs on extremist talking points from fringe websites like 4chan and Qanon-adjacent communities on Reddit and Facebook, but Soros, Obama and the Clintons have been viewed as the root of all evil on talk radio and Fox News for over a decade," he wrote.
"Extremist talking points may get workshopped on fringe sites, but they're platformed on and reach the most dupes on Fox News. Never forget that Sean Hannity was literally tying Hillary Clinton to actual Satanism three days before the 2016 election."
Hannity, who regularly criticizes the Clintons and Obama, disavowed the statements and attempted to undercut Collins' credibility.
"The media today and their reaction to this is so over the top, so outrageous, so disgustingly partisan. It just -- they're so quick to blame President Trump, Fox News, talk radio," he said. "You know, this jackass maybe needs to go back and hear my history because, I've got the tapes when Obama was president -- you know, whenever there was any threat to the president when the guy walked into the White House -- I said that we got to protect our president, doesn't matter what their politics are. We've got to protect all our politicians, retired politicians. And they purposely do this for cheap political points."
The Fox News host continued, saying "who is this Ben Collins? He's the -- you know, I feel like suing somebody like him and ramming the tapes I have of defending people and telling people never to act like this up his you-know-what in a court of law. Because he's a liar."
A Vox analysis found that between November 2015 and October 2017, Hannity discussed conspiracy theories more than any other cable host. The media personality has also provided a platform for far-right figures. Hannity has hosted Gavin McInnes, the founder of the "Western chauvinist" Proud Boys group, 24 times, according to MediaMatters.
Laura Ingraham, another Fox Host, invited the founder of right-wing group Patriot Prayer onto her show earlier this month. Members of both Patriot Prayer and the Proud Boys have violently clashed with far-left protesters.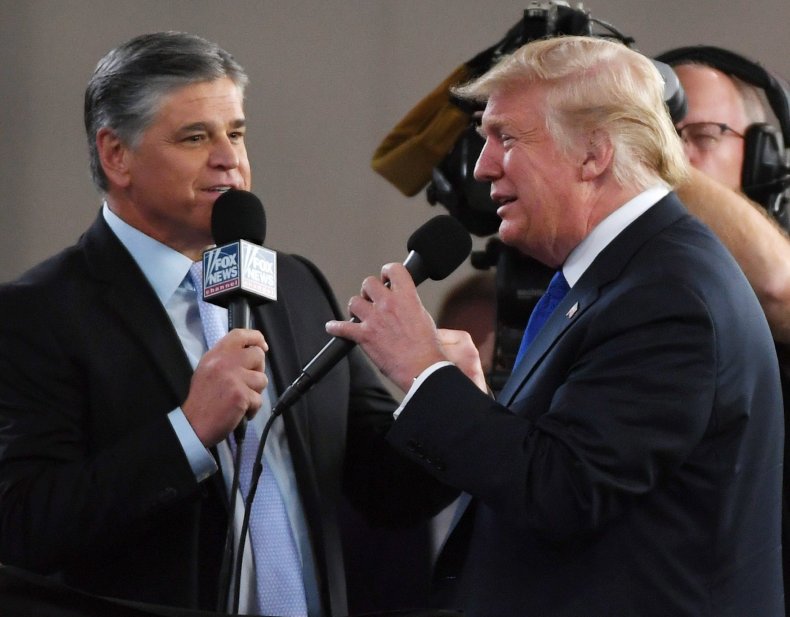 Even as Hannity also referred to the mailing of explosive devices as "the work of pure evil," he sought to blame for the country's contentious political environment on Democrats.
He attacked Hillary Clinton and Maxine Waters, both of whom were targeted with explosive devices, as hypocrites. The Fox host also seemed to equate confronting lawmakers in public with sending them explosive devices.
"And the silence, if there's been silence, it has been from the left. As we've watched women repeatedly run out of restaurants, and people, you know, confronted in public, marching orders given by the leaders of the Democratic Party, not the Republican Party," he said. "This is -- it's so outrageous."
Hannity's remarks aligned with a broader campaign unfolding on Fox News to imply or state that Democrats were responsible for creating an environment that led to the attacks.
Fox & Friends host Brian Kilmeade brought up last year's shooting of Steve Scalise, who was attacked by a Bernie Sanders supporter. He also cited remarks by former attorney general Eric Holder, misconstruing them to imply Holder was advocating violence against conservatives.
Multiple guests said that the reports of explosive devices were false flag operations intended to target the political power of Republicans.
Within minutes of news breaking about the explosive devices, conspiracy claims began circulating on the r/The_Donald subreddit.