Reporter Tossed Out of Marjorie Taylor Greene's Town Hall by Cops for Trying to Ask Question
Police escorted a reporter from a town hall event in Dalton, Georgia after she attempted to ask Rep. Marjorie Taylor Greene (R-Ga.) a question on Wednesday night.
Meredith Aldis, a reporter for Tennessee NBC affiliate WRCB, was removed from the event immediately after questioning the congresswoman, according to the outlet. A video of the event posted to Greene's official Facebook page shows her being asked to comment on a recent controversy, with the congresswoman refusing to answer while commenting, "I'm talking to my constituents... this isn't a press conference."
Another video posted to Twitter by Chattanooga Times Free Press reporter Patrick Filbin shows Aldis leaving the event while being trailed by two police officers. Press had been invited to attend the event but were told they would not be allowed to speak to anyone or ask questions after arriving, according to WRCB, who also reported that a Whitefield County Sheriff's Office deputy had been "waived over" by Greene's staff and threatened Aldis with arrest.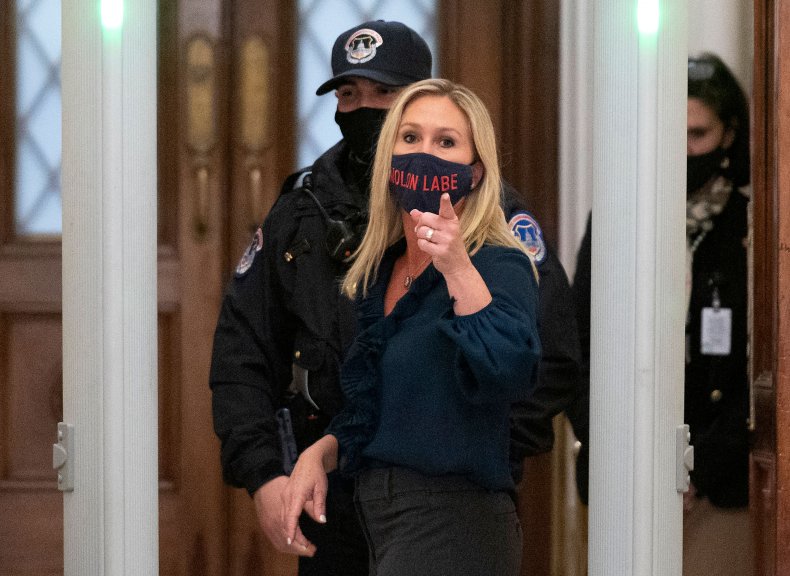 Members of the public who attended were asked to submit questions in advance, leaving Greene's staff the option of carefully filtering the questions. However, the video shows multiple members of the public being allowed to speak during the event, with some asking apparently impromptu questions without any reprimands or police interference.
"Ms. Aldis interrupted the event and caused a scene," Nick Dyer, Greene's communications director, said in a statement to Newsweek. "This was a town hall for constituents. Not a press conference. Every attendee (besides media) was allowed to ask a question and Congresswoman Greene answered every question."
"Perhaps Ms. Aldis didn't appreciate the questions being asked because they didn't fall in line with the narrative she wanted to portray, so she decided to make herself the story and ignore the residents of the 14th District," Dyer added. "This town hall wasn't about a 'journalist' who cared more about being the center of the story than reporting on a story on actual constituent concerns."
Dyer went on to say that Aldis and WRCB had "conducted a stunt tonight at Congresswoman Greene's extremely successful town hall," adding that the outlet "instead decided tonight was their chance to break into national media."
"It looks like Newsweek is rewarding their activism," Dyer concluded.
Newsweek reached out to the Whitfield County Sheriff's Office for comment.
Greene, a newly elected member of Congress who announced she was drafting an article of impeachment for President Joe Biden before he had even taken office, has been under mounting pressure in recent days due to the surfacing of a series of past Facebook posts and activities that show her apparently supporting several far-right conspiracy theories.
During Wednesday's town hall, Greene portrayed herself as a victim of unfair media coverage. She complained that her "really nice" posts about Bible verses were not making headlines instead.
"The media controls the microphone," Greene said during the event. "They're going to dig up anything they can to make me sound like a monster and a horrible person and they're gonna report about that nonstop. But they're never gonna post about the thousand and thousands of really nice Facebook or Twitter posts that I've made."
"Bible verses, praising someone, doing something good or anything nice," she continued. "They'll never tell you about any of those, they're just gonna always make sure that someone like me looks like a monster. And that's wrong."
Prior to being elected, Greene was known as a particularly ardent supporter of former President Donald Trump and had been associated with prominent evidence-free pro-Trump conspiracy theories like QAnon and Pizzagate.
Past social media posts have subsequently revealed apparent support for a host of other conspiracies, including those concerning 9/11, false claims that deadly school shootings in Parkland, Florida and Newtown, Connecticut were staged and the bizarre notion that former Secretary of State Hillary Clinton participated in a Satanic ritual that involved murdering, mutilating and drinking the blood of a child.