Reproductive Health of Detained Immigrants Endangered by Toxic Cleaning Chemicals: Report
Staff at a Glades County, Florida federal detention center routinely exposed migrants detained by Immigration and Customs Enforcement (ICE) to toxic chemicals that can cause severe health effects including damages to reproductive health.
The months-long investigation, published in Scientific American, found that the facility used the cleaning agents Mint and Maxim Neutral when disinfecting areas of the center to allegedly prevent the spread of COVID-19. These chemicals are known to contain quaternary ammonium compounds, which research has found causes cellular damage.
According to the report, Glades' staff allegedly used the chemical in "crowded" cells, spraying the compound into the air despite the U.S. Environmental Protection Agency (EPA) saying it should only be applied directly to surfaces. On top of misusing the spray, the report alleges that staff declined to dilute at least one of the formulas even though manufacturers of the compound suggest doing so.
"Sometimes, when I'm asleep at night, they've sprayed," said Jean Cleophat, a Haitian man who suffers from asthma and has been detained since late 2020, told Scientific American over the phone. "I'll be waking up sweating. I can't breathe. I feel dizzy."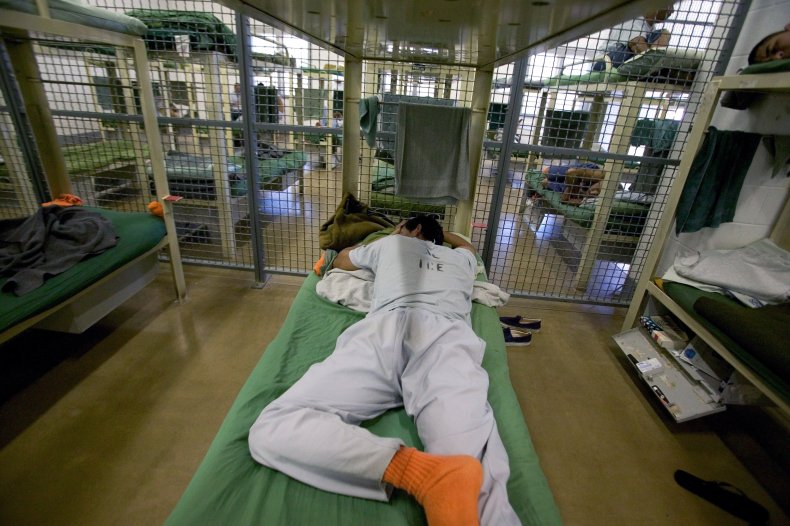 Under the Federal Insecticide, Fungicide, and Rodenticide Act (FIFRA), the facility's specific misuse of these chemicals carries criminal and civil penalties. Detainees have partnered with human rights organizations in filing an August complaint against the center for its use of the chemicals. This marks the second complaint filed against Glades for such actions after a similar filing was issued in February of this year.
Along with issues concerning the disinfectant spray, the complaint alleges detainees being subjected to "racist verbal abuse" by guards. One detainee, Danielle Harris, said one officer called her a number of derogatory names, including "monkey," "low life," and "porky pig." Others allege falling victim to consistent beratement on the grounds of their country of origin. They said guards have said "go back to your country" and "you look like you climbed the wall to come here."
At times, violence at the center has allegedly extended beyond verbal altercations.
Seven women at the center filed a federal lawsuit alleging sexual abuse. Guards reportedly walked into shower quarters announced and watched the women bathe. The lawsuit also alleges that the facility's only psychiatrist made comments to women such as, "wear something sexy next time I see you," and "your uniform is tight; wear a tighter one next time."
"Women at Glades—who are mothers, sisters, daughters, and valued community members—are subject to these egregious and nauseating abuses daily," Sofia Casini, director for visitation advocacy strategies with Freedom for Immigrants, said in a statement. "Nearly 30 complaints have been filed to address abuses at Glades since the onset of the pandemic alone, yet the abuses continue."