Republican Adam Kinzinger Slams 'Cancel Culture of the Right,' Defends Cheney
Representative Adam Kinzinger, an Illinois Republican, again voiced his support for Representative Liz Cheney, a Wyoming Republican, and called out the "cancel culture of the right," as pro-Trump Republicans continue to oppose Cheney due to her own opposition to the former president.
Cheney and Kinzinger were among the 10 House Republicans who voted with Democrats in January to impeach former President Donald Trump for helping to incite the insurrection against the U.S. Capitol on January 6 in an effort to overturn President Joe Biden's election victory. Pro-Trump Republicans and the former president have slammed Cheney, the chair of the House Republican Conference, and called for GOP voters to back challengers to her in Wyoming's 2022 Republican primary.
"She just has to get through this moment," Kinzinger told The New York Times in an article published Thursday. "Look, this whole cancel culture of the right, it's about people who feel threatened because they look bad when someone like Liz is strong and actually stands for what she believes. I think she'll survive."
Retweeting the article on Thursday morning, Kinzinger wrote: "Absolutely accurate story here. Also of note are comments that Liz didn't 'show enough humility' from fans of Donald Trump, who doesn't show any."
Ahead of the impeachment vote against Trump on January 13, Cheney angered many fellow Republicans by releasing a scathing statement condemning the then-president for inciting his supporters to attack the Capitol. "There has never been a greater betrayal by a President of the United States of his office and his oath to the Constitution," Cheney said at the time.
Although a group of GOP lawmakers attempted to oust Cheney from her leadership role in the House, she survived that challenge and continues to be the third-highest ranking House Republican. The congresswoman has repeatedly asserted that Trump should no longer have a leadership role within the Republican Party and said that she will not support him if he runs for reelection in 2024.
Kinzinger has condemned Trump, as well as the conspiracy theories promoted by the former president and his loyalist supporters about the 2020 election. The GOP congressman started the Country First political action committee earlier this year in an effort to raise money for himself and other Republicans who oppose Trump. As of early April, Kinzinger has managed to raise $2.2 million for his reelection bid and the anti-Trump PAC.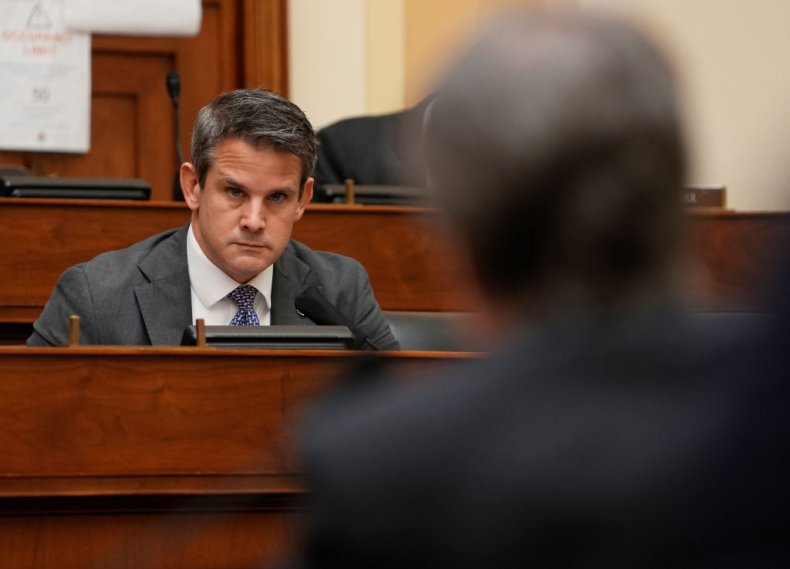 Last week, Trump announced that he will "soon" endorse a Republican primary challenger vying to unseat Cheney in 2022.
"So many people are looking to run against Crazy Liz Cheney—but we only want one. She is so far down in Wyoming polls that the only way she can win is numerous candidates running against her and splitting the vote. Hopefully, that won't happen. I'll make an Endorsement soon!" the former president said in a statement last week.
Newsweek reached out to Cheney's press secretary for comment.