Republican Candidate Who Appears on White Supremacist Podcasts Publishes List of 'Jews' in the Media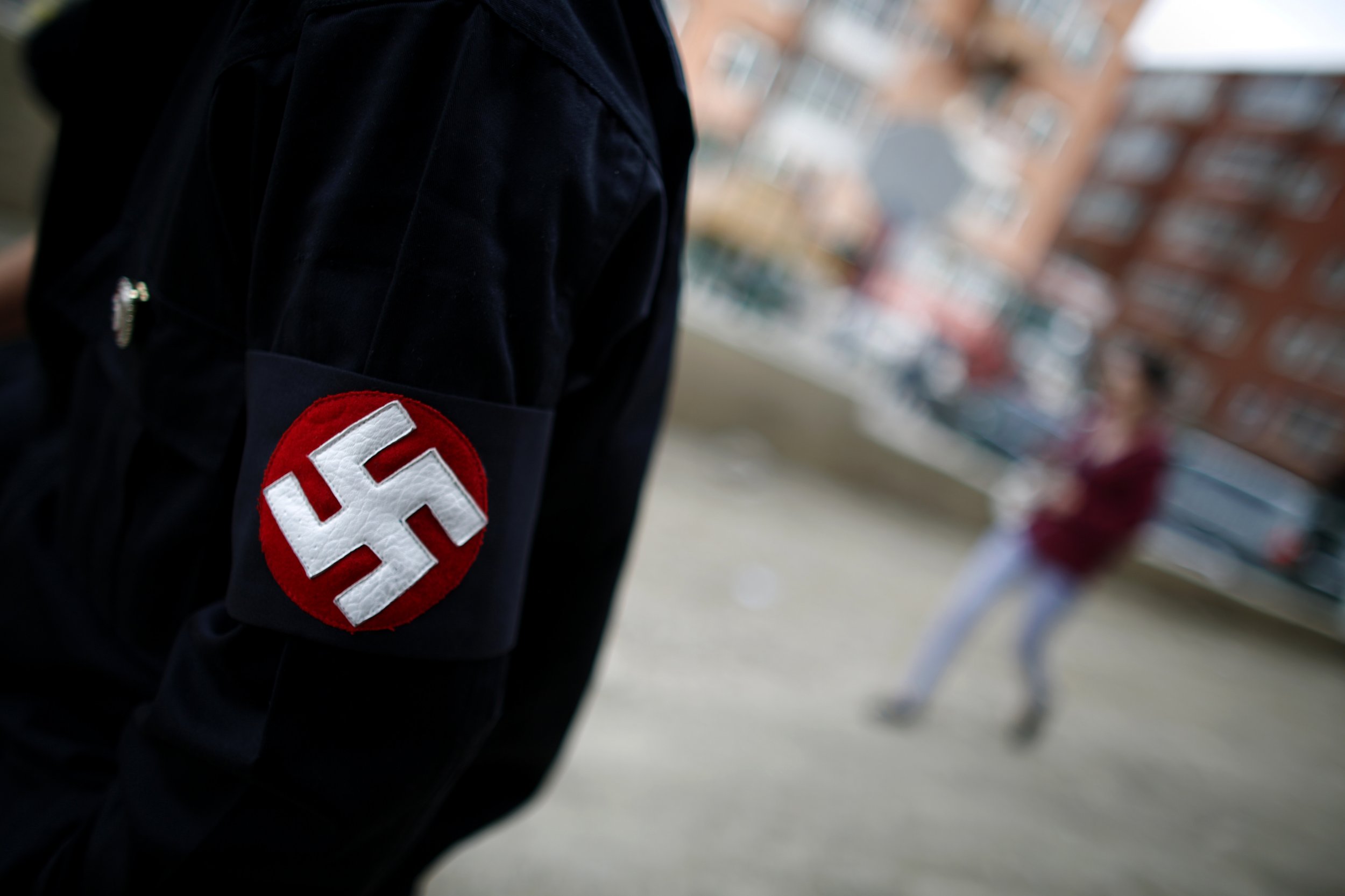 Paul Nehlen, a Republican who is attempting to unseat GOP House Speaker Paul Ryan in Wisconsin, on Tuesday posted to his Twitter account what he claimed is a list of "Jews" in the media who have attacked him within the last month.
His list plays into a false white supremacist conspiracy theory that suggests Jews control the media and are deliberately using it to further their interests at the expense of other people. Such conspiracies have long been floated, and they are now on the rise in America, according to rights groups.
This is not the first time Nehlen has attempted to draw links between Jews and the media: Critics from both the left and the right have called him a "Nazi" in response to his views. Newsweek reached out to Nehlen for comment about his views but did not immediately receive a response, and he has not responded to numerous previous requests for comment.
"I've compiled a list of 'verified' Twitter users who have attacked me *in just the last month alone* for my #AmericaFirst positions," Nehlen wrote, returning to his favorite subject. "Of those 81 people, 74 are Jews, while only 7 are non-Jews."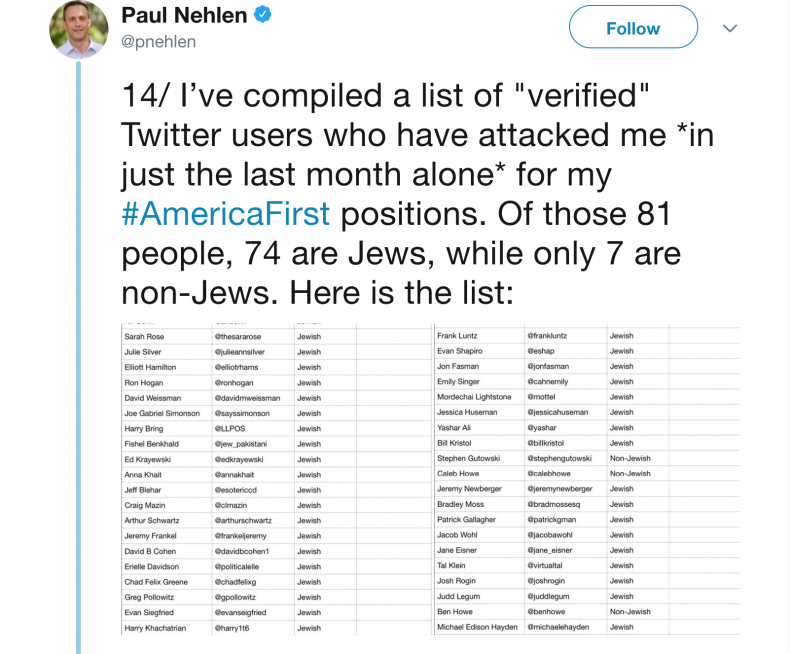 A cursory glance at Nehlen's list shows that statement to be inaccurate. For example, Newsweek has twice reported on Nehlen—for his campaign's use of anti-Semitic memes on social media and for his promotion of a book by Kevin MacDonald, a writer beloved by neo-Nazis for purporting to show the degree to which Jews function inherently in opposition to white Christians—and the reporter was misidentified on the list as being Jewish. He is Catholic and of Egyptian descent.
Also misidentified was Yashar Ali, a contributor to New York magazine and HuffPost, who has Persian roots. "I see you have me on this list. I'm not Jewish.... I'm a practicing Roman Catholic," Ali wrote to Nehlen in reply. "But I'm in some pretty good company on this list...so feel free to say I'm Jewish."
Thor Benson, a freelance writer, also reported that he was misidentified as being Jewish.
Nehlen has—to put it as gently as possible—run a controversial campaign so far in attempting to take Ryan's seat in Wisconsin. He has posted a number of anti-Semitic memes on social media, as well as memes that were created by the "alt-right" and promoted with the help of overt white supremacists such as David Duke.
Nehlen was briefly suspended from Twitter last week, prior to posting the list. National Vanguard, a white supremacist organization based out of Charlottesville, Virginia, wrote that Nehlen had "been forbidden from communicating with voters and the public on Twitter because he criticized Jewish media power." A statement from Nehlen's campaign argued that his posts "clearly did not violate the Twitter Rules in any way." The Wisconsin GOP has not commented to Newsweek on allegations of anti-Semitism related to Nehlen's campaign.
Nehlen's tweet was part of a thread that included a graphic in which employees of CNN were marked with Jewish stars. It's a graphic that is heavily circulated on the internet platform 4chan and on "alt-right" social media, where Jews are falsely blamed for everything from the investigation into allegations that Trump's campaign colluded with Russia to the spread of pornography.
The backlash to Nehlen's post was quick:
"So odd that Jews would criticize an anti-Semite," CNN's Jake Tapper wrote of the list on Twitter.
"Paul Nehlen, Stephen Miller, Joe Arpaio, Steve Bannon, Roy Moore and Trump-esque candidates are the future of the Republican Party," Wajahat Ali, a contributing op-ed writer for The New York Times tweeted in the aftermath of Nehlen's publication of his list. "The Frankenstein of their own creation will turn on them and most Americans."
"I'm surprised Twitter hasn't banned Paul Nehlen yet," Erick Erickson, a conservative commentator, wrote.
Twitter has received criticism for failing to deal with hate speech on its platform, including tweets promoting anti-Semitic views. The social media site launched a well-hyped "purge" of users on December 18 in response to criticism that it was giving hate groups a platform, but both anonymous and public white supremacist and neo-Nazi accounts remain active on it.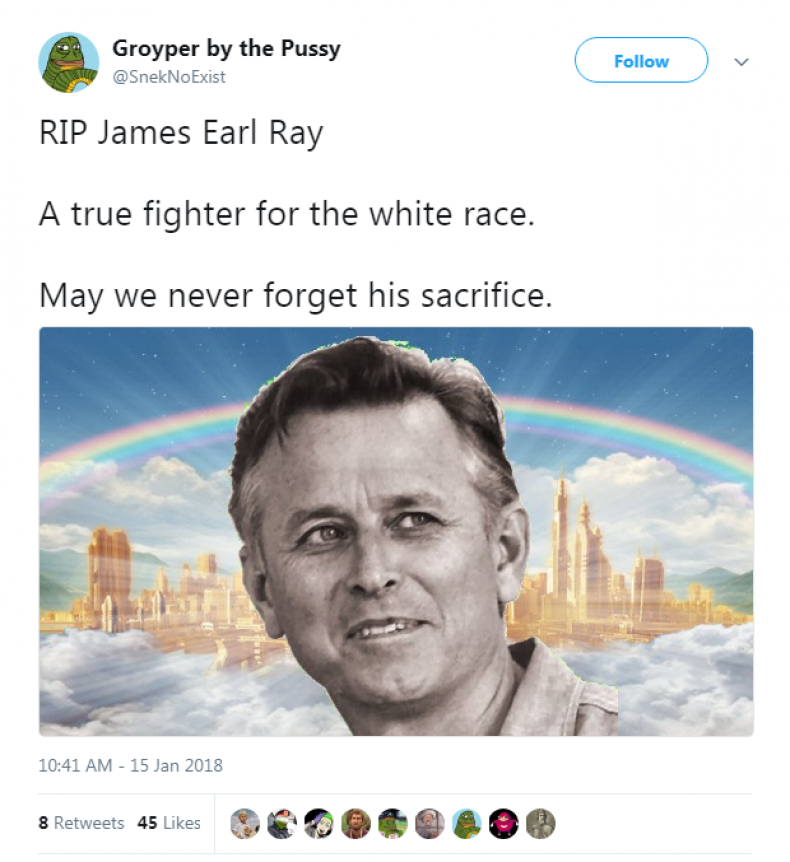 Figures on the far-right, including overt neo-Nazis, responded with enthusiasm to Nehlen's list. Jared Wyand, an anti-Semitic poster on the social network Gab, wrote that Nehlen should go further with his remarks about Jews.
"You're starting to see who's weak and who's not on our end of the right," Wyand wrote. "The weak people are the one's starting to say Nehlen is going too far. That's f-----g impossible."
Wyand, who openly praises Adolf Hitler, is among the "alt-right" commentators who falsely deny the existence of the Holocaust. He racked up tens of thousands of followers on Twitter during the 2016 election while promoting then-candidate Donald Trump before getting kicked off for espousing anti-Semitic views.
Nehlen's candidacy has been endorsed enthusiastically by Daily Stormer, a neo-Nazi site that has posted calls for the "slaughter" of Jewish children as payback for internet censorship. Nehlen has also apparently embraced his fans on the far-right, having appeared on white supremacist podcasts.
Mark Fenster, a law professor at the University of Florida and the author of a book about conspiracy theories in American culture, told Newsweek that anti-Semitic conspiracies turn the prominence of Jewish people in the media into a fictional narrative about Jewish control in order to suit the agenda of those who espouse them.
"It comes from a sociological fact of the existence of Jews having worked within movie studios and media companies," Fenster explained. "There is a proportion of Jews that is greater there than within the greater public. So, they are taking a leap with that to make a fictitious claim that they all have some similar agenda."