Ronna McDaniel—chairwoman of the Republican National Committee—on Wednesday criticized an incoming GOP senator for his attack on President Donald Trump. On its surface that seems unsurprising, since Trump largely defines the Republican Party, it makes sense the chair of the GOP would defend him.
But the incoming senator McDaniel rebuked was Mitt Romney, who also happens to be her uncle.
On Wednesday, Romney—who was the 2012 presidential nominee for the GOP—wrote an opinion piece for The Washington Post questioning Trump's character and morals. "On balance, his conduct over the past two years, particularly his actions this month, is evidence that the president has not risen to the mantle of the office," Romney wrote for the Post.
Trump tweeted in response that Romney could be the next Jeff Flake—the outgoing Arizona Republican senator who often spoke out against the president, although Flake typically voted in line with the commander-in-chief's wishes, according to FiveThirtyEight.
"Here we go with Mitt Romney, but so fast! Question will be, is he a Flake?" Trump tweeted on Wednesday. "I hope not. Would much prefer that Mitt focus on Border Security and so many other things where he can be helpful. I won big, and he didn't. He should be happy for all Republicans. Be a TEAM player & WIN!"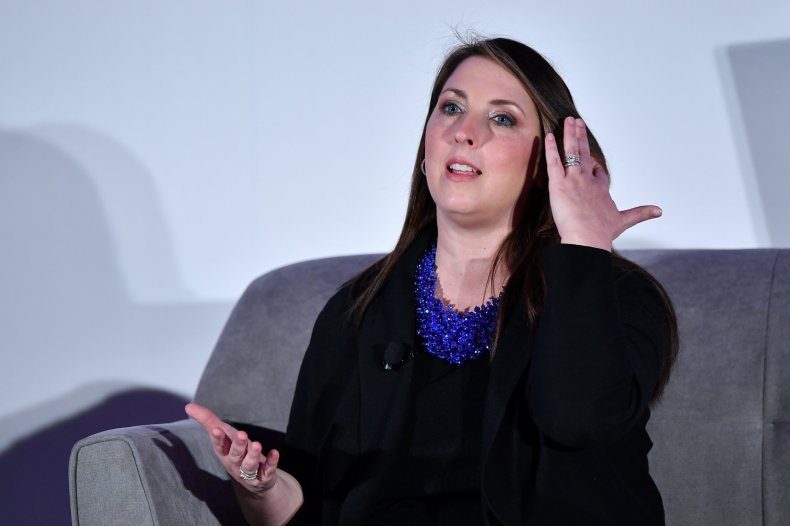 McDaniel posted a response to that Trump tweet that backed up the president and criticized Romney, the media and Democrats.
She posted: "POTUS is attacked and obstructed by the MSM media and Democrats 24/7. For an incoming Republican freshman senator to attack @realdonaldtrump as their first act feeds into what the Democrats and media want and is disappointing and unproductive."
The op-ed was not Romney's first time speaking out against Trump. In the lead-up to the 2016 election he called the former reality TV star a dishonest "phony" and "fraud" who was "playing members of the American public for suckers." But Romney changed his tune after Trump was elected president, meeting with the president-elect and lobbying to serve as secretary of state. He also enthusiastically tweeted an endorsement for Trump in his 2018 Senate race.