Second-Tier Candidates Square Off Before Main Republican Debate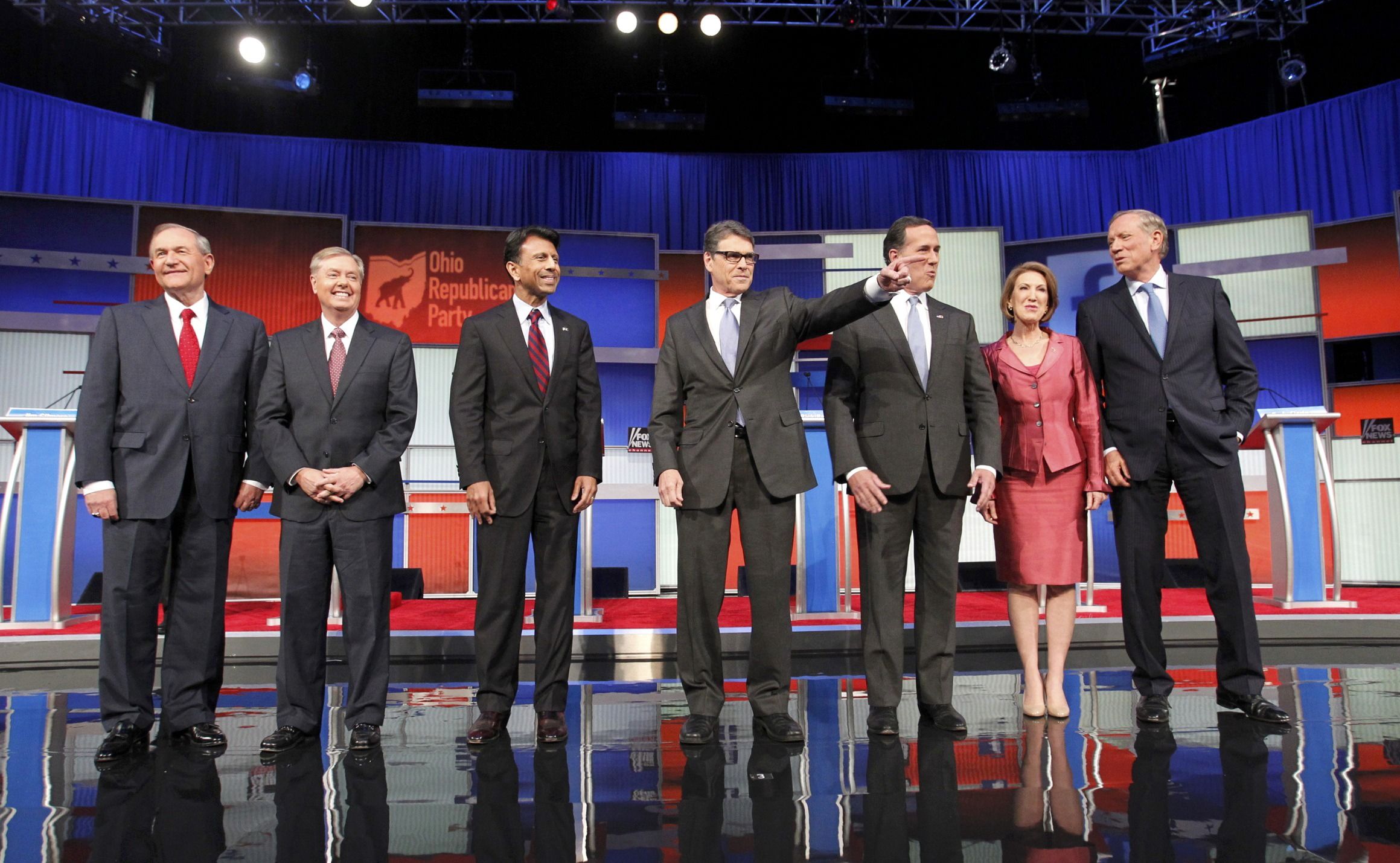 Seven 'second-tier' Republican candidates who failed to make the cut for Fox News' first primetime Republican debate traded jabs before the main event in Cleveland on Thursday evening. The participants, who debated to a largely empty arena, included former Texas Governor Rick Perry, former Pennsylvania Senator Rick Santorum, former Hewlett-Packard Chief Executive Carly Fiorina, Louisiana Governor Bobby Jindal, South Carolina Senator Lindsey Graham, former New York Governor George Pataki and former Virginia Governor Jim Gilmore.
[Related: Read Newsweek's viewers guide to the main GOP debate, which will start at 9 p.m.]
6:12 p.m. Candidates are asked for closing statements. Santorum says he's the only candidate on stage "looking out for the American worker." Jindal says the country needs "a doer, not a talker" and Fiorina rails on Clinton's track record on Benghazi and Planned Parenthood, simultaneously revealing herself as the candidate whose closing remarks were left on a printer. Graham says the U.S. is "becoming Greece if we don't work together." Pataki touts his record as governor of New York, saying "I've been tested in a way no one else has. I was governor on September 11." Of Washington, Pataki says "the talk has got to stop [and] the action has got to begin." Closing out the night, Gilmore is the first to nudge at international trade—a big topic for the Trump campaign—and says he offers the American people "real substance and real experience."
6:09 p.m. Candidates are asked what two words they would use to describe Hillary Clinton. Negative answers all around, few of them limited to two words. Fiorina calls Clinton "untrustworthy" and Perry comes in with the zinger: "Good at email."
6:05 p.m. Candidates are asked what they would do on Day 1. Perry vows to knock down Obama's executive orders with Wite-Out, a sentiment seconded by Fiorina amd Pataki.
5:58 p.m. Pataki is the only pro-choice candidate running for the GOP nomination; a Republican contender running on that position has not won in nearly 40 years, the last being Ford in 1976. "My heart has not changed because I've always been appalled by abortion," Pataki says. "Roe v. Wade has been the law for 42 years and I don't think we should try to change it. ...But I do think we should defund Planned Parenthood." Jindal echoes that sentiment, saying Planned Parenthood "had better hope Hillary Clinton wins this election." He also promises to send the Internal Revenue Service after the group, which seems to undermine the GOP argument that Obama is responsible for politicizing the IRS. Meanwhile, Graham spins the abortion question into a talking point against the Middle East, mentioning the region's abysmal record on women's rights.
5:53 p.m. The conversation turns to the Supreme Court. Santorum compares the Court's decision on same-sex marriage to the Dred Scott ruling, which declared slaves property in 1857, which might seem over the top except he did once suggest that same sex marriage would lead to the legalization of man-on-dog sex...
5:47 p.m. A question about the Iran deal goes to Perry first—"We need to be on the side that prevents Iran from getting a nuclear weapon," he says. "I would have rather had Carly Fiorina over there negotiating a deal than John Kerry." No objections from Fiorina herself, who says, "When America does not lead, the world is a dangerous and a tragic place. This is a bad deal; Obama broke every rule of negotiation." (For good measure, Fiorina adds that she wouldn't give nuclear weapons to our allies to deal with ISIS.) For what it's worth, no one running for the GOP nomination favors the proposed Iran deal, although perpetual GOP renegade Ron Paul has been supportive of it.
Commercial break fun fact: Fox is making it pretty tricky to watch the debate sans TV. Those with cable accounts can sign in to Fox's website and watch online here. The Fox News app is also available for smartphones and game consoles. Playstation owners can sign up for a free trial of Playstation TV, while Xbox 360 owners can watch the debate on the app.
5:32 p.m. Time to talk Medicaid. Jindal says it was a mistake to expand Medicaid in Ohio, but won't directly criticize Ohio Governor John Kasich, who will be appearing in the main debate later Thursday. Meanwhile, Pataki says Obamacare should be repealed, adding that the way to reduce welfare rolls is to improve employment benefits
5:39 p.m. The candidates talk about entitlement programs and taxes—riveting stuff. "Give Bernie Sanders credit, at least he's honest enough to call himself a socialist," Jindal quips. Historically, candidates love talking about tax simplification but it's extraordinarily difficult to do. It happened in 1986 but never since, and means taking on huge lobbies and a political culture where the tax code is used to accomplish policy ends.
5:36 p.m. At long last, Hillary Clinton's email scandal comes up. "I'm fluent in Clinton speak," Graham says. "I've been dealing with this crowd for 20 years... When Hillary clinton tells you, 'I've given you all the emails you need,' that means she hasn't." It is a smart, Republican-rallying attack on Graham's part; it allows Graham to be seen as the GOP standardbearer.
5:26 p.m. Asked about his stance on immigration, Santorum says he'd like to decrease it by 25 percent. Santorum, who won the Iowa Caucuses in 2012, is tougher on trade than most Republicans. He has seven children and is proud of his father's immigrant story. Meanwhile, Perry was hammered by the right during his 2012 campaign for being too soft on immigration.
5:24 p.m. Fiorina gets asked about how technology affects national security. "China uses cyber walls to attack us just as ISIS uses cyber walls to recruit," she says, adding that more collaboration is needed between private-sector companies and the public sector. Fiorina—who confirms when asked that that she would call on Google and Apple to cooperate with FBI investigations—has one major claim to fame as HP CEO: the company's merger with Compaq, a long forgotten name in tech. (So far, no one has mentioned that she was fired from the job.)
5:23 p.m. "Radical Islam is not protected speech," says Pataki in response to a question about what he would do to stop terrorism at home. "Religious liberty doesn't include encouraging a fellow American to engage in violent jihad." Pataki does not go so far as to say he would put mosques under surveillance, however.
5:17 p.m. Graham says that Syria is becoming a perfect platform to "strike our nation," and playing on fears that a weak president could lead to an actual attack on American soil.
5:16 p.m. Jindal accuses Obama of refusing to say "radical Islam," adding, "Sometimes you win a war by killing murderous, evil terrorists," not by winning hearts and minds. Graham, considered the most hawkish candidate, has to date maintained "stop them there so they don't come here" argument that it iself an echo of the Bush years.
5:14 p.m. Less than 20 minutes in, it's Trump time. When asked, Perry compares Trump to Rudy Giuliani, saying the Donald is "using his celebrity rather than his conservatism" to win the nomination. Meanwhile, Fiorina takes a dig at the Clintons, saying she never got a phone call from Bill about her possible run—as Trump did—perhaps because she never donated to the Clinton Foundation. Ironically, Fiorina and Trump share the quality of being political "outsiders"—neither is a career politicians—though Trump is arguably a career candidate, and has donated substantially to political campaigns.
Fun fact: Jim Gilmore headed a commission on terrorism before 9/11, which he's often touted as part of his credentials for the presidency. But Virginia is the last state where governors can only serve one term. That's not a great base for running for president. We've had one term governors but not many.
5:11 p.m. "I was ready to lead but I wasn't ready to run," says Pataki, who promises to "rebuild our military so we can stand up to radical Islam."
5:09 p.m. Lindsey Graham opens by slamming Hillary Clinton on cap and trade, saying that "the purpose of my presidency" would be to "break the stranglehold on fossil fuels by people who hate our guts."
5:08 p.m. Louisiana governor Bobby Jindal brushes aside his low poll numbers in his home state, touting instead his record of shrinking government and promising to "stand with Israel."
5:06 p.m. Santorum, touting his Senate credentials, says that his track record on foreign policy is "the reason I did so well last time," referring to his solid finish in 2012.
5:04 p.m. When asked about her own qualifications, Fiorina said she "knows more world leaders" than anyone in the presidential field except Hillary Clinton.
5:00 p.m. The first question of the evening went to Perry, who was asked about his record on job creation. Perry's 2012 presidential chances were dashed in just this type of setting—during a debate he said he would immediately get rid of three federal departments and could only name two. Perry's claims on job creation have also come under fire in the past.