Warnings Signs for Republicans in Final Days of 2016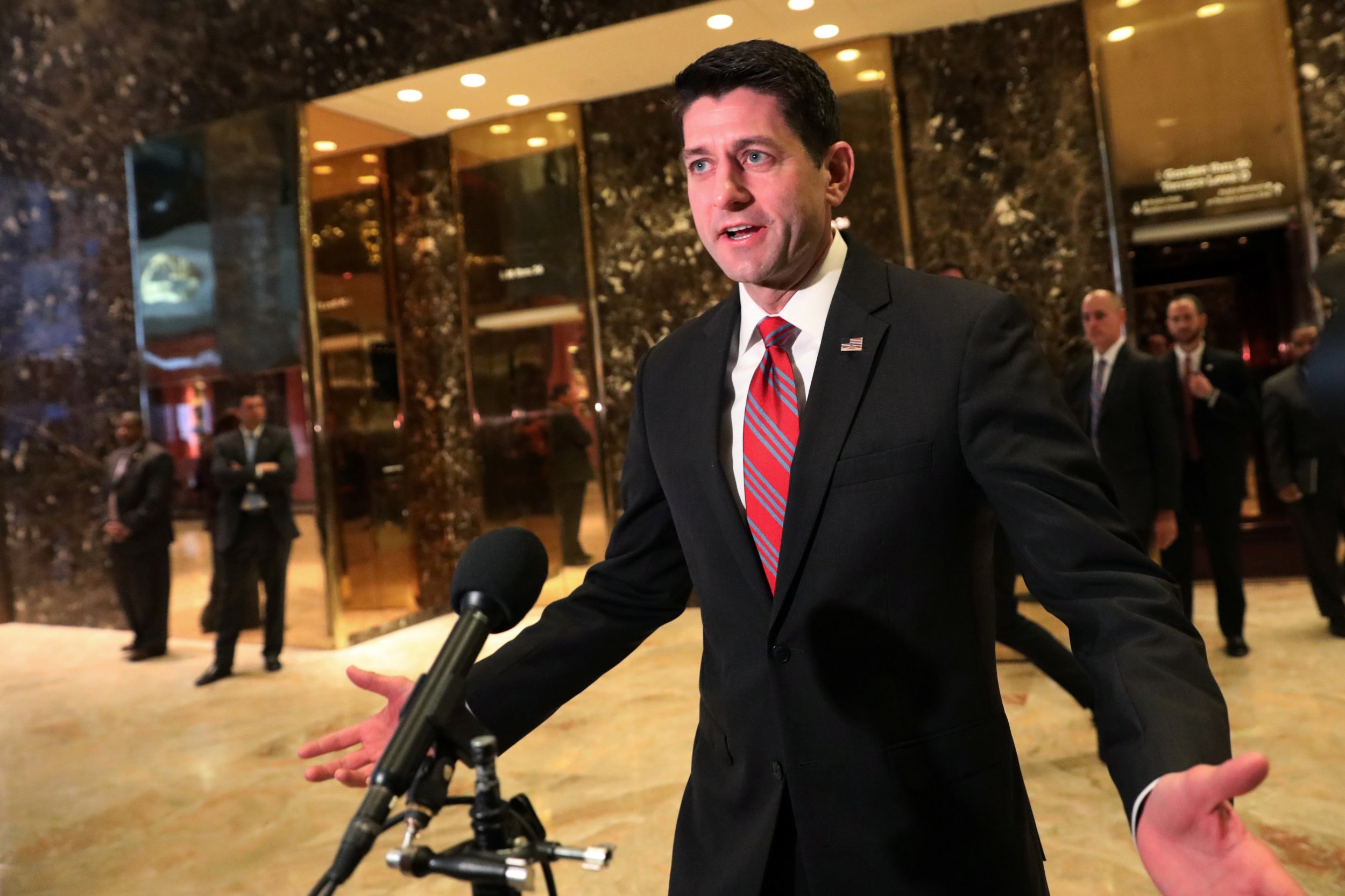 Congress's Republican majority flexed its muscles while clearing the decks for the new Donald Trump administration to take over early next year—forcing Democrats to go along with their versions of year-end spending, defense and infrastructure bills—but the final weeks of the session also revealed cracks already forming within the party.
GOP lawmakers left town with more questions than answers on their "repeal and replace" strategy for Obamacare; repairing relations with Russia; and other Trump priorities. And Democrats have already signaled they will play up every one of those divisions to the hilt as they seek to drive a wedge between Trump's populist stance and free-market conservatives on Capitol Hill.
Democrats pushed Congress to the brink of another government shutdown, but it would have only been a short one—they did not have the ability to completely block the spending bill, just delay for an extra two days. In the end, the minority gave up on efforts to extend benefits for retired coal miners, who had been set to lose them at the end of the year. By calling off their blockade, Democrats allowed the Senate to vote late Friday night on the bill to keep the government open, just as the existing one was about to expire. Early Saturday, senators passed a water infrastructure bill, as well.
But the stand-off over coal miners' benefits highlighted Democrats' emerging strategy to counter Republicans' total control over Washington: championing causes that split President-elect Trump, or at least his campaign rhetoric, from the GOP establishment in Washington. In the final weeks of the session, Democrats not only called out their Republican counterparts for failing to support coal miners, but also for removing a "Buy American" provision from the water infrastructure bill and for threatening Medicare and Social Security. All go against promises Trump made during his insurgent presidential run, challenging decades of Republican orthodoxy.
Democrats also began ramping up the pressure on Trump's controversial embrace of Russia, a stance that came under even more scrutiny with the news breaking late Friday night that the CIA now believes Moscow actively interfered in the U.S. election to boost Trump. Earlier Friday, the White House announced that President Obama has ordered an intelligence review of Russia's alleged hacking during the election campaign. The moves are likely to embolden Democrats—and some Republicans—who are calling for a thorough review of the cyberattacks next year.
Related: Trump Decries CIA Report That Putin's Russia Tried to Help Him Win the Election
On Sunday, Republican Senators John McCain, chairman of the Senate Armed Services Committee, and Lindsey Graham joined with Minority Leader Chuck Schumer and Jack Reed, the ranking member of the Senate Armed Services Committee, in releasing a statement calling for Congress to join together to investigate and protect American democracy from further intrusions. "Democrats and Republicans must work together, and across the jurisdictional lines of the Congress, to examine these recent incidents thoroughly and devise comprehensive solutions to deter and defend against further cyber-attacks," the four veteran senators said. Representative Elijah Cummings, ranking Democrat on the House Oversight Committee—which is responsible for investigations—suggested in his own statement Sunday that "an increasing number of bipartisan voices" have come out in support of his calls for a congressional review.
Judging from the Trump transition team's derisive reaction to the CIA's assessment of Russian interference, the president-elect is not on board. "These are the same people that said Saddam Hussein had weapons of mass destruction," the transition team said in a Friday night statement. "The election ended a long time ago in one of the biggest Electoral College victories in history. It's now time to move on and 'Make America Great Again.'"
Republicans, still riding high from their unexpected victories in November, also denied any storm clouds were on the horizon as they wrapped up business last week. House Speaker Paul Ryan opened his final press conference of the year Thursday on a triumphant note, boasting of the 114th Congress's accomplishments. "Landmark legislation to combat opioid addiction and support longterm recovery. Landmark legislation to accelerate the development of cures of rare diseases as well as the most significant mental health reform in more than a decade," Ryan ticked off. "And when the defense bill becomes law…our troops will see their biggest pay raise in six years."
But when the Q&A session began, the Wisconsin Republican struggled to answer basic policy questions that have arisen since Trump's election. Republicans in recent weeks have repeatedly pledged to send Trump a bill to repeal Obamacare as soon as he enters the White House. But there is fierce debate about when exactly that repeal should go into effect. Asked about that on Thursday, Ryan replied vaguely, "There needs to be a reasonable transition period so that people don't have the rug pulled out from under them.... That's obviously something we intend on doing."
Pressed further as to whether he favors a two-year transition period or shorter, as House conservatives prefer, or a longer, three-year-or-more timeline, as some Senate leaders have advocated, Ryan demurred. "I don't have an opinion on exactly what that timeline will be. There's a lot of moving parts and we have a lot of dialogue that we have to have with our friends in the Senate and with the White House on the transition."
Democrats, meanwhile, are highlighting a report released last week by the Urban Institute that warns any move to repeal the 2010 health care law without a solid framework for its replacement risks upending insurance markets, which rely on predictability to game out costs. Combined with the elimination of tax credits and Medicaid expansion, the report estimates that a repeal would result in 30 million people losing health coverage, pushing the uninsured population to 59 million in 2019.
Democrats are virtually daring Republicans to go forward with such a plan. "They want to start repealing Obamacare the first week? Bring it on!" Schumer, the incoming Senate minority leader, said a press conference in the Capitol last week. "They have nothing to put in it's place. And believe me, just repealing Obamacare...and saying they'll do [a replacement] sometime down the road will cause huge calamity from one end of America to the other. They don't know what to do, they're like the dog that caught the bus."
Ryan didn't have any better answers when reporters asked him if he's on board with Trump's recent promise in a Time magazine interview to "work something out" on the DREAMers—undocumented immigrants brought to the country as children, who've been granted protected status under the Obama administration. "I would defer you to the Judiciary Committee, which is in charge of that. I'm sure the Judiciary Committee is working with the Trump administration, the transition team on these things."
A bipartisan group of senators introduced new legislation Friday to protect undocumented DREAMers if Trump terminates Obama's Deferred Action for Childhood Arrivals program, known as DACA. The bill would grant participants in DACA three years of legal status while the government tries to work out a more permanent immigration compromise. The issue is likely to be a flashpoint among Republicans in the next Congress, many of whom supported Trump's hardline stand on immigration. And it's just one of many that promise to test GOP unity even before the next president is sworn in on January 20.
Read more from Newsweek.com:
Tillerson's Ties to Putin Worry Trump's Critics
Donald Trump's Trade Policy Is Easy to Achieve—Repealing Obamacare, Not So Much
House Conservatives Will Keep Pressure on Trump, Ryan