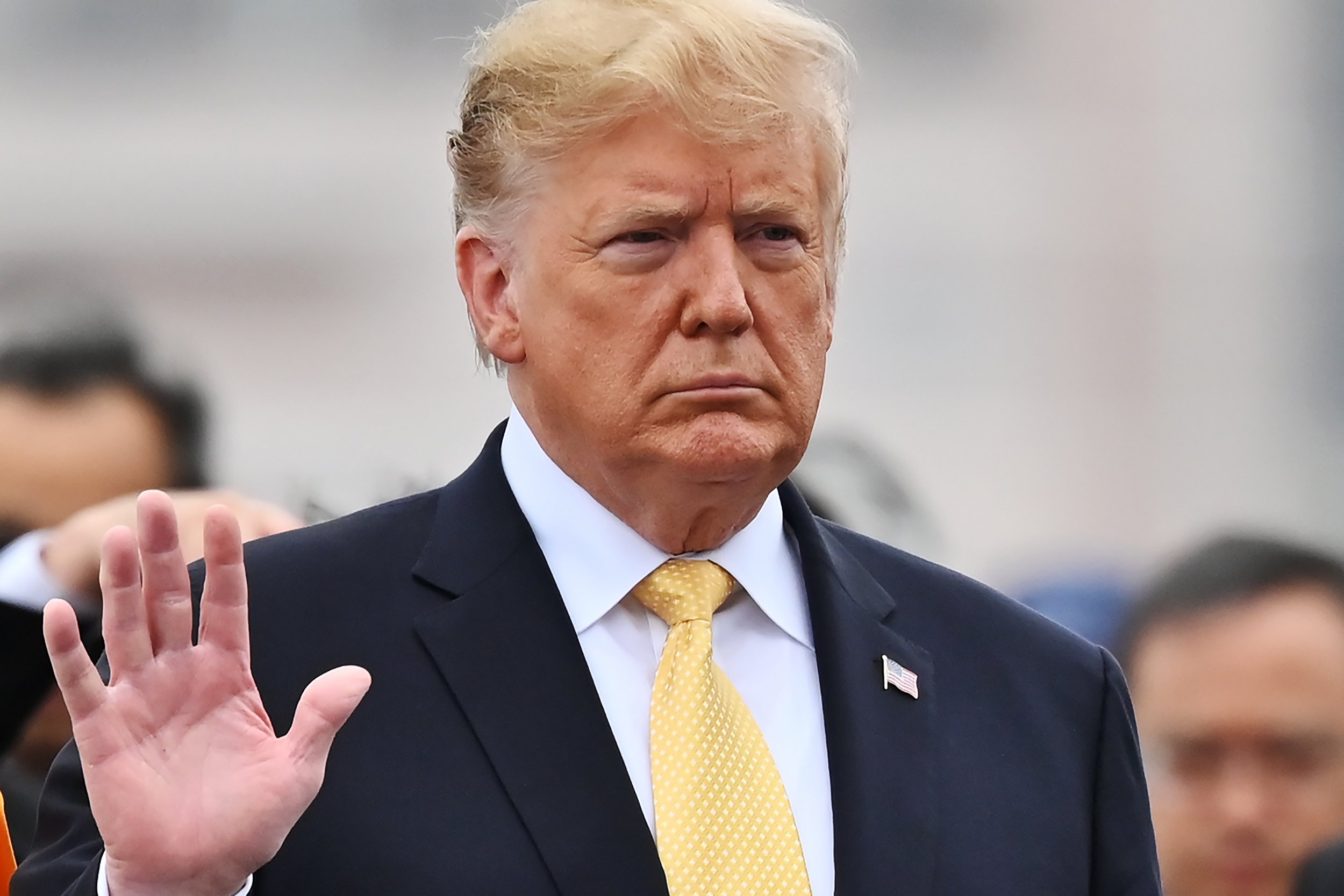 Republicans for the Rule of Law (RRL), a conservative group whose stated purpose is "defending the institutions of our republic," will advertise on Fox & Friends next week to urge members of Congress to hold President Donald Trump accountable for the findings in special counsel Robert Mueller's report.
Mueller, speaking publicly for the first time since beginning the Russian probe in 2017, reiterated on Wednesday during a press conference that he would have stated if the evidence collected during his 22-month-long investigation cleared Trump of any criminal wrongdoing, but he didn't.
Chris Truax, a spokesperson and legal adviser for RRL, told Newsweek that Congress must properly investigate Mueller's findings in order to address the "corruption of our Constitution from within."
"Everybody — Republicans and Democrats but especially Republicans — need to step up and say, 'Look, this is bigger than the politics of the day, this is about our democratic institutions.' If we don't defend them, that will have an impact on our country for decades to come," he said. "President Trump still does not want to admit that this happened and that's wrong, absurd and dangerous. Republicans need to stop enabling this behavior."
GOP members should be "appalled at their casual disregard for the law, the Constitution and everything that makes America great," Truax added. "Americans of all political affiliations should recoil at the plain fact that senior members of the administration put their own interests above the national security of the United States."
The group, which aims to "protect [Mueller's] investigation from political interference by the president," was established last March when reports surfaced of Trump's intentions to potentially dismiss Mueller. The special counsel's 448-page redacted report, released by Attorney General William Barr in April, revealed that Trump had indeed attempted to discharge Mueller in June 2017, but former White House counsel Don McGahn refused, saying he would rather resign.
Next week, RRL will air an advertisement on Fox & Friends urging members of Congress to continue investigating Mueller's findings to hold Trump accountable and uncover every detail of "Russia's complex scheme to weaken our country."
The roughly 30-second-clip opens with a clip of Mueller's statement. "The matters we investigated were of paramount importance. It was critical for us to obtain full and accurate information from every person we questioned," the special counsel said on Wednesday. "When the subject of an investigation obstructs that investigation or lies to investigators it strikes at the core of the government's efforts to find the truth and hold wrongdoers accountable. If we had had confidence that the president clearly did not commit a crime, we would have said so."
The advertisement then cuts to a short voiceover: "Mueller did his job, now it's time for members of Congress to do theirs."
"One of the takeaways from Mueller's statement, is that 'I provided you the facts, now it's up to Congress to take action on those facts,'" Truax said. "When witnesses lied to his office, thwarted their efforts, refused to cooperate and encouraged and rewarded those who diverted and delayed the truth, they gave aid and comfort to America's enemies, whether they realized it or not."
RRL has previously aired 44 advertisements during Fox News programs to "encourage speaking up from Republicans" on the matter.
RRL said it chooses to air on Fox News because of the network's wide-ranging viewer demographics and reach. According to 2018 Nielsen Media Research figures, the channel pulls in over double the adult viewers ages 35 and up that CNN attracts. Of those, 26 percent of Fox viewers are Democrats, 30 percent undecided and 44 percent Republicans.
When Mueller's report was released last month, Sarah Longwell, RRL's executive director, told Newsweek that the document looked like "a road map for Congress" as it definitely proves that "a lot of political interference that was attempted by [Trump]."
"[Republicans] need to grapple with what's in [the Mueller report], which is incredibly disturbing," she said. "We're not urging impeachment or any kind of action other than Congress, specifically Republicans, should join the Democrats, to investigate the matter for fully and come to some conclusion about accountability."
Mueller's report resulted in 199 criminal charges, indicting 34 individuals, including three Russian companies and six former Trump associates. While the special counsel's report did not accuse the president of a crime, it revealed ample evidence of wrongdoing by Trump and his inner circle, dating from his 2016 presidential campaign to current day.
"The president's efforts to influence the investigation were mostly unsuccessful, but that is largely because the persons who surrounded the president declined to carry out orders or accede to his requests," the report stated. "While this report does not conclude that the president committed a crime, it also does not exonerate him."
Mueller on Wednesday revealed that he won't be making any further remarks — to Congress or otherwise — on the matter as he will be resigning from his post at the Department of Justice. The special counsel also said that charging Trump with obstruction of justice was "not an option" available to his team as department guidelines prohibited a sitting president from being charged with a federal crime.
"The Special Counsel's Office is part of the Department of Justice and by regulation, it was bound by that department policy," he said, adding that the move would have been "unconstitutional." "Charging the president with a crime was, therefore, not an option we could consider."
Following his comments, White House Press Secretary Sarah Huckabee Sanders announced that Mueller was "moving on with his life" in terms of the Russia investigation and urged the public to do the same. "The report was clear — there was no collusion, no conspiracy — and the Department of Justice confirmed there was no obstruction," Sanders said in a statement. "Special Counsel Mueller also stated that Attorney General Barr acted in good faith in his handling of the report."
Trump retweeted Sanders' statement and added his own comments. "Nothing changes from the Mueller report," the president wrote on Twitter. "There was insufficient evidence and therefore, in our country, a person is innocent. The case is closed! Thank you."
Watch the Republicans for the Rule of Law advertisement below:
This story has been updated to include further comment from Chris Truax, a Republicans for the Rule of Law spokesperson and legal adviser.