As Republican Civil War Starts, Democrats Face Revolt of Their Own
After a disappointing 2022 midterm election cycle, many prominent members of the Republican Party found themselves questioning its future under figures like former President Donald Trump and House minority leader Kevin McCarthy as it seeks to build a coalition able to compete alongside and defeat Democrats in 2024.
But in one of the few states where Republicans performed well, Democrats found themselves facing an identity crisis of their own.
As Democrat after Democrat came out on top in toss-up elections across the country Tuesday, New York—a state President Joe Biden won by 23 points two years ago—found itself trending in the opposite direction.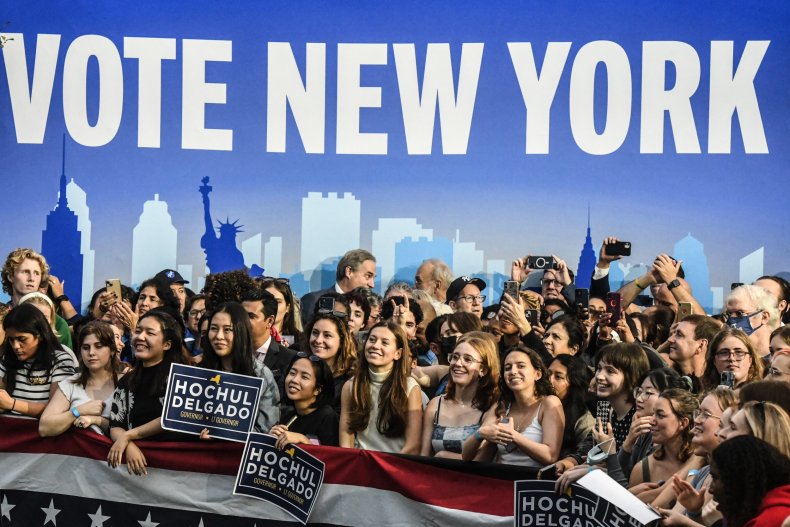 For live updates on the midterms, head over to Newsweek's Live Blog: Who Won the Midterm Elections 2022?—Senate, House, Governor Results.
When the dust settled Tuesday night, New York Republicans flipped four U.S. House seats while defending several seats Democrats believed to be vulnerable, all but quashing Democrats' chances of retaining their narrow majority in Congress next year.
Sean Patrick Maloney, the chair of the Democrats' national campaign arm, lost his otherwise safe House seat in a stunning upset in the Hudson Valley. Kathy Hochul, the state's Democratic governor, experienced a single-digit scare in her bid against Republican Lee Zeldin. And in the race for the General Assembly, Republicans flipped three New York State Senate seats on Long Island, leaving Democrats at risk of losing their supermajority in Albany.
To progressives in the party, the blame for Tuesday fell squarely on the shoulders of the New York State Democratic Party and its chairman, Jay Jacobs, who they said kneecapped grassroots organizing efforts for years in favor of a more moderate brand of candidate they believed was less likely to be successful in the reality of present-day New York politics.
"The responsible thing is for Jay Jacobs to resign," state Senator Julia Salazar tweeted Wednesday.
"Our state party is not up to the job," Zohran Kwame Mamdani, a New York City state assemblyman, told Democracy Now the following morning. "Our state party chairman, Jay Jacobs, is not the man—or the person, rather. He has instead been far more focused on defeating the left than defeating the right."
And while others—including Hochul—said following the election they would stand by Jacobs, others, including the state's most visible politician, were indicating otherwise.
"I think the role of the state party had very strong national implications," Representative Alexandria Ocasio-Cortez told The Intercept in an interview published Wednesday. "If Democrats do not hang on to the House, I think that responsibility falls squarely in New York state. And so I think we definitely could have done better there. And I think that that's kind of like the glaring hole in where we did not perform as strongly as other areas in the map did."
In an email to Newsweek Thursday, Jacobs blamed a litany of other factors—including right-wing media narratives around bail reform—for Democrats' underperformance across the state.
He noted several ads against Democratic candidates this cycle, like the more moderate Democratic House candidate Josh Riley, often sought to connect them to New York's bail reform programs alongside progressive politicians like Ocasio-Cortez, who he said, "helped reinforce the narrative that Democratic candidates running in tough districts were out of touch with mainstream values."
He blamed the result of a redistricting lawsuit that upheld congressional district lines favorable to Republicans, an issue where some Democrats accused state party officials of doing too little.
And when some argued in outlets like Politico New York that he did too little to support candidates in competitive districts in places like New York City, Jacobs said they willfully ignored the contributions he'd actually made to help elect Democrats this cycle.
"Ask the Governor if she feels we let her down," Jacobs told Newsweek. "Ask the winning and losing candidates in the Congressional and State Senate campaigns. You're not hearing from them. That's because of what we did—not the fiction being sold now by critics who, frankly, were nowhere to be found until Election Day, never asked us for help or volunteered to help and, some of whom come from districts where you couldn't find a Republican with a magnifying glass, have millions left over in their campaign accounts and have the audacity to point fingers at others. Ask them what they did—and look to the financial filings for the proof."
Others argued Jacobs was missing the point.
In 2021, Jacobs declined to endorse progressive mayoral candidate India Walton in Buffalo prior to a successful write-in campaign by Byron Brown in the city's Democratic primary. He attracted widespread condemnation for likening Walton to onetime Ku Klux Klan leader David Duke at a time progressives were running numerous primary challenges to sitting lawmakers.
Jacobs also made personal donations to primary challengers seeking to unseat progressive Democrats who had been critical of state party leadership at the same time the Democratic Assembly Campaign Committee spent millions defending vulnerable incumbents from progressive candidates in primaries.
But others argued Jacobs and modern Democratic leadership were simply stuck in the past. Where populist liberal candidates like U.S. Representative Mondaire Jones and current Lieutenant Governor Antonio Delgado previously found success in rural districts, this year's crop of candidates in battleground seats was much more moderate, male and white—and arguably, no different than those on the Republican side of the ticket.
"We can blame the party. We can blame redistricting. We can blame the bad cycle. But everywhere else, rural working-class people in this country trended toward the Democratic Party this year while in Upstate New York and Long Island, working-class people turned away," Paolo Cremidis, executive director of the Outrun Coalition and former New York State Young Democrats' Rural Caucus chairman, told Newsweek.
"We have an identity crisis in the Democratic Party of New York because we do not want to have the difficult conversations about what a winnable candidate looks like. We want to be stuck in this aesthetic idea that only white moderate candidates can win and can run and win in rural communities," Cremidis said.
Jacobs, meanwhile, said he is not going anywhere, claiming those on the far-left have "wanted to get rid of me from the start" and "don't want to engage in a meaningful conversation about how we best move forward."
"They just want to remove the roadblocks to their far-left agenda," he said. "There is more to New York State than just Astoria, Queens. This roadblock isn't going anywhere."
Update 11/11/22, 9:43 a.m. ET: This article was updated with additional information about Jacobs.