GOP's Kevin McCarthy Refuses to Criticize Trump as Pelosi Slams President for Saying He'd Accept Foreign Dirt on Opponent
On the heels of President Donald Trump expressing willingness to receive damaging information on a political opponent from a foreign adversary, House Minority Leader Kevin McCarthy repeatedly declined on Thursday to disapprove of the president's remarks.
Rather, the top House Republican pivoted to ridicule previous actions taken by Democrats, such as funding the Steele Dossier, slam House Intelligence Chairman Adam Schiff for receiving a prank phone call from Ukrainians pretending to be Russians offering dirt on the president and claim Trump has been one of the toughest presidents on Russia.
"I've watched this president do what is right. And I know this president would not want any foreign government interfering in our elections. He's strong about that," McCarthy told reporters at a weekly press conference. "That's why he's been so strong against Russia."
McCarthy did say if he were to ever receive opposition research from a foreign entity, he "would send it to the authorities."
The refusal to rebuff the president by one of Congress' top GOP leaders was in line with many House Republicans, who have yet to publicly chastise Trump and who appeared to believe his remarks were not inappropriate. Their counterparts in the Senate, however, were far less hesitant about holding their tongues.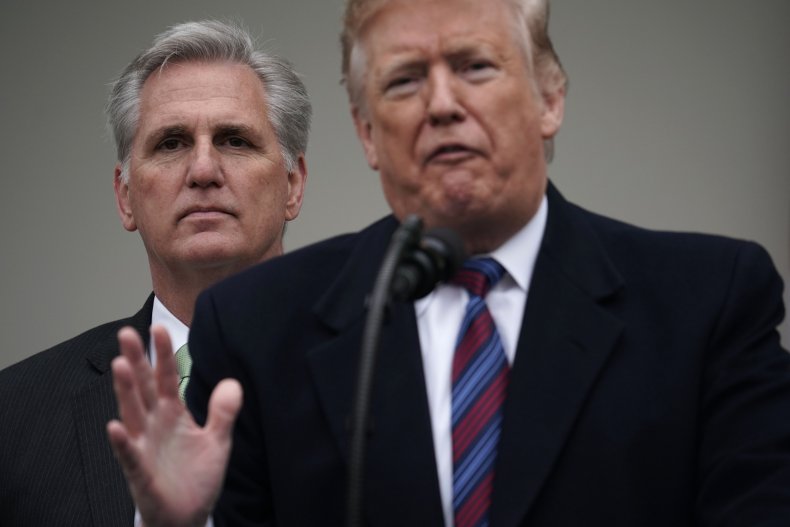 Speaking with ABC News in an interview that aired Wednesday evening, Trump said he would accept opposition research—even if offered by a foreign adversary like China or Russia—on his political opponents and would not necessarily report such matters to the FBI. He also denied the notion that by accepting such dirt on an opponent, that it would be considered election interference.
"It's not an interference, they have information—I think I'd take it," Trump said. "If I thought there was something wrong, I'd go maybe to the FBI—if I thought there was something wrong. But when somebody comes up with oppo research, right, they come up with oppo research, 'Oh let's call the FBI.' The FBI doesn't have enough agents to take care of it. When you go and talk, honestly, to congressmen, they all do it, they always have, and that's the way it is. It's called oppo research."
House Speaker Nancy Pelosi, speaking to reporters just moments before McCarthy, lambasted those remarks, saying they were "against any sense of decency" and "totally unethical."
"What the president said last night shows clearly, once again, over and over again that he does not know the difference between right and wrong, and that's probably the nicest thing I can say about him," said the California Democrat. "If he doesn't understand the difference, it could explain some of his ridiculous behavior. And now he invites further involvement of a foreign government into our election."
Despite her vehement disapproval, it was clear that the president's remarks did not sway her opposition against opening an impeachment inquiry into Trump. She avoided using the "I-word" several times, only to eventually elaborate that she believed no singular action taken by Trump would change her mind.
"Everybody in the country should be totally appalled by what the President said last night. He has a habit of making appalling statements," she said. "However, what we want to do is have a methodical approach to the path we are on, and this will be included in that. But not any one issue to going to trigger, 'Now, we do this.'"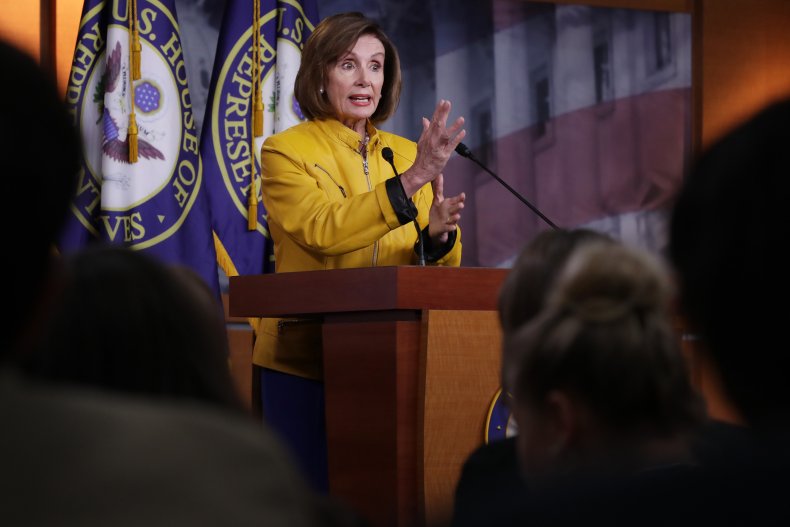 Republican Senator Lindsey Graham spent much of Thursday morning pushing back on criticism of the president by making the allegation that Democrats had received information from foreigners when they obtained the so-called Steele Dossier, containing potentially harmful information about then-candidate Trump, provided by former British intelligence officer Christopher Steele.
McCarthy made similar claims, pointing to wrongdoing by Democrats for the Steele Dossier that led to a FISA surveillance warrant of former Trump foreign policy aide Carter Page, a matter that is already being investigated by the Justice Department's internal watchdog.
"What did [Pelosi] ever answer when it came to her own party, spending millions of dollars for a former foreign intelligence officer that we're now trying to interview, travel the world, trying to drum something up, and when they could not find it, they made it up?" McCarthy said. "And then they utilized our own FBI to go after Americans by using a FISA court with false information that they knew and they paid for."
However, a 2018 report from the House Intelligence Committee — then led by Republicans — appeared to clarify that hiring Steele or other non-citizens to do opposition research was within the bounds of existing law.
"Under current federal election law, foreigners are prohibited from making contributions or donations in connection with any campaign in the United States. However, it is not illegal to contract with a foreign person or foreign entity for services, including conducting opposition research on a U.S. campaign, so long as the service was paid for at the market rate," reads the report.
McCarthy, like Trump earlier that morning in a tweet, then took aim at Schiff, a frequent target of Republican ire. They questioned why that when the Intelligence chairman received the prank call offering dirt on Trump, that he did not contact the FBI. But Schiff rejected their assertions, saying that he did, in fact, alert the FBI, and that Trump's openness to accepting foreign opposition research was a "green light" for election interference.
"When a foreign national offered info relevant to our investigation — not election — we informed the FBI before and after the call," Schiff tweeted. "It's called ethics. You should try it."
Trump, in his ABC News interview, also took aim at his own FBI chief, whom he appointed. In congressional testimony last month, FBI Director Christopher Wray told lawmakers that, "If any public official or member of any campaign is contacted by any nation state of anybody acting on behalf of a nation state about influencing or interfering with our election, then that's something that the FBI would want to know about."
"The FBI director is wrong because, frankly, it doesn't happen like that in life," Trump said, contradicting Wray.
Current law states that it's "unlawful for ... a person to solicit, accept, or receive a contribution or donation ... from a foreign national." And while the Mueller report concluded that the Trump campaign "expected it would benefit electorally from information stolen and released through Russian efforts, the investigation did not establish that members of the Trump Campaign conspired or coordinated with the Russian government in its election interference activities."
Pelosi said that in light of the president's most recent remarks, House Democrats will introduce a package of legislation that would require candidates and politicians to report foreign offers of assistance to federal authorities.
Asked whether he and his Republican colleagues would support such a measure, McCarthy said they will "gladly vote for this."