High-Ranking Republican Cheney Suggests Steve King Find a New Job After 'Racist' Language
Representative Liz Cheney—the third-ranking GOP House member—suggested her colleague Representative Steve King should find a new line of work following his questioning why terms like "white supremacist" are considered offensive.
Cheney, a Wyoming Republican, was asked if she thought King, an Iowa Republican, should resign, following Senate Majority leader Mitch McConnell saying King's comments were "unworthy of his elected position" and that he should find a new job.
"I agree with Leader McConnell, actually," she saidto reporters. "I think he should find another line of work. His language questioning whether or not the notion of white supremacy is offensive is absolutely abhorrent, it's racist. We do not support it or agree with it."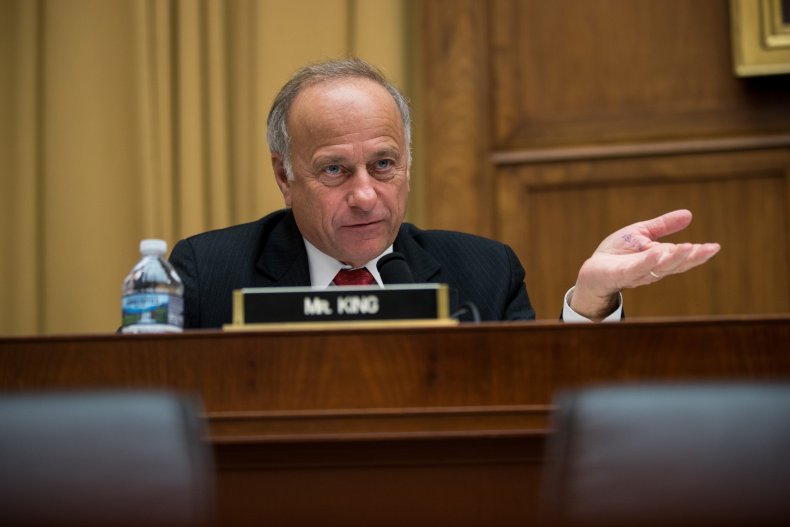 King has long been controversial and accused of racism. He has, for instance, retweeted British neo-Nazi Mark Collett and posted on social media in March 2017 that "we can't restore our civilization with somebody else's babies."
His latest comments, made in an interview with The New York Times, have sparked a bigger backlash than in the past..
"White nationalist, white supremacist, Western civilization—how did that language become offensive?" King told The Times. "Why did I sit in classes teaching me about the merits of our history and our civilization?"
King has denied he was racist, and said his statement had not been understood in its proper context, and that he did not support white supremacy.
Other GOP leaders aside from Cheney and McConnell have condemned their congressional colleague. House Minority Leader Kevin McCarthy announced King had been removed from all House committee assignments after the party's steering committee took a vote.
Utah Senator Mitt Romney—the party's presidential nominee in 2012—also called for King to step down.
"Steve King's comments are reprehensible," he told reporters. "They have no place in polite society. And certainly no place in the Republican Party. And they should have no place in the United States Congress. He ought to resign and move on and let someone else who represents American values take his seat."