Republican Mayor Praises Joe Biden's Border Policy
President Joe Biden's border policies received praise from one Republican leader as reports found that crossings have dropped notably.
A Sunday report from the Wall Street Journal found that illegal crossings at the U.S.-Mexico border fell by roughly 50 percent in January, with sources familiar with the data telling the outlet that the past month saw roughly 4,000-5,000 in a day, compared to 8,000-9,000 a day in December. This drop comes after the Biden administration introduced new policies designed to deter border crossings and expand pathways for asylum seekers.
These measures have not been well-received by certain parts of the Democratic Party, with some members criticizing them as inhumane. They have, however, received rare support from the other side of the aisle, with Doug Nicholls, the Republican mayor of border city Yuma, Arizona, offering praise for the results of Biden's policy. According to the Journal, Yuma has long been a common crossing point for migrants arriving from South America.
"This is pretty significant and some of it has to be some of the changes the president made," Nicholls said.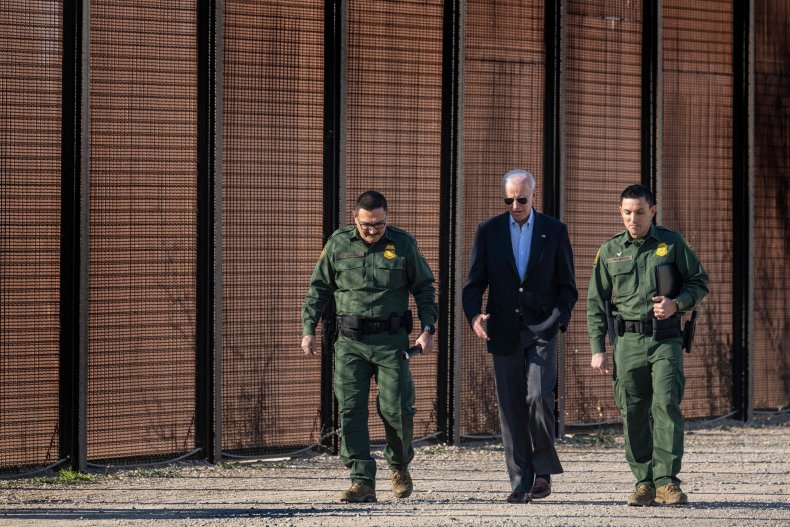 Earlier in January, the Biden White House expanded the COVID-era Title 42 rules introduced during the Trump administration, now allowing migrants from Cuba, Haiti, Nicaragua, and Venezuela to be rapidly turned back at the border, with Mexico now agreeing to accept 30,000 of these migrants per month. The new rules also allowed 30,000 migrants a month from those same countries to apply for asylum.
"The process we have created is safe, fast and only costs the price of a commercial plane ticket," a White House official told Newsweek when reached for comment. "Compared to the thousands of dollars smugglers are charging migrants for a dangerous journey, of course migrants are quickly rethinking their plans to take the dangerous journey and attempt to enter unlawfully."
The current Title 42 rules could, however, be lifted as soon as March, pending a Supreme Court decision. Nicholls expressed concern that the benefits of the expanded rules could be temporary and criticized the lack of planning for a post-Title 42 situation.
"I am still not seeing hard preparation for Title 42 ending," he added. "We have for the last two years put that off for the future."
Meanwhile, on Wednesday a group of 77 Democratic lawmakers signed a letter criticizing the Biden administration's new border policies, particularly their restrictions on asylum access for migrants. Some of the prominent names in the letter included Representative Alexandria Ocasio-Cortez and Senator Cory Booker.
Senator Bob Menendez, who also signed off on the letter, detailed some of his issues with the policies at a press conference.
"We recognize that the United States is experiencing a difficult migration challenge at the southern border," Menendez said. "But as elected officials, we are duty-bound to propose legal solutions, one that protects asylum-seekers while also securing the safe removal of migrants who have no legal claim to stay in the United States."
Updated 01/30/2023, 5:30 p.m. ET: This article was updated with a comment from the White House.