Republican Meghan McCain Celebrates Joe Biden Who 'Respects POW's Who Have Been Captured'
Meghan McCain, a Republican and daughter of the late Arizona Senator John McCain, expressed her relief on Saturday after the Associated Press and other media networks called the 2020 election, naming Democratic candidate Joe Biden as winner.
Meghan McCain said she felt "relieved," and that she looked forward to "having a president who respects [prisoners of war] who have been captured."
McCain is likely referring to comments President Donald Trump made in 2015 while seeking the Republican nomination. He had said McCain's father was "not a war hero," and "I like people who weren't captured."
John McCain served in the United States Navy during the Vietnam War. While on a bombing mission there in 1967, his aircraft was shot down, leaving him seriously injured. North Vietnamese troops captured him, and he remained a prisoner of war for six years, until 1973.
Trump's comments in 2015 about the late senator drew boos from the audience at the Family Leadership Summit in Iowa, as well as criticism from Republicans and Democrats. Trump never served in the military, receiving four student deferments and one medical deferment that exempted him.
Reporting by The Atlantic published in September claimed that Trump had called American war dead "losers" and "suckers." After John McCain died in August 2018, Trump allegedly told members of his senior staff: "We're not going to support that loser's funeral."
Meghan McCain has been vocal about her support of Biden throughout the election cycle. Her mother, Cindy McCain, also endorsed the former vice president, even participating in campaign ads for the Democratic candidate.
"My husband knew Joe Biden for a long time," Cindy McCain said in one video ad. "They traveled thousands of miles together visiting troops overseas, and they developed the kind of friendship that you don't see too often.
"In the Senate, they'd disagree on almost everything. They'd fight like hell on the floor, and then they'd go eat lunch together," she added, "because they always put their friendship and their country first."
She even joined Biden's transition team as a member of its advisory board, and is expected to offer counsel on issues affecting women and children.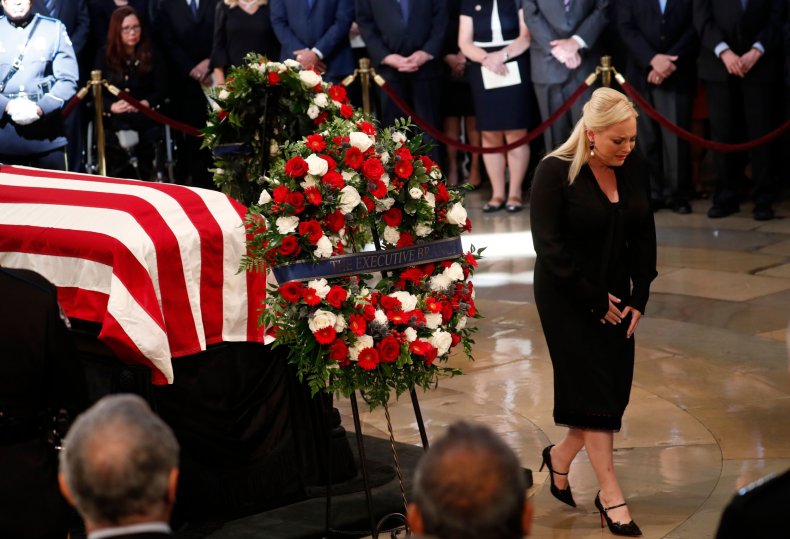 Meghan McCain's tweets came shortly after the AP and other media networks called the race Saturday. In addition to alluding to her father, McCain also congratulated Biden on his projected win, calling him "one of the truly decent and moral men I've ever had the privilege of knowing."
Biden cinched the presidency after winning Pennsylvania, one of the few remaining states still counting mail-in ballots on Saturday, thus handing him the White House.
Before Pennsylvania, the AP reported that Biden had 264 electoral votes. The state's 20 votes pushed him to 284, well over the 270 votes needed to win the Electoral College. Trump has only 214 electoral votes. Biden also leads the popular vote, with 74.8 million compared to Trump's 70.5 million.