Republican Party's Only Black Senator Slams Steve King's White Supremacist Comments and GOP's Silence on Racism
Senator Tim Scott, the only black Republican in the Senate, slammed fellow conservative lawmaker Steve King for his recent comments about white supremacists, and the GOP for keeping silent during instances of racism.
"Over the past two years, Republicans have focused on spreading opportunity, and it has paid dividends," King wrote in an op-ed published by The Washington Post on Friday. "However, we are often still struggling when it comes to civility and fairness."
Scott then pointed to the recent comments by King, a representative from Iowa, who has had a long history of making controversial comments about race. In an interview with The New York Times earlier this week, King wondered when terms like white nationalist became so "offensive."
"White nationalist, white supremacist, Western civilization—how did that language become offensive? Why did I sit in classes teaching me about the merits of our history and our civilization?" King is quoted as saying in the report.
King, a 69-year-old who was first elected to Congress in 2003, addressed the comment during a speech on the House floor on Friday, in which he called his remarks a "freshman mistake."
"I regret the heartburn that has poured forth upon this Congress and this country and especially in my state and in my congressional district," King said, adding that he does not endorse white nationalism. In a statement earlier this week, King identified himself as "simply a Nationalist."
It's not the first time King has been under fire for his rhetoric. Over the past few years, King also made headlines when he endorsed a white nationalist candidate for Toronto mayor and for engaging with neo-Nazi sympathizers and white supremacists on Twitter.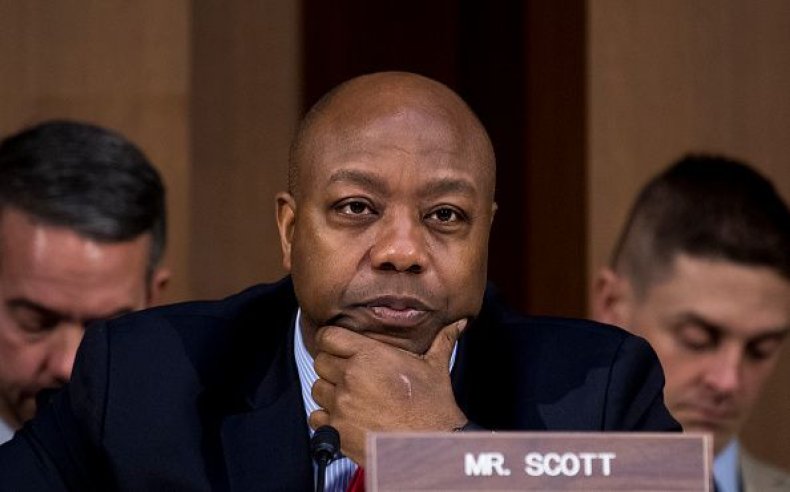 But his most recent remarks have been met with increased scrutiny by Republican leaders. The third-ranking GOP House member Liz Cheney declared the comments were "abhorrent and racist," while House Minority Leader Kevin McCarthy said in a statement on Thursday that King's "language is reckless, wrong, and has no place in our society."
In his op-ed, Scott wrote that King's comments and others like it are damaging the Republican Party and the country as a whole.
"When people with opinions similar to King's open their mouths, they damage not only the Republican Party and the conservative brand but also our nation as a whole," he wrote.
Scott then went on to slam the Republican Party for their silence when comments like King's are made.
"Some in our party wonder why Republicans are constantly accused of racism— it is because of our silence when things like this are said," Scott wrote in the op-ed.