Republican Rand Paul Breaks With Trump Over Portland: 'Cannot Give Up Liberty for Security'
Republican Senator Rand Paul of Kentucky spoke out on Monday against the actions federal agents took against protesters in Portland last week after weeks of escalation in the city.
President Donald Trump said Monday the federal troops that went to Portland to help local law enforcement manage protesters did "a fantastic job" and arrested "a lot of people," seemingly confirming a video shared on social media over the weekend. But local legislators said the agents only made matters worse and repeatedly called on Trump to pull the agents out of the state.
Paul joined their calls to put an end to the federal agents' presence in the city in a tweet he posted Monday morning, which accompanied an article by the conservative political blog Hot Air that detailed unidentified agents' efforts to arrest protesters.
"We cannot give up liberty for security," Paul said. "Local law enforcement can and should be handling these situations in our cities but there is no place for federal troops or unidentified federal agents rounding people up at will."
Last week marked 50 days since the death of George Floyd, a Black man who died while in police custody in Minneapolis. As protesters responding to Floyd's death gathered in the U.S. and around the world demanding widespread reform to policing policies and an end to violence against Black individuals, debates over how law enforcement should handle the demonstrations grew as heated as the gatherings themselves.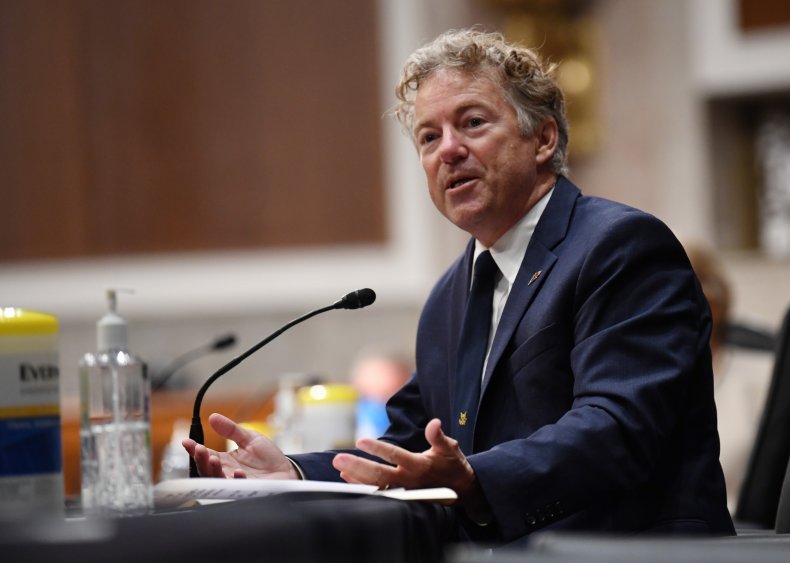 Acting Homeland Security Secretary Chad Wolf defended the department's decision to send in federal agents in a public statement the DHS shared last week. "Instead of addressing violent criminals in their communities, local and state leaders are instead focusing on placing blame on law enforcement and requesting fewer officers in their community," Wolf said, adding that the local response "emboldened the violent mob" that caused the bulk of the damage during protests that turned destructive.
"This siege can end if state and local officials decide to take appropriate action instead of refusing to enforce the law," Wolf's statement continued. "DHS will not abdicate its solemn duty to protect federal facilities and those within them."
The criticism aimed at the federal agents' presence in Portland came to a head on July 17 when Oregon Attorney General Ellen Rosenblum filed a lawsuit against the U.S. Department of Homeland Security, the U.S. Marshals Service, the U.S. Customs and Border Protection and Federal Protection Service, alleging the organizations' agents detained citizens without cause and used "scare tactics" to shut down protests. The allegations against the agents also drew the attention of Lincoln Project, an anti-Trump political action committee that released an ad on Sunday in response to the incidents in Portland that warned viewers, "This is how it starts."
"The videos of masked, anonymous government officers attacking American citizens who pose no threat is shocking to watch," Lincoln Project co-founder Reed Galen said in a news release. "Federal agents with no badge are kidnapping civilians into unmarked vans. How is this America?"
Newsweek reached out to the White House and the DHS for comment but did not receive a response in time for publication.