Lincoln Project Rebukes Trump for Sending 'Paramilitary' in 'Unmarked Vans' to Portland: 'This Is How It Starts'
A new political advertisement spotlighted the federal response to Portland protests on Sunday, aiming to dissuade voters from backing President Donald Trump's bid for reelection.
Anti-Trump political action committee The Lincoln Project is responsible for the advertisement, released Sunday and titled "How It Starts." The group's latest ad focused on the current federal military presence in Portland, Oregon, where demonstrators continue to organize protests against police abuse and racism after Georg Floyd's death in Minneapolis, Minnesota while in police custody. It specifically referenced accusations that the Trump administration deployed undercover federal officers to Portland in response to ongoing rallies, in addition to uniformed federal agents' violence against protestors.
"In a small city far from the Beltway, shadowy men, no badges, no ID, deputized by a rogue Attorney General, snatch so-called 'enemies of the state' off the streets. This is how it starts," a narrator says in The Lincoln Project's new advertisement. "Without a warning or a warrant, heavily-armed paramilitary units shove their targets into unmarked vans and race away. They fire on protestors with gas, flash grenades and rubber bullets. And when they put their hands in the air, they're assaulted with clubs and fists. This is how it starts."
Tactics used by federal officers drew intense criticism from Portland Mayor Ted Wheeler, Oregon Governor Kate Brown and four of the state's U.S. congressional representatives late last week. On Friday, Oregon Attorney General Ellen Rosenblum filed a lawsuit against the Department of Homeland Security (DHS) and U.S. Marshals Service, the Associated Press reported. The DHS authorized the deployment of officers in tactical gear from more than six federal law enforcement agencies and departments earlier this month, according to the AP.
Pushback from Oregon's government leaders followed reports that federal troops used tear gas and other violent displays of force to disperse crowds during protests. On Saturday, a viral video showed federal agents silently escort a Portland protestor, whose hands were raised, into an unmarked vehicle. The agents were dressed in camouflage. Another protestor was shot in the head with an impact munition fired by Marshals Service officers and subsequently hospitalized with critical injuries.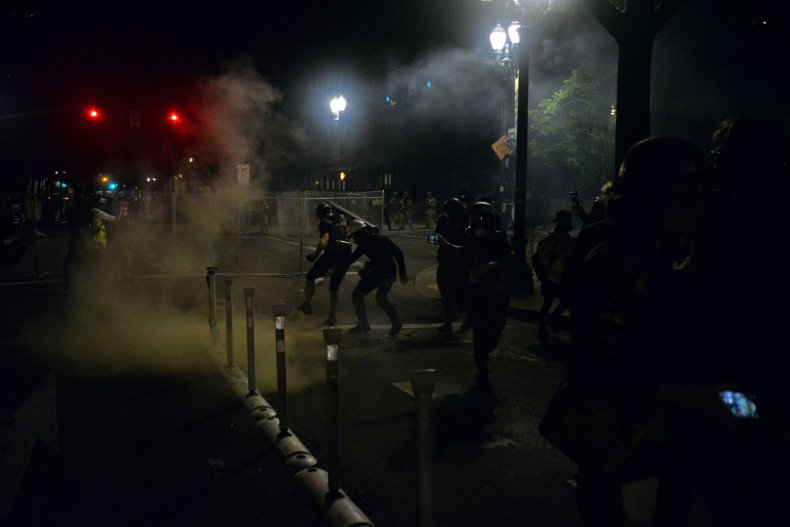 "The videos of masked, anonymous government officers attacking American citizens who pose no threat is shocking to watch," said Reed Galen, co-founder of the Lincoln Project, in a statement released alongside the group's latest advertisement. "Federal agents with no badge are kidnapping civilians into unmarked vans. How is this America?"
Erin Perrine, director of press communications for the Trump campaign, responded to The Lincoln Project's "How It Starts" ad in a statement to Newsweek on Monday.
"This is the swamp – yet again – trying to take down the duly elected President of the United States," Perrine said in the statement. "President Trump is the leader of a united Republican Party where he has earned 94% of Republican votes during the primaries – something any former president of any party could only dream of."
Newsweek reached out to The Lincoln Project and the White House for comments but did not receive replies in time for publication.
This story was updated to include Perrine's statement.