Republican Rand Paul Criticizes GOP For Adding To National Debt, Says 'They Are Ruining The Country'
Kentucky Senator Rand Paul criticized his Republican colleagues for proposing increased coronavirus relief spending on Tuesday.
After attending a luncheon to discuss plans for the next federal stimulus package, Paul, a Republican, denounced the Senate GOP for spending recommendations that would raise the national debt. He later referred to its members as "Bernie bros" in comments to reporters.
"This is insane, they are ruining the country," Paul said of the "fiscally irresponsible" spending initiatives outlined by GOP representatives, according to the Washington Times. The Kentucky senator went on to voice his disapproval on Twitter, where he targeted Republicans' proposed stimulus funds for education.
"Just came from Progressive Democrat, whoops, I'm mean Republican caucus:
They're going to spend $105b more on education, more than we spend every year on the Dept of Education. Anyone remember when Reagan conservatives were for eliminating the Federal Dept. of Education?" Paul wrote.
"The majority of Republicans are now no different than socialist Democrats when it comes to debt," he continued. "They simply don't care about debt and are preparing to add at least another trillion dollars in debt this month, combined with the trillions from earlier this summer."
Paul also took issue with proposed relief funds for child care in subsequent tweets.
Paul's office referred Newsweek to the senator's remarks on Twitter in its reply to a request for comment. Newsweek reached out to the White House for additional comments but did not hear back in time for publication.
Tuesday's Senate GOP meeting took place as Congress prepares to negotiate a second round of relief funding to offset the coronavirus pandemic's economic repercussions. In addition to allocating $105 billion to support education and child care, Senate Majority Leader Mitch McConnell said the Republican stimulus proposal includes another wave of direct impact payments to individuals and funding to accelerate COVID-19 vaccine development.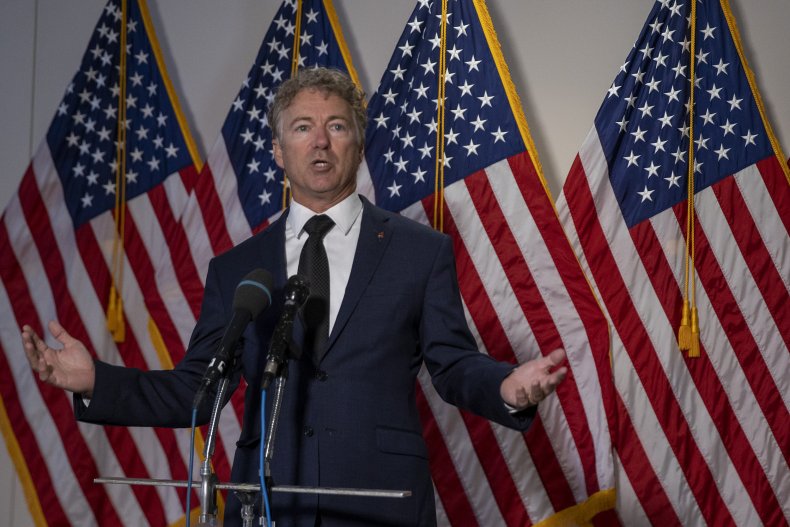 Senate Republicans, including Majority Leader Mitch McConnell, have pushed for a stimulus package totaling $1 trillion. But their Democratic counterparts argue additional support is necessary, especially given the upcoming end to unemployment benefits expanded under the Coronavirus Aid, Relief, and Economic Security (CARES) Act. The bipartisan bill was effected in March after passing both the House and Senate.
Another coronavirus relief package passed in the House more than one month later, in May. The Health and Economic Recovery Omnibus Emergency Solutions (HEROES) Act proposed allocating an additional $3 trillion in federal funds toward broader relief efforts. The Senate has yet to vote on the legislation. Republican lawmakers have criticized the Act since its House passage, calling it "a liberal wishlist" and suggesting it will be "dead on arrival" in the Senate.