Republican Rep. Says He 'Definitely Would' Advise GOP Senators to Call Bolton to Testify in Trump's Impeachment Trial
Republican Congressman Francis Rooney urged members of his political party in the Senate to call additional witnesses in the impeachment trial of President Donald Trump, noting that more information had come out in the weeks since the House of Representatives voted to impeach the president.
Rooney, who represents Florida, voted with House Republicans against the two Articles of Impeachment, which were approved by the Democrat-controlled lower chamber of Congress. However, he had long raised concerns about the president's actions towards Ukraine, which led to the House vote of impeachment. Speaking to CNN on Monday, he questioned why Democrats had moved so quickly with their investigation when more evidence was still being revealed.
Asked by CNN anchor Jim Sciutto if he would "advise" his GOP colleagues in the Senate to call on Trump's former national security adviser John Bolton to testify, Rooney responded: "I definitely would."
"I think they should hear the witnesses that can bear on all ramifications of the case," the congressman said, noting that he had wished Bolton would have testified before the House inquiry.
"I think they [the Senate] should hear the testimony that they can get. I think the House should have done it as well," he added.
Rooney argued that Democratic investigators should have pursued the case further before voting on impeachment. "Just what's come out in the news in the last week shows I might have been right, that there's been things that have come out that would have been better to be explored," he said.
Democrats in the House and Senate have urged GOP senators to support calling additional witnesses, such as Bolton, to testify about their knowledge of Trump's efforts to pressure Ukraine to announce investigations that could benefit the president politically. Bolton released a statement this month, noting that he had decided he'd testify before the Senate if called to do so. Other witnesses refused to testify before the House investigators after the White House cited executive privilege, while the administration also blocked significant documents from being reviewed by investigators.
Although leading Republicans, such as Senate Majority Leader Mitch McConnell and Senate Judiciary Chair Lindsey Graham, have come out against the idea of calling further witnesses, several GOP senators have said they are open to the possibility. Given the Senate's current make-up, at least four Republicans would need to side with all Democrats and the upper chamber's two independents in order for witnesses to be called in the trial.
Trump became the third president in U.S. history to be impeached by the House in December, in votes that passed along partisan lines. He was impeached over his role in pressuring Ukraine to announce investigations into unfounded claims that former Vice President Joe Biden acted corruptly toward Ukraine to benefit his son Hunter's business dealings, and a debunked conspiracy theory that Democrats worked with Ukrainians to interfere in the 2016 election.
Democrats argued that the president abused his power by soliciting a foreign government to undermine his political rivals.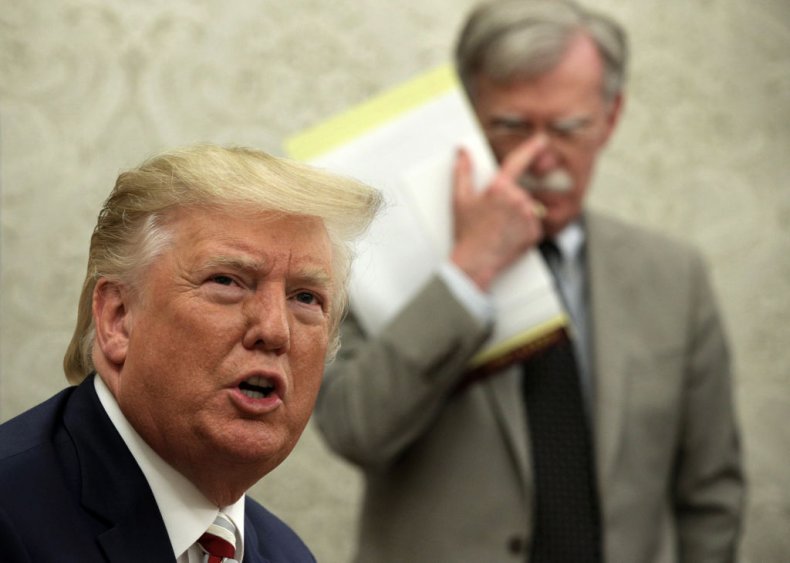 Responding to Democratic calls to call additional witnesses, Kellyanne Conway, a senior counselor to the president, said Monday on Fox News that the White House would want Hunter Biden to testify if Bolton or others were subpoenaed.
"If the Democrats really want to go down that road and have witnesses, then we're going to have reciprocity in those witnesses," Conway said. "I dare them."
At least one Democratic senator has already said he would be "fine" with Biden's son being brought as a witness, however.
"I think you bring in – we take the position that we want to hear from the witnesses. I don't know what Hunter Biden has to do with the phone call the president made," Senator Sherrod Brown of Ohio told CNN on Sunday.
"The point is we need witnesses, we need to know who they are with the right to call witnesses, additional witnesses later. But I don't understand how you come to the American public, make the case that this is a real trial, if there are no witnesses and there is no new evidence," he said.