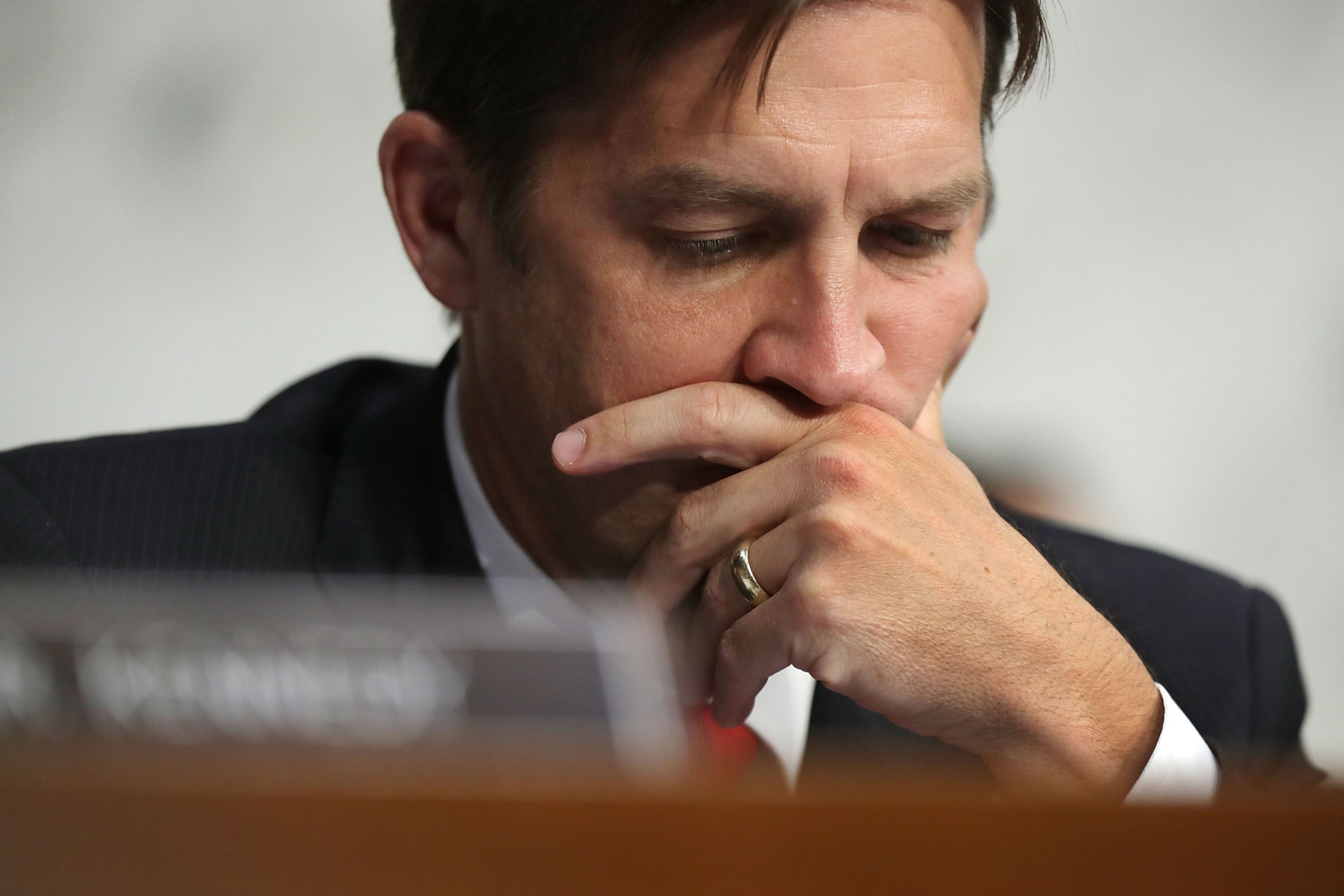 As Republicans wrestle with the erratic presidency of Donald Trump, a midterm election strategy that seems to rely nearly exclusively on race-baiting and a stalled legislative agenda, some have retired or left the party. And one more threatened to do so on Saturday.
In a tweet on Saturday morning, Republican Senator Ben Sasse said he "regularly" considers leaving the party, although he makes clear that does not mean he would join the opposing party.
"I fear we're headed toward a place where hefty majorities of both sides of the electorate are going to regularly embrace unsupported and blatantly false assertions," Sasse said. "Technological fragmentation of media enabled it, and siloed fan-servicing media practices are accelerating it..."
Sasse's "unsupported and blatantly false assertions" referred to a poll that showed 59 percent of Republicans and 42 percent of Democrats thought it was "definitely true" or "probably true" that millions of illegal votes were cast in the 2016 election. The poll was conducted by The Economist and YouGov from July 22-24, surveying 1,500 U.S. adults.
When asked if they thought Russia tampered with vote tallies in order to get Trump elected, 55 percent of Democrats and 13 percent of Republicans believed it was "definitely true" or "probably true."
Both are claims made by either side of the aisle that have been found to be not true.
Trump's claims that 3 million to 5 million votes were cast by illegal immigrants in 2016 and claims of past widespread voter fraud are both false. A comprehensive study of major elections from 2000 to 2014 conducted by Loyola University Law School Professor Justin Levitt found just 31 incidents of voter fraud out of more than 1 billion votes cast.
While intelligence agencies and election experts agree Russia interfered in the 2016 presidential election to help Trump, there was no evidence found that any vote counts were tampered with.
Sasse said Trump is "accelerating the trend" for why more so many people believe unsupported and false assertions but that he wasn't totally to blame.
"He is accelerating the trend, obviously," Sasse said. "But it didn't start two years ago. (Eg, you should check out the polling on the giant share of Democrats that believed George W. Bush knowingly concealed the 9/11 plot against America.)"
James Wegmann, a spokesperson for Sasse, emphasized to Newsweek on Saturday that Sasse has taken similar stances before. Sasse has classified himself as more of an "independent conservative" in the past, despite acknowledging he has one of the most conservative voting records among his GOP colleagues in the Senate.
"I'm the second or third most conservative person in the Senate by voting record and I don't hide any of that," Sasse told MSNBC's Morning Joe earlier this week. But, most of what I care about isn't stuff that we're actually debating in the Congress. So, I'm not really that interested in incumbency."
The Republican Senator's sentiments seem to align with various other GOP politicians, both at the local and national level, who have left the party or have considered it.
Steve Schmidt, longtime GOP strategist and former campaign manager of John McCain's 2008 presidential bid, left the party in June. Calling the modern-day Republican Party a "danger to our democracy and values," Schmidt said the party had become corrupt, indecent and immoral, adding that it's filled with "feckless cowards who disgrace and dishonor the legacies of the party's greatest leaders."
Earlier this year, some Republican senators were not yet ready to back Trump for reelection in 2020.
Ohio Governor and former presidential candidate John Kasich, who is still a Republican, said in April, "I didn't leave the Republican Party. The Republican Party left me ."
Chris Gagin resigned in July as Belmont County Republican Party Chairman in Ohio following the president's summit with Russian President Vladimir Putin where he failed to condemn the foreign leader for interfering in an American election. He said the party lacked "moral clarity," and has traded in "the unwavering demand for truth" in exchange for Trump.
Local GOP officials in Oregon, California and Connecticut have all left the party within the past few months.