Iowa Senator Joni Ernst joined the growing group of Republicans who have condemned conservative Rep. Steve King (R-IA) for his recent comments in support of white supremacy.
In a recent interview with the New York Times, King, an Iowa lawmaker who has made several controversial statements about race, wondered how language like "white nationalist" and "white supremacist" became racist. "White nationalist, white supremacist, Western civilization—how did that language become offensive?" King was quoted saying in the report. "Why did I sit in classes teaching me about the merits of our history and our civilization?"
Ernst condemned King's remarks on Saturday morning and made clear his words did not represent Iowa. "I condemn Rep. Steve King's comments on white supremacy; they are offensive and racist—and not representative of our state of Iowa," she tweeted, alongside a Washington Post op-ed by Tim Scott titled "Why are Republicans accused of racism? Because we're silent on things like this."
"We are a great nation and this divisiveness is hurting everyone. We cannot continue down this path if we want to continue to be a great nation," Ernst added.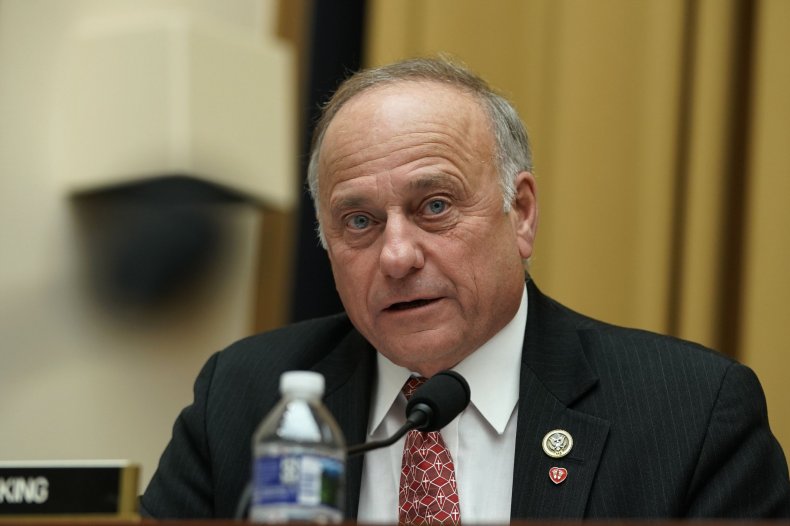 Several Republicans leaders have also moved to denounce King's remarks. Liz Cheney, the third-ranking GOP House member, condemned his comments as "abhorrent and racist," while House Minority Leader Kevin McCarthy labeled the congressman's language as "reckless, wrong, and has no place in our society."
In a Washington Post op-ed, Senator Tim Scott, the Senate's only black Republican, argued that the comments were damaging to both the Republican party and the country. "When people with opinions similar to King's open their mouths, they damage not only the Republican Party and the conservative brand but also our nation as a whole," Scott wrote. "Some in our party wonder why Republicans are constantly accused of racism—it is because of our silence when things like this are said."
King, who was first elected to Congress in 2003, called his comments a "freshman mistake" during a speech on the House floor on Friday. "I regret the heartburn that has poured forth upon this Congress and this country and especially in my state and in my congressional district," King said.
The 69-year-old congressman—a prominent Trump ally—also defended his position in a statement posted to social media. "Today the New York Times is suggesting that I am an advocate for white nationalism and white supremacy," he tweeted. "I want to make one thing abundantly clear; I reject those labels and the evil ideology they define."
King added: "It's true that like the Founding Fathers I am an advocate for Western Civilization's values, and that I profoundly believe that America is the greatest tangible expression of these ideals the world has ever seen. Under any fair political definition, I am simply a Nationalist. As I told the New York Times, 'it's not about race; It's never been about race.'"