Republican Senator Roy Blunt Thinks Trump 'May Not Have Been Defeated At All' By Biden in Election
Republican Senator Roy Blunt of Missouri on Tuesday questioned whether President Donald Trump lost the 2020 election to President-elect Joe Biden.
"The president wasn't defeated by huge numbers. In fact, he may not have been defeated at all," Blunt said, adding that the election results show that "virtually every predictor" was inaccurate.
Biden has secured at least 290 Electoral College votes—exceeding the 270 required to win the presidential election—but Trump has still not conceded. The president and many of his supporters and allies have claimed, without evidence, that Biden and Vice President-elect Kamala Harris received votes through widespread voter fraud.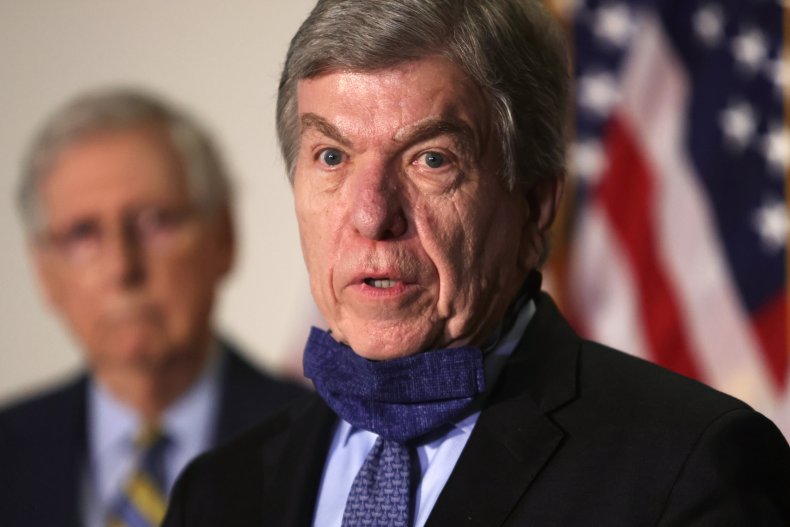 Newsweek reached out to Senator Roy Blunt's representatives for further comment.
Blunt's remarks came just hours after GOP Senator Ron Johnson of Wisconsin dismissed a journalist who asked him whether he had congratulated Biden on his win over Trump. In a video, the reporter could be seen asking Johnson, "Senator, have you congratulated Vice President Biden yet?"
"No," the Republican responded with a laugh. "Why not?" the reporter presses, to which Johnson responds, "Nothing to congratulate him about."
While Johnson and Blunt have questioned the election results, some Republicans have criticized Trump for refusing to accept that Biden had defeated him. On Tuesday, Republican Governor Charlie Baker of Massachusetts told reporters that the president's claims of voter fraud and refusal to concede made him feel "dismayed."
"I'm dismayed to hear the baseless claims from the president and his team and from many other elected Republican officials in Washington. I've been a Republican for 40 years.... But this latest move, to deploy the Department of Justice is so wildly inappropriate," he said.
Every other living president has congratulated Biden on his win, but only four Republican Senators—Susan Collins of Maine, Mitt Romney of Utah, Lisa Murkowski of Alaska and Ben Sasse of Nebraska—have publicly sent their well-wishes since Biden was declared the winner by most major television networks and media outlets.
Meanwhile, the president's campaign has spent the past week claiming that voter fraud happened and filing a series of lawsuits in multiple battleground states. These lawsuits have had little success so far and analysts have indicated that even if some of the challenges are successful, it still won't be enough to sway the election in Trump's favor.
On Tuesday, Biden told reporters that it doesn't matter whether Trump concedes of not. "We're already beginning the transition, we're well underway," he said, noting that "nothing's going to stop that."