These Republican Senators Could Vote To Remove Donald Trump From Office
While President Donald Trump's exoneration in the Senate impeachment trial is almost certain, there are several Republicans who could cross party lines to vote for his conviction and removal.
As opening arguments in the case begin on Wednesday, all eyes are on vulnerable GOP lawmakers like Susan Collins of Maine and Cory Gardner of Colorado. The two are among a handful of conservatives who are viewed as the most likely to break away from the Republican Party and the president.
Overall, 20 Republicans would need to join Democrats in order for Trump to be removed from the White House. A two-thirds majority of 67 senators is needed to convict a sitting president during an impeachment trial.
While it's a seemingly impossible number for Democrats to reach, it appears some progress is already being made. On Tuesday, Senate Majority Leader Mitch McConnell was forced to make last-minute changes to the proposed rules for the trial after some Republicans, including Collins, reportedly raised concerns about two provisions.
"She and others raised concerns about the 24 hours of opening statements in 2 days and the admission of the House transcript [in] the record. Her position has been that the trial should follow the Clinton model as much as possible," a spokeswoman for Collins told the press.
Due to those concerns, McConnell changed the rules to allow each side three days to present opening arguments and automatically included the House of Representatives evidence from the impeachment inquiry.
The change emphasized how just any four Republicans could change the course of the trial. They could be the game-changers in terms of helping Democrats call new evidence and witnesses. What's revealed in those testimonies could then force other Republicans to follow suit.
The Senate trial officially kicked off on Tuesday as the upper chamber voted on a resolution for trial rules. The action comes over a month after the House voted to impeach Trump on two articles: abuse of power and obstruction of Congress. Democrats allege that the president tried to pressure the Ukrainian government to investigate a potential political opponent, former Vice President Joe Biden, in exchange for the release of nearly $400 million in military aid. Trump has denied the charges.
Here are the Republican senators who could vote to convict Trump during the trial:
Lamar Alexander
The Tennessee lawmaker has been critical of Trump's dealings with Ukraine, deeming it "inappropriate" for the president to try to push another country to open an investigation into a political rival. Though he ultimately deemed impeachment as a mistake, he's been pretty quiet on the Senate trial and the proceedings in the upper chamber.
But his upcoming retirement could be a major factor in how he votes during the impeachment trial. Alexander announced last year he would not be returning to Congress and not having to worry about seeking reelection could make him more open to supporting the president's removal from office.
Susan Collins
The Maine senator is a pivotal swing vote in the fight over witnesses and has criticized her colleagues for trying to "prejudge the evidence" ahead of the trial.
"While I need to hear the case argued and the questions answered, I tend to believe having additional information would be helpful. It is likely that I would support a motion to call witnesses at that point in the trial just as I did in 1999," she tweeted last week.
Collins is also considered one of the country's most vulnerable Republican senators in the country and is facing a tough reelection bid in 2020. Her vote against Trump could help her win over voters in a state that leans Democrat. Plus, a new poll found that a majority of Maine voters believe Trump abused his power.
Cory Gardner
Like Collins, Gardner is considered to be one of the most vulnerable Republicans up for reelection in 2020. Trump lost Colorado by 5 percentage points in 2016 and polling shows that voters don't particularly like Gardner either. According to Morning Consult, the Republican has an approval rating of just 36 percent.
Unlike his Senate colleagues, Gardner has largely avoided talking impeachment. He hasn't indicated one way or the other how he'll vote on issues like subpoenaing witnesses or new documentation. He's even refused to take questions on whether Trump's conduct with Ukraine was appropriate or legal.
When the articles of impeachment were sent to the Senate last week, Gardner said in a statement that he is "focused entirely on fulfilling my Constitutional duty as an impartial juror and my responsibility to listen to both sides present their case."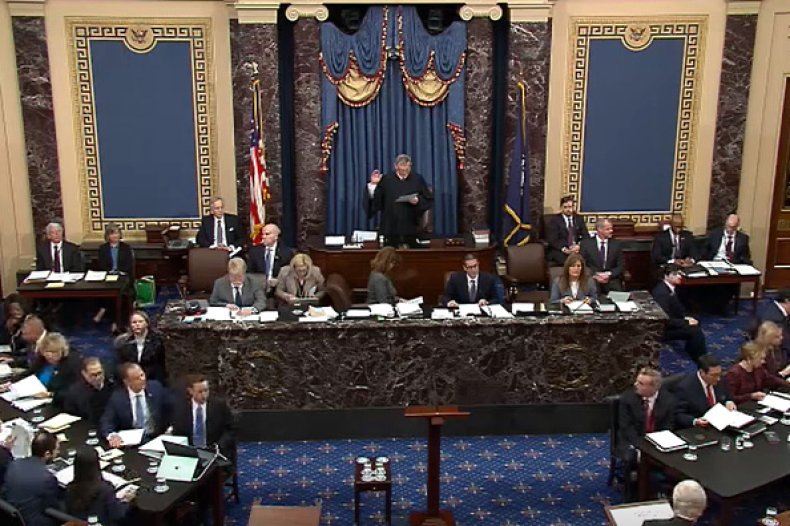 Martha McSally
McSally is another Republican who has to worry about the potential backlash at the ballot box if she supports the president during the impeachment trial. The Arizona senator was never actually elected. She was appointed to Senator John Kyi's seat after his resignation. When she did run for Congress in 2018 she lost to Democrat Kyrsten Sinema.
She has called impeachment a "serious" matter and said she hopes her constituents would want her to examine the facts without partisanship. "People want us to take a serious look at this and not have it be just partisan bickering going on," McSally told The Arizona Republic.
Lisa Murkowski
Murkowski made headlines last month for breaking with GOP leadership. The Alaskan senator said she was "disturbed" by McConnell's pledge to be in "total coordination" with the White House during the impeachment trial. She also has a history of breaking with the GOP. In 2018, she voted against Trump's Supreme Court nominee Brett Kavanaugh.
"For me to prejudge and say 'There's nothing there,' or on the other hand, 'He should be impeached yesterday,' that's wrong, in my view, that's wrong," she told an Alaskan TV station in December.
A few days ago, she told KTVA that she doesn't "want this proceeding to be a circus. I don't want it to be viewed as a mockery or a kangaroo court."
Mitt Romney
The Utah Republican told reporters earlier this month that he would like to hear from additional witnesses in the Senate impeachment trial. But on Tuesday, like the rest of his Republican colleagues, he voted against the Democratic amendment for the upper chamber to agree to witnesses at the onset of the trial
But Romney is far from an avid Trump supporter and has pledged to have an "open mind" throughout the trial. He's also signaled that he will probably vote for former National Security Adviser John Bolton to testify, which would be a huge win for Democrats.
"He's someone who I would like to hear from, and presumably I get the chance to vote for that," he told reporters in footage captured by MSNBC.