Republican Mocked for Saying Abortions Happen 'Past the Moment of Birth'
Sen. Tommy Tuberville has been mocked and criticized on social media for claiming abortions happen "past the moment of birth" in the U.S.
During a floor speech on Monday, the Republican from Alabama railed against a Pentagon policy to provide travel funds and support for troops and their dependents who seek abortions, but are based in states where they are illegal.
The policy was introduced after the Supreme Court overturned Roe. v. Wade in June 2022, eliminating constitutional protections for abortion. Abortion is currently banned in 13 states, while it remains legal for now in several others as courts determine whether bans in those states can take effect.
Tuberville accused the Biden administration of supporting "an extreme heartless, and inhumane abortion agenda," before going on to claim that the procedure sometimes happens after birth.
"The Democrats today believe in abortion at any time, for any reason with no restrictions or regard for human life," he said.
"I am proud to be pro-life for many reasons, including my faith—another thing that I will not set aside for political correctness. However, even without considering religion, a society that allows abortion up to and past the moment of birth, after the baby has been born, isn't progressive. It's barbaric and it's murder."
Newsweek has contacted Tuberville's office for further comment.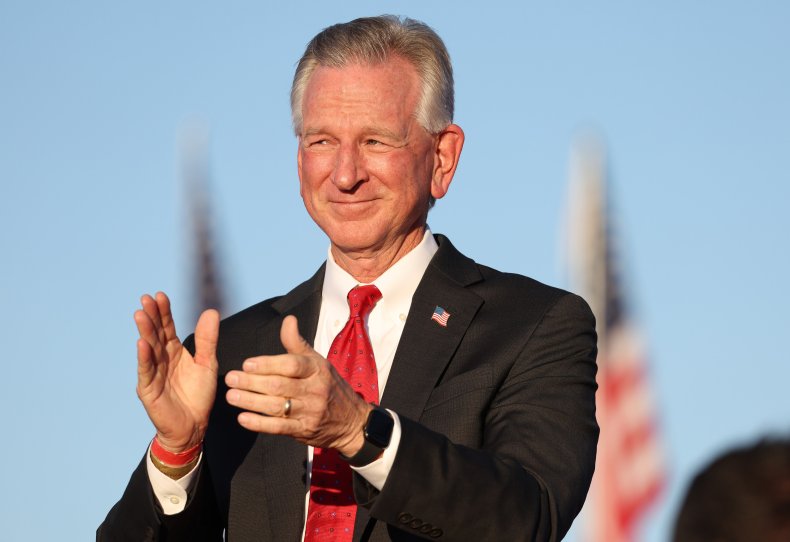 A clip of Tuberville's remarks went viral after it was shared on Twitter, amassing more than 2 million views and prompting many commenters to note that what he was describing would be classified as infanticide—which is not legal anywhere in the U.S.
"What a complete moron," tweeted Tennessee state Rep. Gloria Johnson.
"This man is either a complete idiot or wilfully spreading misinformation about abortion," wrote author Jane Caro.
Actress Mo Collins wrote: "I can't believe they still haven't taken the time to learn what abortion IS!! What he describes here is infanticide/murder. Has NOTHING to do with abortion care. Christ Almighty!! And these dipsticks are making the laws??? I'm so over the baffling idiocy of the GOP."
Historian Kevin Kruse wrote: "The people who are furious that their past statements on Social Security are being quoted back to them accurately are the people who have no problem spinning insane fictions like @TTuberville here."
Author Zack Hunt wrote: "This is not a thing that has ever happened in the history of childbirth. It's an insane Pro-Life™️ lie that Trump picked up on and peddled at a debate and now all of MAGA regurgitates it as gospel."