Republican Who Voted Against Marjorie Taylor Greene Wants 'Same Standard' for Democrats
A Republican congressman who voted to strip Rep. Marjorie Taylor Greene of her committee posts called for Democrats to be held to the "same standard" as his GOP colleague, after she was condemned in a House vote last week.
Representative Carlos Gimenez (R-FL) told CNN that he would be "looking over to the other side" to ensure the Democratic caucus dealt the same blow to members he accused of peddling "conspiracy theories" and anti-Semitic comments.
The congressman did not refer to any Democratic lawmakers by name, but the Republican caucus has attacked Rep. Ilhan Omar (D-MN) over the past week, and tried to draw an equivalency between her and Greene.
Speaking to the CNN anchor Wolf Blitzer, Gimenez said: "I look towards the Democrats, and some of the members that they've had, that made some anti-Semitic remarks, have had some interesting conspiracy theories of their own, to be held to the same standard. If it's good for the goose, it's got to be good for the gander.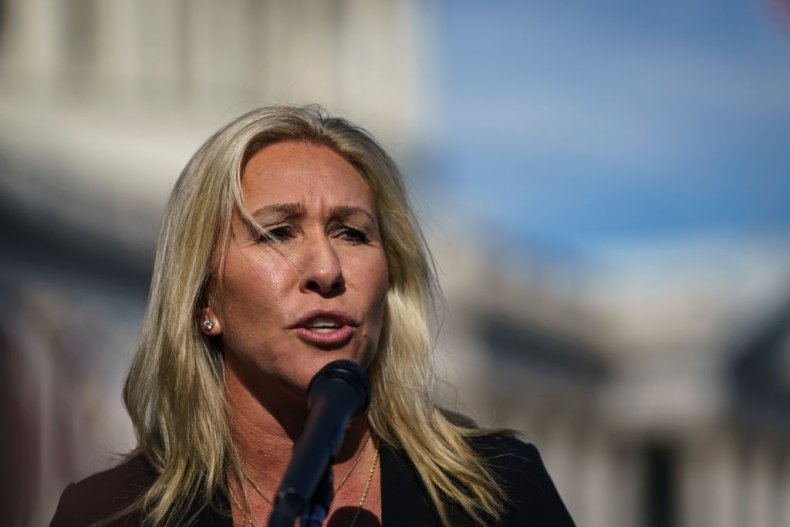 "I did vote to remove Representative Greene from her committees. I'll be looking over to the other side, and making sure that the Democrats do the same with their members."
The House voted 230-199 to oust Greene (R-GA) from congressional committees on Thursday last week over her past support for QAnon and other conspiracy theories, including an anti-Semitic belief that California wildfires were started by a space laser linked to the Rothschilds.
Eleven Republican lawmakers split with their party to vote against their GOP colleague, including Rep. Adam Kinzinger (R-IL), a vocal critic of the freshman congresswoman, and John Katko of New York.
Delivering a speech that denounced QAnon last week, Greene said: "I never once said any of the things that I am being accused of today during my campaign. I never said any of these things since I have been elected for Congress. These were words of the past and these things do not represent me. They do not represent my district and they do not represent my values."
As Democrats voted to boot the Republican from House committees, GOP lawmakers tried to put Rep. Omar in the firing line.
Rep. Brian Babin (R-TX) put forward an amendment pushing for Omar to be removed from the Foreign Affairs Committee—an amendment that would have replaced the call for Greene to be ousted from the Education Committee. The bid sponsored by four other lawmakers failed.
Speaking to CNN last week, Omar said it was "ludicrous" to equate her with Rep. Greene, and said the comparison was "not even worth addressing" because Republicans were trying to shift attention as they came under pressure.
Newsweek has contacted the office of Gimenez for further comment. Rep. Omar's team has also been approached for comment.