Republican Voters Like Kanye West a Lot More After His Pro-Trump Tweets, Poll Shows
Rapper Kanye West has suddenly found himself the darling of Republican voters, following his declaration of support for President Donald Trump.
In a move that angered some of his long-time fans, in April the rapper shared a picture of himself wearing a MAGA hat, and later explained said the president was "his brother."
"You don't have to agree with Trump, but the mob can't make me not love him," West wrote in a tweet.
"We are both dragon energy. [Trump] is my brother. I love everyone. I don't agree with everything anyone does. That's what makes us individuals. And we have the right to independent thought."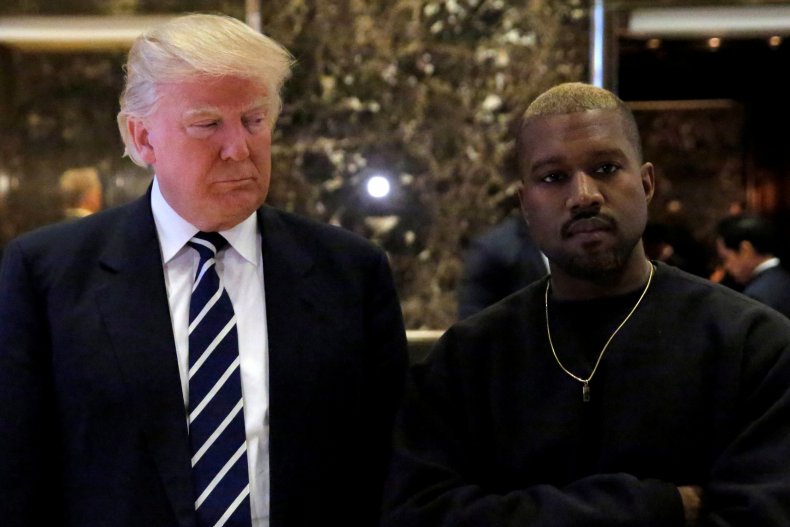 The musician also lashed out at former President Barack Obama, commenting that the Democrat " was in office for eight years and nothing in Chicago changed."
Retweeting West, Trump responded: "Thank you Kanye. Very cool."
And it appears the burgeoning bromance between the pair has improved Republican voters' view of the musician, with his approval among the group more than tripling.
Back in 2015, West's approval rating among Republican voters stood at just 11 percent, The Hill reported, with three quarters of Republican voters reporting they did not have a favorable view of West.
But according to a new poll from HuffPost and YouGov, conducted at the end of April, the rapper is now liked by more than a third of Republican voters, with an increase of 23 percentage points from the 2015 poll. This puts West's approval rating among Republicans at 34 percent.
But while Republicans were more likely to approve of the rapper, Democrat voters were less likely to approve, with support falling from 17 percent in 2015 to just 13 percent in 2018, the poll, which surveyed 1,000 people between April 27-29, showed.
However, just under half of the people who were surveyed said they knew about the tweets between West and Trump, suggesting other factors also influenced voters' views on the musician.
The poll had a margin of error of plus/minus 3.9 percent.