"Republican VP" began trending on Twitter Monday afternoon after Democratic presidential candidate former Vice President Joe Biden told voters during a Exeter, New Hampshire event that he would consider a member of the GOP as his 2020 running mate.
Though he predicted he would be "clobbered by the press" for saying so, Biden did it anyway. "The answer is, I would, but I can't think of one now," the former vice president said, after a woman asked whether he would partner with a Republican for the upcoming election.
After waiting for the laughter and applause to cease, Biden went on to explain his decision: "There's some really decent Republicans that are out there still. But here's the problem right now, the well-known one: They've got to step up."
Biden, a moderate candidate who's led the Democratic 2020 field in most polls since he officially announced his presidential bid in April, has previously floated some names as potential running mates, including former Congresswoman Stacey Abrams and former acting Attorney General Sally Yates.
In New Hampshire on Monday, he told his supporters that the key qualification in determining his running mate is that they work well together. "Whomever I would pick were I fortunate enough to be your nominee, I'd pick somebody who was simpatico with me, who knew what I, what my priorities were and knew what I wanted to," he said. "We could disagree on tactic, but strategically we'd have to be in the exact same page."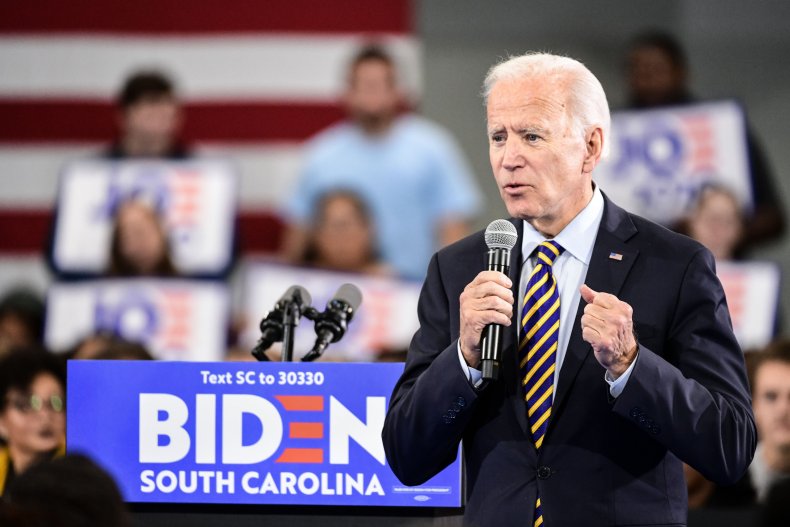 More than 15,000 Americans took to Twitter to weigh in on Biden's remarks. As of Monday afternoon, "Republican VP" rose to the second most-trending topic on the social media platform across the United States.
Some users urged others to take a measured approach to the news, while others aggressively condemned and mocked Biden for the suggestion.
"Joe Biden said he'd consider a Republican VP if the GOP had any good candidates, but they don't because they suck and have to step up. Then he said he'd like to choose a person of color or a woman or both. I think we should all see the full context before going into a mob frenzy," American surgeon Eugene Gu, one of the loudest critics of the Trump administration online, tweeted.
"If u still support Biden after he said he would consider a Republican VP, I have no words...this is insanity," writer Tim Wise tweeted. "It is based on ignorance about what motivates voters and why they voted for Trump. It was NOT for bipartisanship. They will not reward you for this Joe... retire now."
"Oh totally, an 80-year-old president with a Republican VP sounds like a great idea, joe," Twitter user @noahjkim wrote.
"Biden said today he'd be open to a Republican VP. I'll take him seriously and literally. But I also think this was less a prophecy and more indicative that he still lives in a world where he and Orrin Hatch work on, like, dietary supplements legislation," HuffPost's Matt Fuller tweeted.
"The oldest person ever elected president with a Republican VP. What could go wrong?" Twitter user @cd_xoi wrote.
"Also, Joe Biden keeps leaking that Stacey Abrams is his first choice for running mate – which makes clear he's not actually going to pick a Republican VP. Duh," American liberal political blog Palmer Report tweeted. "It wasn't a gaffe on Biden's part. It wasn't a wrong answer. It was the only possible answer to a bullshit question."
"Why in the world would a Democrat even be open to picking a Republican VP when potential running mates like Andrew Gillum, Julian Castro and Stacey Abrams are available? The only answer is hell no. Biden is addicted to catering to the GOP and it plays directly into their hands," activist Adam Best tweeted.
"Joe Biden says he would consider a Republican VP," writer Touré tweeted. "That's just stupid."
"Joe Biden says he'd consider having a Republican VP. OK, there are some good choices out there--Nelson Rockefeller, Earl Warren, Bill Scranton. Oh wait, they're all dead," author Larry Sabato tweeted.
"Following up my very concerned 'What if Bernie dies?' tweet by praising Joe Biden for considering a Republican VP pick," writer Cody Johnston tweeted.
Newsweek reached out to Biden's 2020 campaign for comment but did not receive a response in time for publication.