The Republicans All-In on Trump in the Primaries Who Have Now Changed Tune
Running in a crowded primary field for governor in Wisconsin earlier this year, Tim Michels—a prominent businessman and a several-time Republican candidate for a number of seats in the state—adopted a perspective once shared by some GOP candidates following the 2020 election: that widespread and systemic fraud handed that year's victory to Joe Biden.
In an interview on conservative Green Bay radio station WTAQ ahead of the primary, Michels criticized the performance of the Wisconsin Elections Commission following Biden's 2020 win in the state before telling the host of the show that he believed the election was "maybe" stolen from Trump.
"There was a lot of bad stuff that happened," he said. "There was certainly illegal ballots. How many? I don't know if Justice [Michael] Gableman knows. I don't know if anybody knows."
Now, the state's Republican nominee for governor in a hotly contested general election campaign, Michels is decidedly less vocal about his beliefs. Rather than decrying fraud in a debate against incumbent Democrat Tony Evers last week, Michels instead focused on policy reforms to state election processes that nodded to conservative beliefs in since-debunked narratives about a stolen election but fell short of endorsing them.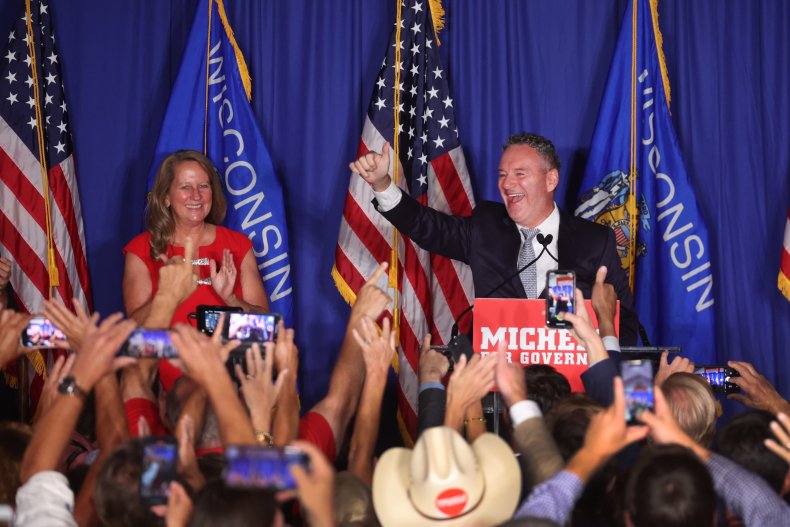 "I want to make sure after I'm governor, that we're not having these conversations two years from now, four years from now, and beyond," Michels said during the debate.
Michels is not alone. In Michigan, Republican nominee Tudor Dixon, who regularly challenged the legitimacy of Biden's victory in the days after the 2020 election, appeared to dodge a question about her beliefs in a July interview on Fox News. The interview came mere weeks after she had raised her hand in agreement to a question about election fraud in a Republican debate—a fact seized upon by Democratic incumbent Gretchen Whitmer in their own debate last week.
Newsweek reached out to both Michels and Dixon for comment.
A wider accounting of the national environment shows their shift in rhetoric as a sign Republicans have identified the need to moderate their positions to appeal to a wider base of voters.
Eric Schmitt, a Missouri Republican, didn't openly peddle rigged election rhetoric but framed it as a question of election integrity to succeed in the state's GOP primary against Eric Greitens. He is currently maintaining a massive lead in the polls against Democratic candidate Trudy Busch Valentine.
Ohio Republican senate candidate J.D. Vance, who once pushed the voter fraud narrative, has since reframed his message to depict election reform as a means to restore confidence in the state's election systems. Meanwhile, Vance is backing away from the more aggressive rhetoric deployed ahead of his GOP primary against his far-right opponent, Josh Mandel.
Vance is currently considered a slight underdog in a deadlocked race with Democrat Tim Ryan.
During an August primary debate, New Hampshire Republican senate candidate Don Bolduc, who trails Democrat Maggie Hassan by near-double digits, stood by an open letter he joined in 2021 claiming that the election was "rigged" against Trump. Now, he's wishy-washy.
But a September interview with Fox News, Bolduc stated the election was not stolen and that Biden had won—only to refute the statement several weeks later.
"I can't say that it was stolen or not. I don't have enough information," he said on October 3.
Some conservative pollsters have argued that the belief that cheating altered the 2020 election results is quite prevalent among Republicans and independents alike. And while some battleground state candidates who have continued to embrace Trump's "big lie" find themselves in dire straits ahead of election day, others actually lead in the polls.
Michigan secretary of state candidate Kristina Karamo, who remains one of the most strident conspiracy theorists in a statewide election this year, trailed her Democratic opponent by double-digits in a recent poll.
Meanwhile, Republican nominees for the same position in Nevada and Arizona, Jim Marchant and Mark Finchem, actually found themselves locked in a statistical tie with their Democratic opponents in a recent round of CNN polling, suggesting they have a solid chance of victory in high-interest states deemed as likely critical for either party to maintain control of the U.S. Senate this cycle.