What Polls Say About Evers vs. Michels Ahead of Wisconsin Governor Debate
Polling in the Wisconsin gubernatorial election shows a tight race as the Democratic incumbent and Republican challenger are scheduled to take part in the contest's first and only debate on Friday evening.
The polling average in the race, compiled by FiveThirtyEight, shows Democratic Wisconsin Governor Tony Evers with a slight lead over GOP candidate Tim Michels. According to the average, Evers has support from 47.6 percent of voters, while Michels has the backing of 47.2 percent.
A poll from Marquette University Law School released this week found Evers with 47 percent and Michels with 46 percent. The poll contacted 652 likely voters and has a margin of error of plus or minus 4.8 percent.
A poll from CBS News also published this week found that the state's gubernatorial race is tied, with each candidate receiving 50 percent of the vote. That poll surveyed 1,285 registered voters in Wisconsin, and has a margin of error of plus or minus 3.7 percent.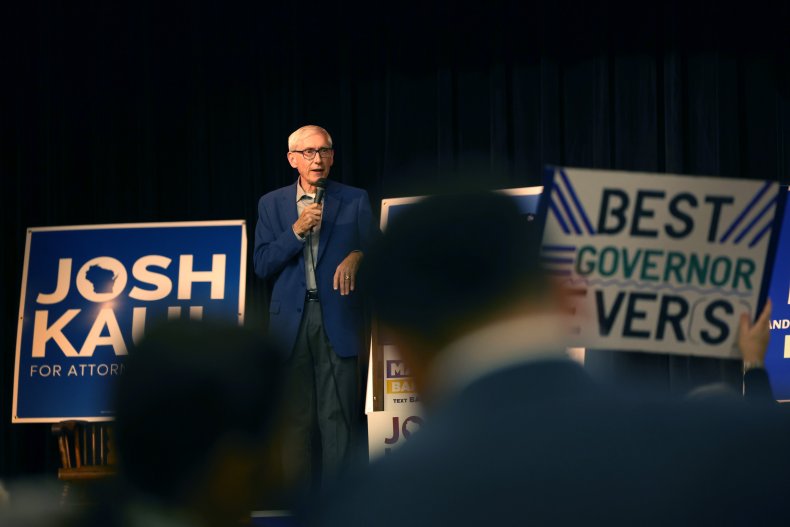 Evers won his seat in the governor's office in 2018 by a small margin, unseating incumbent Republican Governor Scott Walker. In that race, Evers got 49.6 percent of the vote, while Walker got 48.5 percent.
In the 2020 presidential election, Joe Biden also won by a very small margin—receiving 49.6 percent of the vote compared to former President Donald Trump's 48.9 percent.
Earlier this year, polls found Evers with a much larger lead over Michels. A Marquette University Law School survey conducted between June 14 and June 20 gave Evers a 7-point lead over Michels. The survey was conducted before Michels won the state's GOP gubernatorial primary.
Michels was endorsed by Trump, and following his primary victory, he said he'd work with the former president to "drain the swamp."
"[Trump] knows that we need to have new leadership in Madison, and he sees a lot of similarities. He wanted to drain the swamp and we found out it's a really big swamp," Michels said.
In a statement to Newsweek, a spokesperson for the Evers campaign said: "Wisconsinites trust Governor Tony Evers to do the right thing for our kids, our economy, and working families. We've known all along that this will be one of the most competitive races in the country, and we aren't taking anything for granted.
"Governor Evers has spent the last four years bringing people together to get things done and delivering for working families—and he is ready for what's ahead."
Wisconsin is also seeing a highly competitive U.S. Senate race this midterm season. Recent polling has shown Republican incumbent Ron Johnson with only a small edge over Democratic challenger Mandela Barnes. Johnson, who is seeking a third term in office, is seen as one of the most vulnerable Republican incumbents in the Senate.
According to FiveThirtyEight, the race's polling average shows Johnson with a lead of about 3 percent: the GOP incumbent has the backing of 49.5 percent of voters, while Barnes has support from 46.6 percent.
Newsweek has reached out to the Michels campaign for comment.
Update 10/14/2022, 5:25 p.m. ET: This article has been updated with a comment from the Evers campaign.