Tim Michels Chances of Beating Tony Evers for Wisconsin Governor: Polls
Tim Michels won the Republican nomination for the governorship of Wisconsin on Tuesday, in the latest primary victory for a Donald Trump-backed candidate.
The construction tycoon defeated three GOP rivals, most notably the state's former Lieutenant Governor, Rebecca Kleefisch.
Michels will now face off against incumbent Democratic Governor Tony Evers, who has held the post since January 2019.
However, early polling suggests Michels could struggle against his Democratic Party rival. A Marquette University Law School survey conducted from June 14 to June 20 gave Evers a seven-point lead over Michels, with the candidates on 48 percent and 41 percent respectively in a potential head-to-head.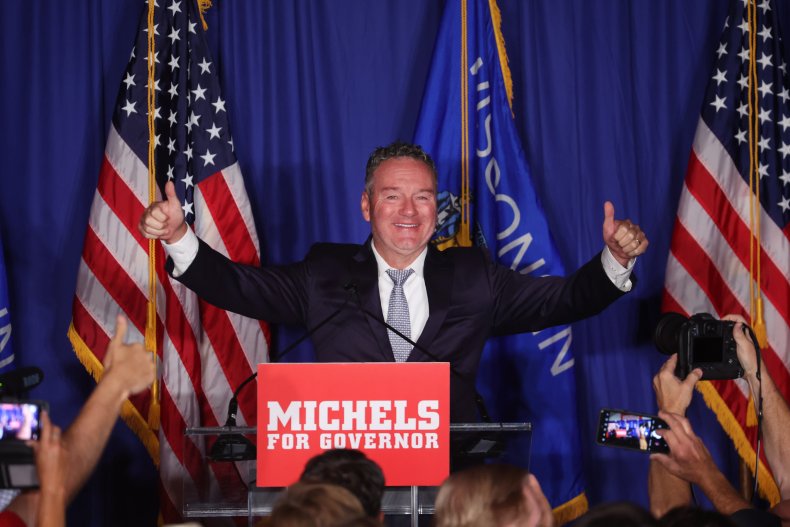 Polling suggested Kleefisch, who had endorsements from Mike Pence and Ted Cruz, would have performed better against Evers, but she was overlooked by Republican voters.
The Marquette University Law School poll found Evers would beat Kleefisch by 47 percent to 43 percent, giving the Democrat a reduced four percent lead.
During the campaign, the battle between Michels and Kleefisch was seen by some as a proxy conflict between Trump and Pence, with the ex president and former vice-president backing rival candidates. Pence spectacularly lost favor with his old boss after refusing to block certification of the 2020 election result.
Michels also condemned the FBI's Monday raid on Trump's Florida residence, and argued it was another reason for his supporters to vote.
Following his primary victory Michels pledged to work with Trump to "drain the swamp."
Referring to the former president, he said: "He knows that we need to have new leadership in Madison, and he sees a lot of similarities. He wanted to drain the swamp and we found out it's a really big swamp."
Michels added Wisconsin voters had been "left behind by the Democratic Party, which just wants to focus on the social issues."
Despite their often grueling primary battle, Kleefisch urged her supporters to get behind Michels in November.
She commented: "The fight now is truly against Tony Evers, and the liberals who want to take away our way of life."
Michels, who co-owns Wisconsin's largest construction firm, has caused controversy by calling for the Wisconsin Elections Commission to be scrapped.
He wants it replaced by a state board with members from all eight congressional districts, potentially allowing a GOP controlled board to determine election outcomes. Trump won Wisconsin in 2016, but lost it in 2020, meaning the swing-state is likely to play a crucial role in any 2024 presidential bid.
After the GOP selected Michels he was derided as a Trump-backed extremist by Evers' team.
Cassi Fenili, the Governor's campaign manager, said: "After a scorched earth primary that's seen constant attacks and a dizzying race to the radical right, the Republican Party has chosen the most extreme and divisive nominee possible, one that will tell Donald Trump anything just to keep his endorsement.
"From abortion and voting rights, to gun safety and public education, Tim Michels has staked out the most extreme positions possible, with the goal of dividing our state and pitting neighbors against one another."