Donald Trump and the Mar-a-Lago FBI Raid—What We Do Know, What We Don't
America is reeling in shock this week after former President Donald Trump's Florida residence, Mar-a-Lago, was raided by the FBI.
It is understood to be part of an ongoing investigation into the potentially unlawful removal and destruction of classified White House records after Trump left office in January 2021.
In a statement made via his Truth Social app, Trump claimed the property was "under siege" and that the raid was "unannounced," with many of his supporters arriving at the property to protest the move.
While there may be very strong grounds for the investigation, little to no formal information has been shared by the Department of Justice or the FBI, with social media abuzz with conjecture.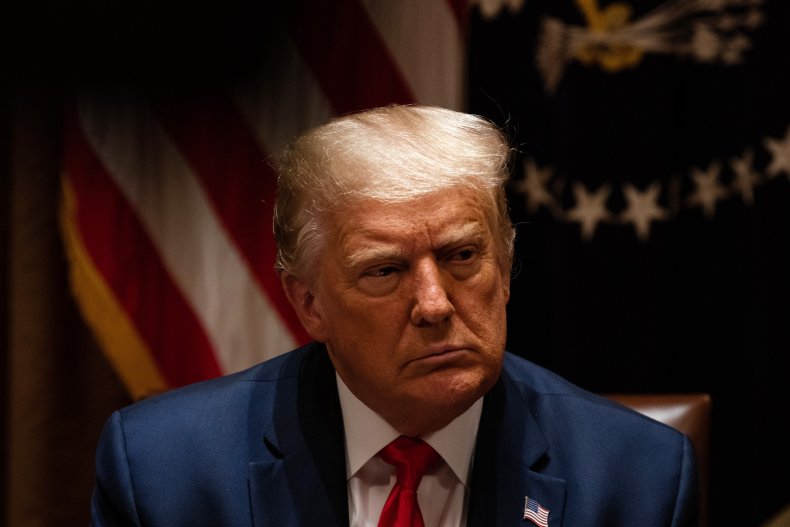 Claims range from "deep state" conspiracy theories to the possibility that Trump may no longer be able to run for office in 2024.
To help filter the noise, Newsweek has examined the speculation and analysis to try to accurately determine what, at this stage, can be confidently reported.
What We Do Know
As mentioned, Trump announced on Monday that his Mar-a-Lago resort in Florida was "under siege, raided, and occupied" by federal agents taking part in an "unannounced raid."
It follows months of speculation that federal prosecutors were examining his actions regarding the riots at the U.S. Capitol on January 6, 2021, as well as in other cases.
Speaking to Fox News, Eric Trump said, "The purpose of the raid, from what they said, was because the National Archives wanted to, you know, corroborate whether or not Donald Trump had any documents in his possession."
This follows the retrieval of 15 boxes of documents from Mar-a-Lago in January, which was reported by The Washington Post to include letters sent between Trump and North Korean President Kim Jong-Un, documents marked as classified and others labeled "top secret."
The National Archives and Records Administration was said to have assisted in retrieving the boxes but denied its involvement.
Most of the details about law enforcement's Monday visit to Mar-a-Lago are still not public, with the Department of Justice and the FBI yet to comment on the investigation.
To sift through some of the possibilities, Newsweek spoke to two former federal prosecutors: Michael Stern, who worked for 25 years for the Department of Justice, and Gene Rossi, who, along with almost 30 years of experience, has worked alongside John Rowley, who is now representing Trump in talks with the Department of Justice.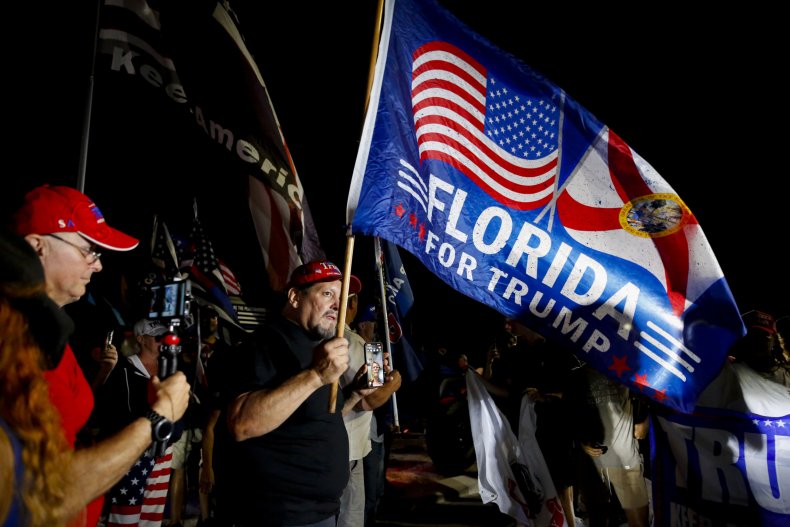 The most pertinent question still outstanding is on what grounds the FBI conducted the raid. As we've said, both the DOJ and FBI remain tight-lipped on the specifics.
According to Stern and Rossi, however, the authorities would not have moved on Mar-a-Lago without substantive grounds for doing so.
"In order for a search warrant to be signed by a judge, the judge must have determined that Trump's house would more likely than not contain evidence of a crime—that's called the probable cause standard. You can also say 'would probably contain evidence of a crime,'" Stern said.
Rossi, in turn, said that the prosecutors must have a tremendous amount of probable cause "that someone, likely Donald Trump, has committed a federal crime or several crimes, and I don't buy the argument that the affidavit only talks about classified documents."
"I'm sure that affidavit includes a lot more than just classified documents. I can't help but believe that there are other crimes listed on the search warrant," Rossi added.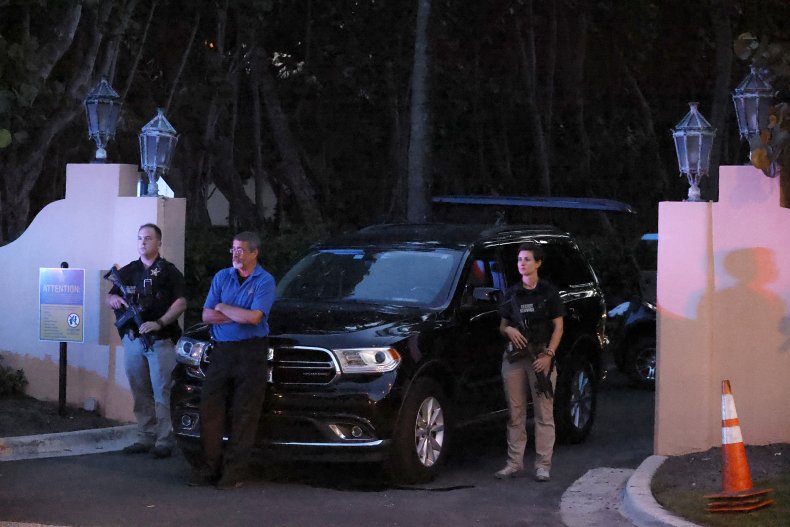 The Trump family has also said that attorneys were not allowed to visit the property during the search, a claim Newsweek was not able to independently verify. Rossi told Newsweek that a lawyer's presence would be a privilege, not a right, and that attorneys would be very limited by what they could do during the course of a search.
"Ninety-nine percent of search warrants are conducted without any lawyers present," he said. "And when he or she is present at the search warrant, all they can do is sit on a couch and watch, they can't interfere. They can't comment, they can't direct, they can't obstruct. Because if they do any of those things, they'll be arrested."
According to Rossi, there's also the possibility that during the course of their search that other material, which could lead to charges, may be taken as part of the FBI's investigation.
"Once you are on the property legitimately and when you're executing a search warrant approved by a federal judge, you have the authority to be there legitimately," he said. "If they see evidence, in plain view, that may be contraband or evidence of other crimes, then they can seize that item also."
As mentioned, Trump claimed the search was "unannounced." However, Trump has been in conversation with investigators since the start of the year and cooperated in part.
Both Rossi and Stern told Newsweek their belief that cooperation was probably not as forthcoming as described.
Rossi said: "I can't stress enough that they did the search warrant because they really weren't cooperating to the satisfaction of the FBI and the Department of Justice. It was all window dressing, it was verbiage, it was bloviation.
"It wasn't sincere in their mind. So that's why they executed the search warrant, they said, 'Enough is enough,' and they took the drastic step—it is a drastic step—of getting a search warrant.
"You know, Mark Meadows has been doing this, (Peter) Navarro, (Steve) Bannon, and they're all doing this. They're dragging their feet. They're saying they're cooperating, but they're really not. So they (the FBI) just said, 'Forget about it, we're gonna get a search warrant.'"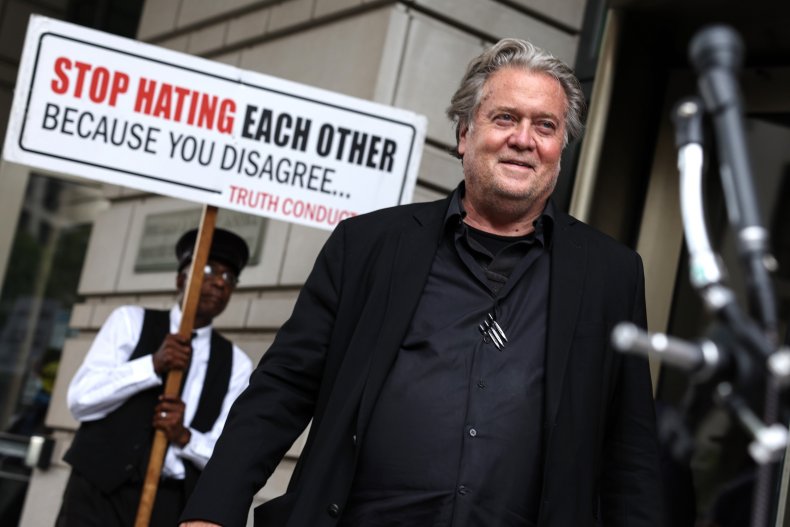 Michael Stern echoed those points: "If there was a new search warrant for documents it means that Trump's cooperation was not being offered in good faith.
"It means he still had documents that he refused to return despite knowing he was required to do so. A search warrant is the perfect tool to get the documents back under those circumstances.
"All the Republican discussion about the FBI previously taking materials back that Trump had removed from the White House as being enough, is wrong. The fact that a search warrant was issued, and documents were seized, means Trump did not give them everything he had improperly taken."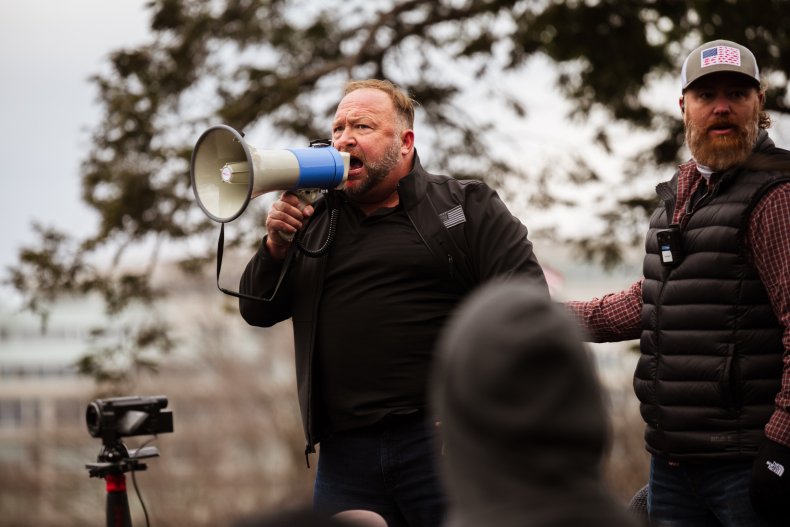 Some commentators have also noted how the investigation has coincided with the Alex Jones defamation trial and the revelations that Jones' phone messages have reportedly been subpoenaed by the January 6 committee investigating the attack on the U.S. Capitol.
On Wednesday, August 3, defense lawyer Mark Bankston, representing families of children killed in Sandy Hook, told Jones in court that he was sent the Infowars' founder's phone messages for the past two years.
Newsweek Fact Check has reported on a list of people with some connections to Jones that this case could implicate, including Trump himself, with whom Jones remained in contact during the former president's term in office and, through intermediaries, around the time of the Capitol attacks.
However, the two events don't appear to be linked. We still don't have official confirmation that the January 6 committee has indeed subpoenaed the messages (although some outlets have reported it has), which of those it does and does not have access to, and if any of the contents may implicate Trump.
We also don't know whether the documents taken from Mar-a-Lago definitely are related to January 6, and it seems unlikely that the FBI raid was prompted by the Alex Jones revelations.
Newsweek has contacted Infowars for comment. A January 6 committee spokesman declined our request.
There's further speculation the raid could affect Trump's chances of running for office, with some pointing to U.S. legal codes on "concealment, removal or mutilation generally" of presidential records protected under the Presidential Records Act.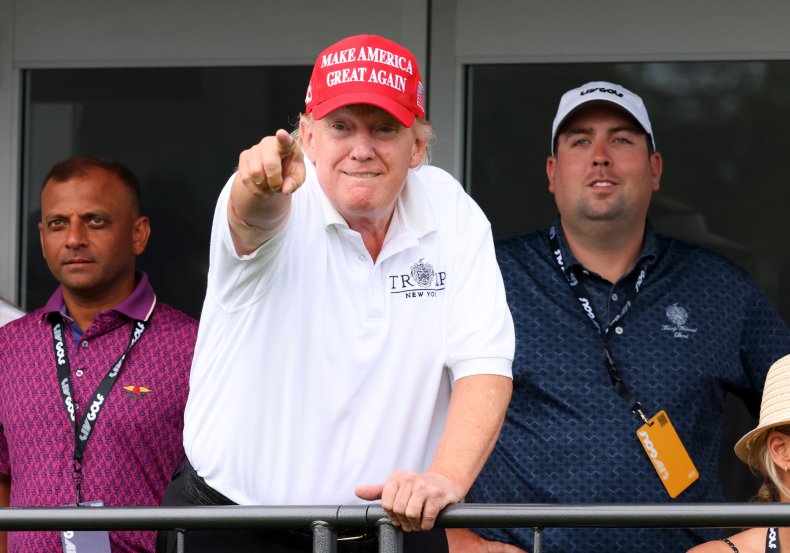 Rossi told Newsweek that one of the possible penalties for presidential record violations under the statutes is that you "cannot hold federal office ever again."
Rossi added: "If he's indicted for something other than the Presidential Records Act, if he's indicted for...insurrection and sedition, and convicted of that, he can't hold office.
"If he's convicted of, say, taxes, or wire fraud, [then] he could run for office again."
There's also the question about the timing of the investigation and the raid, with some claiming it is linked to a Department of Justice custom of not launching politically sensitive investigations less than 90 days before an election (such as the November midterms).
The fallout of the FBI search into Hillary Clinton's computer was considered by some to have severely damaged any chance the former secretary of state had at becoming president in 2016.
The risk of repeating the same decision, and the repercussions it might entail, may well have loomed in the minds of investigators.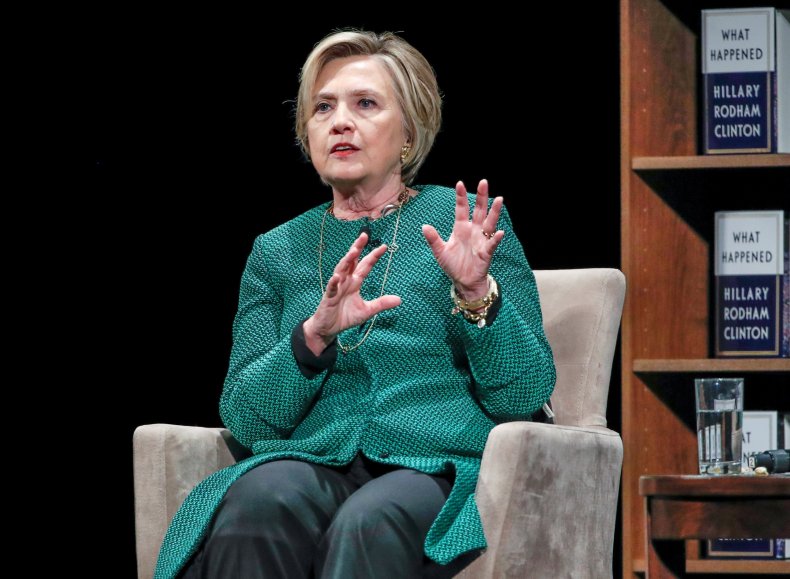 Stern told Newsweek it wasn't clear why the 90-day custom would apply given that Donald Trump is not a candidate—at least not formally.
"That said, federal law enforcement will undoubtedly make an effort to avoid even the appearance of political motivation in actions like this and so they have stayed outside the 90 days," Stern added.
"It's important to note that it is a protocol used by federal law enforcement, not a law. There may be times when a law enforcement action is so imperative that it is done within 90 days of an election," Stern said. "Remember, the FBI conducted a search on a computer connected to Hillary Clinton, and made a statement about it, 11 days before a presidential election in which she was the Democratic nominee."
Despite the FBI's apparent adherence to protocol, there are calls among some conservatives in the wake of the raid for the FBI to be dissolved and an investigation to be launched.
It is worth noting that Trump has a well-documented and complicated history with the FBI, with his dismissal of then-director James Comey (who oversaw the Clinton email probe) being perhaps the most publicized and controversial encounter.
While some conservative commentators believe the raid is connected to a "deep state" operation engineered to overthrow right-leaning politicians, the fact remains that current FBI director Christopher Wray was appointed by Trump, who admittedly has attacked him since.
Rossi told Newsweek that Wray being Trump's pick is a major factor: "Christopher Wray was appointed by Donald Trump. Christopher Wray blessed this search warrant. He had to before he sent it over in Garland. He blessed this search warrant. That is a Trump appointee. That says everything I need to know about the legitimacy and the process for getting a search warrant."
As mentioned by Rossi, there is a strong likelihood that attorney general Merrick Garland would have had knowledge of the raid prior to its execution.
A memo, originally written by Trump's Attorney General William Barr and reissued by Garland on May 25, stated that under Department of Justice policy, investigators were to clear any investigations into presidential candidates or their staff with the attorney general beforehand.
While Trump has not declared himself a candidate for the presidential election in 2024, his endorsement of candidates in the midterm primaries and reemergence into public life over the past year have led many to believe he will run.
Rossi agreed "there is no way this search warrant was executed without the approval of Merrick Garland. No way. Merrick Garland approved this search warrant."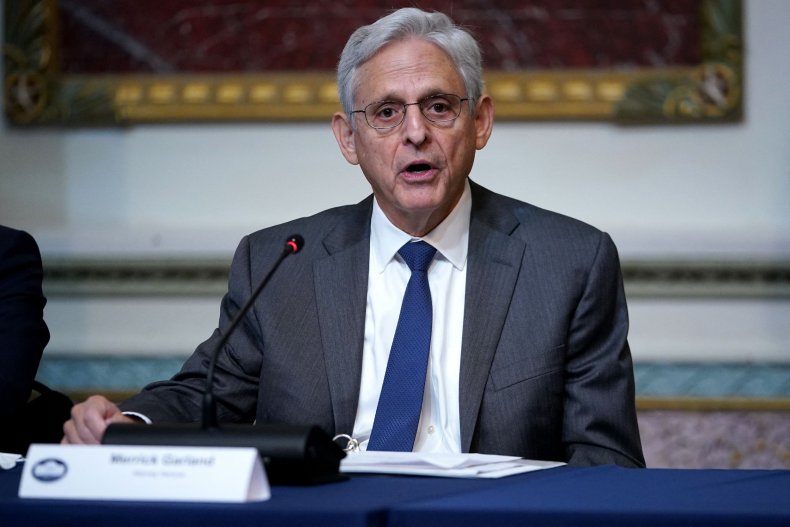 Speaking to Newsweek's Ewan Palmer, former federal prosecutor Neama Rahmani echoed these thoughts
"There's no way the FBI raids Trump's home without a sign off from the attorney general, because that's not a decision even the deputy attorney general is empowered to make," Rahmani said. "We're talking about the former president, so it's a political powder keg."
So, to summarize, given just how inherently high-profile this investigation is, there's a strong likelihood that the FBI and DOJ have significant cause to investigate Trump. Although Trump has cooperated previously with authorities, the fact that Mar-a-Lago was searched suggests there may be information or material that had not yet been passed over to the investigators.
We also know that the raid is unlikely to be connected to the recent developments in the Alex Jones case (whose text messages may yet still incriminate Trump or others around him). While Trump's family has protested that attorneys were not permitted to observe the raid, there is little they could have done (legally) even if they had been there.
With the November midterms approaching, it appears that the DOJ has tried to conduct this investigation to protocol to avoid jeopardizing the outcome of an election.
Despite commentators claiming the investigation to be evidence of a "deep state" operation, Trump had already spoken with authorities beforehand and had appointed the FBI director who would have overseen the raid.
There is also the strong likelihood that Merrick Garland would have approved the operation personally, as per the DOJ memo released in May 2022.
If Trump is found to have concealed or destroyed records, or investigators find evidence of seditious conspiracy, it could dash his chances of running again for president—and could even see him end up behind bars.
What is worth stressing though is that the investigation is still very much in its early stages (at least the public part of it), and while speculation may be exciting, it's important to keep focus on reality, not hearsay.
What We Don't Know
Much of what has been said is speculative, and the clamor to find a newsworthy angle to this story beyond the face-value observations (a search was conducted, thought to be related to Trump's possession of classified documents) has the potential for misinformation to transpire.
We don't know exactly how many items have been removed, nor the information contained in the search warrant. Neither the FBI nor the Justice Department have commented on the search of the property, either.
We can't be certain what information they were seeking, or what it could reveal, whether that be in respect to the January 6 investigation or otherwise.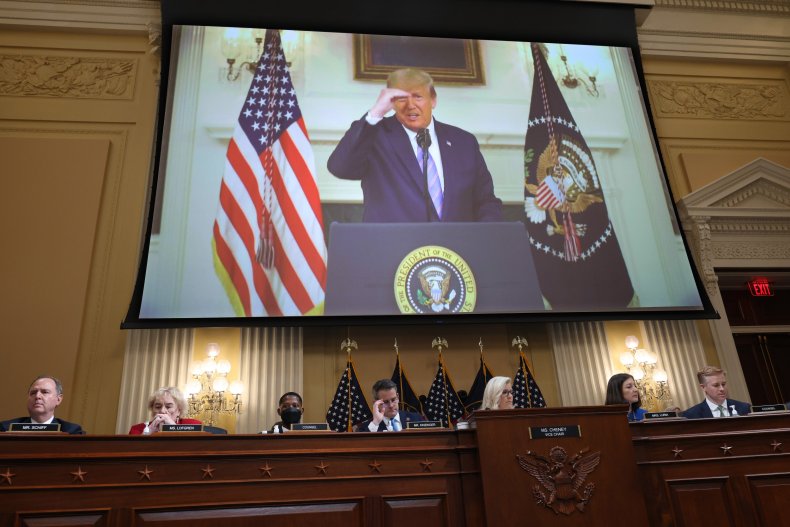 We also don't know what the next steps of the case will be or how long it might take for Trump to be indicted—and what that would spell for his potential presidential bid.
Until the documents have been investigated or shared, we also don't know how this will affect the findings of the January 6 committee.
There's no knowing how this may affect Trump's reputation or standing among his allies. While many believe there's a greater likelihood that Ron DeSantis will be the name on the ballot in 2024, Trump's supporters have already rallied behind the former president. The involvement of the federal investigators could widen perceptions that Trump is the victim of a witch hunt.
Whatever the outcome, this story's impact will only deepen further, serving either to destroy or calcify one of the most divisive figures in American political history.
Newsweek has contacted the Department of Justice, the FBI and Donald Trump for comment.
Update, 8/10/2022 4:20 a.m. ET: This article has been updated to correct a copyediting error.