Peter Navarro Admits He Is Struggling to Find a Legal Team
Peter Navarro, the ex-aide to former President Donald Trump who was indicted last week for contempt of Congress, said in a letter Wednesday that he is facing issues in putting together a legal team for his case.
In the letter, which was obtained by Politico reporter Kyle Cheney and shared on Twitter, Navarro writes that because he remains without legal representation, the prosecution in his case put him at a "severe disadvantage" as it began filing motions and pushing for a "speedy" trial.
Navarro wrote that he is now "very actively seeking a legal team" but is facing "a number of hurdles." He asked in the letter, which was addressed to Judge Amit Mehta, who is handling his case, that the prosecution stand down on further motions until he can find a legal team.
The Department of Justice on Friday announced a federal grand jury's indictment for Navarro on two counts of contempt of Congress over alleged failure to comply with a subpoena from the House committee investigating the January 6, 2021, Capitol riot. It added a new layer to a monthslong saga that saw the House of Representatives hold Navarro in contempt of Congress and refer him to the DOJ for prosecution after he cited "executive privilege" as his reason for defying the subpoena.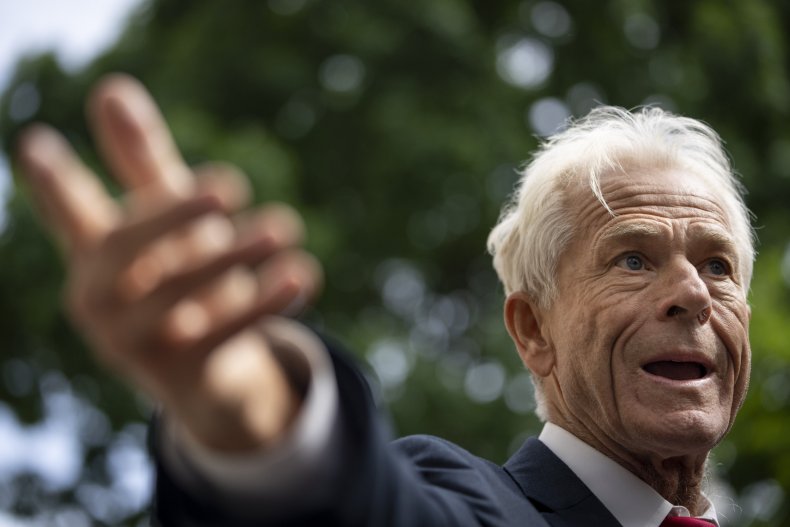 Last week, after the indictment was announced, Navarro told reporters that he was planning to represent himself pro se, saying that he didn't want to be "​​dragged down into the muck of spending hundreds of thousands of dollars of my retirement savings on this kind of venture," Yahoo! News reported.
"I'm going to evaluate my legal strategy in light of what has happened with this, and there will be more to follow," he added.
His letter to Mehta signals a shift on this stance.
"My very freedom here is at stake and I ask for the court's understanding that it will take time both to find the appropriate representation and time to develop an appropriate legal strategy," he wrote.
Navarro also mentioned that his arrest came several days after he filed a civil lawsuit against the House committee investigating the Capitol breach.
"I will speak at a later date on the merits of allowing this civil suit to proceed prior to any criminal prosecution of what is a highly controversial and unprecedented case," he wrote in his letter.
If convicted on the contempt charges, Navarro could see up to a year in prison and a fine of up to $100,000 for each count of contempt, the DOJ said in a release.
Newsweek reached out to Navarro for comment.