Infowars founder Alex Jones was hit with a double bombshell recently, as he faced the families of Sandy Hook victims suing him for defamation.
Jones was ordered to pay to one of the families $4.1 million in damages and another $45.2 million in punitive damages, with additional fines and fees taking the total over $50 million.
In a second blow to Jones, it was revealed that two years' worth of text messages from his phone were shared, apparently by accident, with the defense lawyer Mark Bankston.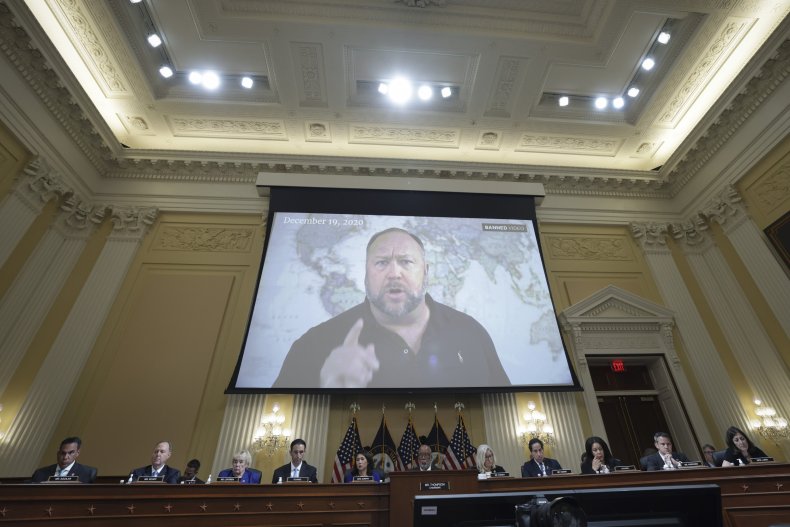 The messages were said to have been sent within the past two years and, according to Banton, the January 6 Select committee is reportedly preparing to subpoena them.
It could prove damaging to Jones, who claimed he pleaded the 5th "almost 100 times" when he spoke to the committee.
But now that his messages have been requested by investigators, there could be significant repercussions for the conspiracy theorist and those who have associated with him.
So, what could be the potential consequences if this does end up at the door of the select committee?
What We Do Know
The subpoena from the January 6 Select Committee reveals a lot about the Infowars host's actions before and during the Capitol riots.
A letter by chairman Bennie G. Thompson states that Jones helped "organize the January 6, 2021, Women for America First ('WFAF') rally held on the Ellipse in Washington D.C., including by facilitating a donor...to provide what you characterized as 'eighty percent' of the funding.
"You were reportedly denied a speaking slot at the WFAF event but, at the request of President Trump, were offered a venue to, and did in fact, speak at the January 5, 2021, rally on Freedom Plaza," it read.
The letter mentions that Jones was at the Ellipse rally and that the White House told him on January 3, 2021, "that after the Ellipse rally ended on January 6th, you were to lead a march to the Capitol, where President Trump would meet the group."
Jones claimed that he pleaded the fifth "almost 100 times" when he was interviewed for the committee.
"And I wanted to answer the questions, but at the same time, it's a good thing I didn't because I'm the type that tries to answer things correctly even though I don't know all the answers, and they can kind of claim that that's perjury because about half the questions I didn't know the answer to," he said during his Infowars radio show.
If this is the case, then the text messages could potentially reveal information that Jones chose not to disclose during his interview (if he did in fact plead the 5th as he claimed).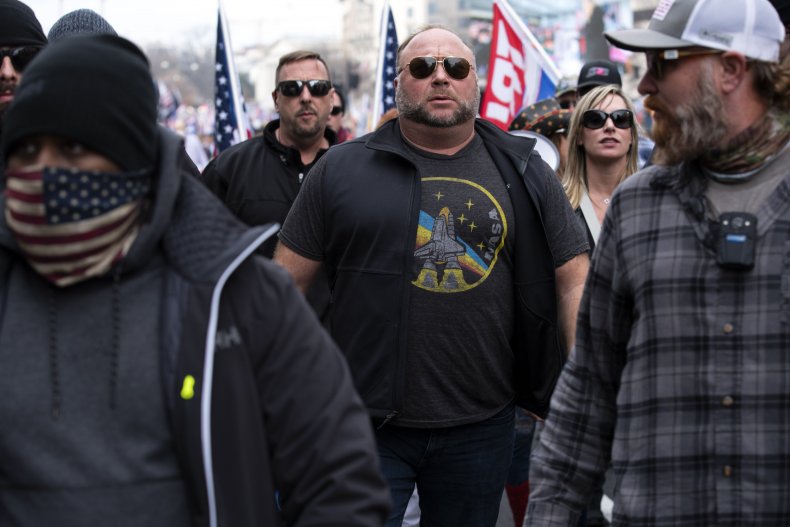 Others who have been subpoenaed by the committee, some of whom have been associated with Jones in the past, such as Steve Bannon, have taken a similarly distant response (in Bannon's case, this led to contempt charges).
It's not clear how many messages were shared with lawyer Mark Bankston, but reports claiming there are hundreds seem reasonable, given the length of time during which they were sent.
Of course, if the January 6 committee does subpoena Jones' messages, they could reveal information about any further influence the Infowars founder and those associated with him may have had on the attacks on the Capitol.
For context, after the 2016 election, Jones' influence in Washington D.C. grew considerably, as he built a formidable network of contacts and relationships in right-wing and fringe politics in the run-up to that point.
With this in mind, could those within his close and wider circle face embarrassment, or worse, if the Jan 6 committee does investigate his messages?
To assess this Newsweek gathered a list of names who either at some point casted doubt on the outcome of the 2020 election results or were in Washington, D.C. on January 6, 2021, to assess what (if any) association those people may have had with Jones.
This list included, among others, all the senators and house representatives who voted to overturn the 2020 election results, and everyone who has been subpoenaed or been asked to appear by the January 6 committee until this point. This totals nearly 270 people and groups (such as the Oath Keepers and Proud Boys).
Newsweek then cross-referenced these names with Jones' Infowars show to see if any had either associated with Jones or his news channel.
The following is a list of all the people who may have some connection to Jones:
Ali Alexander—"Stop the Steal" founder
Boris Epshteyn—Russian-American Republican political strategist (and Newsweek columnist)
Burgess Owens—U.S. Republican Representative, Utah (and Newsweek columnist)
Elmer Stewart Rhodes—Oath Keepers Founder
Lauren Boebert—U.S. Republican Representative, Colorado
Marjorie Taylor Greene—U.S. Republican Representative, Georgia
Matt Gaetz—U.S. Republican Representative, Florida
Jason Miller—Donald Trump's 2016 election campaign spokesman
Jenna Ellis—former attorney for Donald Trump
Kimberley Fletcher—Jan 6 rally organizer
Kelli Ward—Arizona GOP Party Chair
Michael Flynn—Trump's former security advisor
Nicholas J. Fuentes—Live streamer, with alleged White Nationalist ties
Oath Keepers—a far-right anti-government group
Patrick Casey—online influencer, alleged leader of White Nationalist group Groypers
Proud Boys International—a far-right group
Roger Stone—U.S. political operative, Trump ally
Rudy Giuliani—former attorney for Donald Trump
Stephen Bannon—former White House adviser
Stephen Miller—former White House adviser
Some of the associations these people and organizations have with Jones are stronger, and go back further, than others.
Roger Stone, for example, has been a guest on Infowars on many occasions and is thought to have brokered the 2015 Donald Trump interview on Infowars (more on that further down).
Sandy Hook family lawyer Mark Bankston has already revealed the phone has "intimate messages" with Stone, although no further information has been revealed.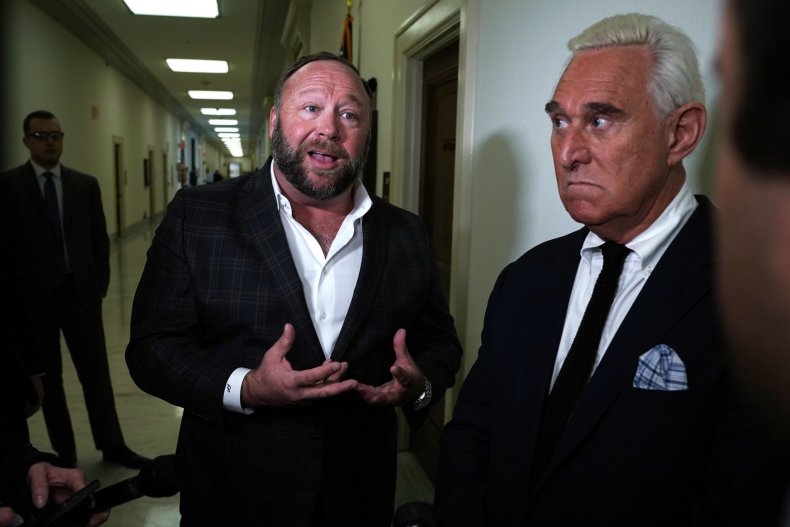 Let's start with the Infowars guests and associates: "Stop the Steal" organizer Ali Alexander, former White House chief adviser Steve Bannon, Trump legal advisor Jenna Ellis, Moms for America founder Kimberley Fletcher, Congresswoman Marjorie Taylor Greene, Congressman Matt Gaetz, GETTR CEO and former Trump spokesman Jason Miller, former Trump security advisor Michael Flynn, alleged white nationalist Patrick Casey, Nicholas (Nick) J. Fuentes (who has faced accusations of espousing white nationalist views), and Arizona GOP Chairwoman Kelli Ward have all either appeared on Infowars, been interviewed by Jones, or appeared with him elsewhere.
Not all of these people have remained close with Jones or were interviewed outside of the timescale in which the Alex Jones' text messages were sent.
For example, Gaetz (who appeared on Infowars in January 2018) said that he regretted making an appearance. Kelli Ward was interviewed in 2016, and while Jones' website has published stories in support of her, it's not clear whether Jones and Ward were closely affiliated. The last time Patrick Casey, founder of the right-wing American Identity Movement, was interviewed by Infowars was in 2019, although Infowars is reported to have historical ties to Casey's organizations.
However, Ali Alexander, Kimberley Fletcher, Steve Bannon, Jenna Ellis, Marjorie Taylor Greene, Jason Miller and Michael Flynn have all appeared on Infowars or interacted with Jones in the past two years.
Most recently, Jones appeared on Bannon's "War Room" podcast, where Bannon referred to the Infowars founder as a great political "thinker".
Greene, the only current officeholder in this group, was interviewed by Jones in 2022; Jones told Greene that she should run to be the next president. She has denied any involvement in the U.S. Capitol attack.
The Proud Boys, the Oath Keepers (and Oathkeepers leader Stewart Rhodes), also subpoenaed, appear have close associations with Jones as well.
The remaining Jones associations are substantially weaker. However, given Jones's range of contacts which may exist far beyond the guests of his show, their names could still become relevant.
For example, Lauren Boebert, does not appear to have been interviewed by Jones, but nonetheless receives warm support from Infowars.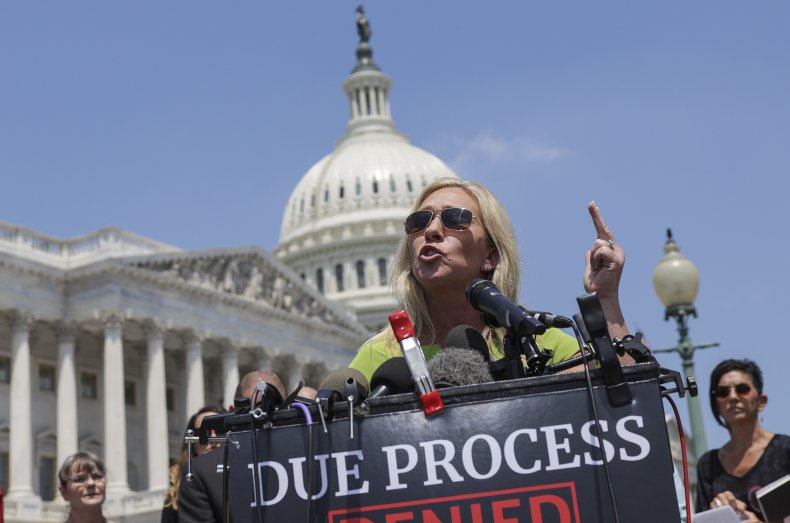 Republican representative for Utah Burgess Owens is not thought to have appeared on the show, but has shared its content via Twitter.
Responding to a Newsweek comment request, a representative for Owens wrote:
"Congressman Burgess Owens has never had any communication with Alex Jones. They have never met, never spoken, never texted, never emailed. Burgess Owens has absolutely no relationship with Alex Jones and intends to keep it that way. Any indication that he does is misguided and completely false."
An investigation by the Southern Poverty Law Center alleged that in 2016 White House policy advisor, Stephen Miller, shared Infowars content via email.
While Newsweek found other names who have associated with some of the people mentioned above, these links are likely far too tenuous and tangential to Jones himself. These include Trump advisor Boris Epshteyn and Trump lawyer Rudi Giuliani (who have both appeared on Steve Bannon's War Room podcast).
Then, of course, there's the elephant in the room: Donald Trump.
Jones and Trump were allegedly brought together through the former president's advisor Roger Stone, who hosted on Infowars and, according to a report by the New York Times, brokered Trump's interview with Jones in December 2015.
During the interview, the former president told Jones "I just want to finish by saying your reputation is amazing I will not let you down, you will be very, very impressed I hope and I think we'll be speaking a lot."
In an interview on NBC in 2017, Jones claimed that while his influence on Trump was "lower than what MSM (mainstream media) has said," he revealed he received phone calls from the president "(to) talk about politics or thank me, things like that."
Jones added he had a "friendly" relationship with the former president, but when asked how many times Trump had called, Jones replied: "I don't want to get into that."
The removal of Jones' content from online platforms in 2018 was also drew negative comments from the former president's son, Donald Trump Jr.
As already mentioned, Jones not only attended Washington D.C. for the Trump rally but was on an initial list of potential speakers (although the final list of speakers, personally approved by Trump, did not feature Jones).
In November 2020, Jones also led a "Stop the Steal" protest at the Georgia State Capitol building, amid a manual recount of the state's ballots in the presidential election.
The initial bonhomie and mutual support between the Trump and Jones may not have been all it seemed though. In a leaked video from 2019, Jones said he wished "I never would have f***** met Trump," adding "And it's not that the attacks I've been through, I'm so sick of f****** Donald Trump, man. God, I'm f****** sick of him.
"And I'm not doing this because, like I'm kissing his f****** a**, you know. It's like I'm sick of it," he said.
Nonetheless, Jones' involvement in election recount rallies and his attendance at the Capitol may yet indicate whether any further communications between him and the former president occurred.
So, there is potential (however slight it may be) that Jones' relationships with everyone listed above could, in theory, have implications for the outcome of the Jan 6 committee investigation, particularly with regards to those who have either denied or refused to answer questions.
What We Don't Know
Apart from what has already mentioned, further details of the texts haven't been revealed. There have been no leaks to the media of any of their contents.
We don't know exactly how many messages were sent, who else may be implicated, or what relevance any of the messages will have to the Select Committee's findings.
At this stage, most of this remains speculation, but the revelation that Jones' messages could now be heading to Washington is likely to weigh on the minds of many people, not just Jones himself.
Newsweek has attempted to contact all of the people named in this article and the January 6 committee for comment.
Update: 08/12/2022 8:35 a.m. ET: This article was updated with a comment from a Burgess Owens representative.