What FBI Raid Means for Trump, According to Legal Experts
Donald Trump could face years in prison and be banned from running for office again if he's found to have destroyed classified records, with legal experts suggesting the Department of Justice must have some "pretty rock-solid evidence" to approve the FBI raid at his home.
Trump announced on Monday that his Mar-a-Lago resort in Florida was "under siege, raided, and occupied" by federal agents taking part in an "unannounced raid."
The FBI conducted the raid and searched for documents at Trump's home as part of an ongoing investigation into the former president's potentially unlawful removal and destruction of classified White House records after he left office in January 2021.
The National Archives and Records Administration confirmed in February that it had found 15 boxes containing classified material in Trump's Mar-a-Lago home which had been taken from the White House.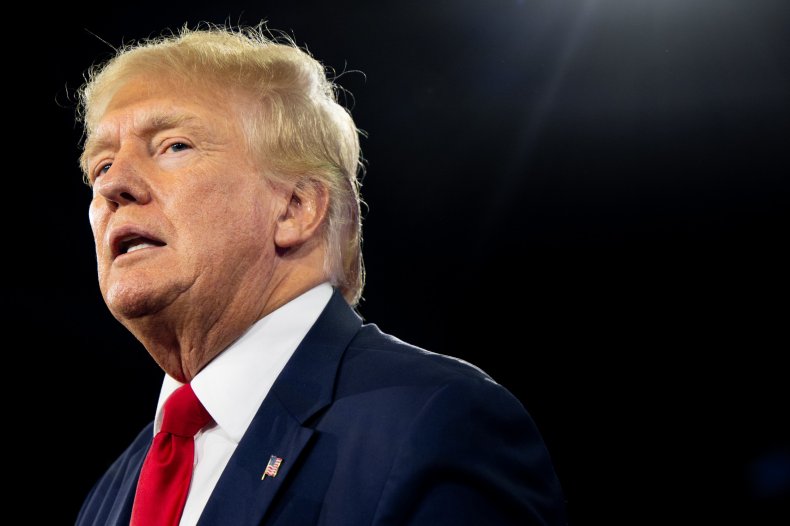 In a statement to Newsweek, trial lawyer and former federal prosecutor Neama Rahmani said the raid implies Trump is at risk of facing charges under Section 2071 of Title 18 of the United States Code, which states anyone who "conceals, removes, mutilates, obliterates, falsifies or destroys" official government documents must be prosecuted.
If convicted, a defendant faces up to three years in prison. The law states those found guilty must also forfeit their office and be disqualified from holding any office under the United States.
"His lawyers told him about the law requiring that he preserve White House documents, so he was on notice and that will bolster the case and help prove intent if prosecutors charge Trump," Rahmani said.
Rahmani said that the "unprecedented" decision to conduct a search at the home of a former president must have been signed off at the highest level of the Department of Justice, in this case Attorney General Merrick Garland.
"There's no way the FBI raids Trump's home without a sign off from the attorney general, because that's not a decision even the deputy attorney general is empowered to make," Rahmani said. "We're talking about the former president, so it's a political powder keg."
Los Angeles criminal defense attorney Joshua Ritter said that a former president having his home searched by federal authorities is "staggering from a historic perspective," adding that the decision to approve such a raid would not have been taken lightly.
"This isn't happening in some small county with a gunslinger sheriff—this is the federal government," Ritter told Newsweek.
"To make this kind of an earth-shaking move in advancement of their investigation, you have to venture a guess that they have some pretty rock-solid evidence somewhere," Ritter said.
"This is a further sign that there is a very robust investigation into the former president, significant enough that they have reason to search his home, and to get a federal judge to authorize it.
"To think of the number of internal conversations and memos, going through the entire chain of command, that would have had to have preceded the decision to go ahead and do this, it's immense," Ritter said. "They have to take all of the political ramifications into account, but they must believe they have something significant to make the decision to make a move like this."
Ritter said it is also important to keep in mind that the raid does not mean that criminal charges are imminent, as the burden of proof required to sign a search warrant is lower than the burden of proof required to bring criminal charges.
In his statement, Trump accused the raid at his Mar-a-Lago resort of being "prosecutorial misconduct," a "weaponization of the Justice System," and an "attack by Radical Left Democrats who desperately don't want me to run for President in 2024."
"Such an assault could only take place in broken, Third-World Countries. Sadly, America has now become one of those Countries, corrupt at a level not seen before," Trump said.
"They even broke into my safe! What is the difference between this and Watergate, where operatives broke into the Democrat National Committee? Here, in reverse, Democrats broke into the home of the 45th President of the United States."
Trump also accused the raid as being a politically motivated "witch hunt" against him, an accusation he has repeatedly made towards a number of probes and inquiries into him, including the investigation into alleged Russian collusion during the 2016 election, both his impeachment trials, and the January 6 hearings.
Trump, the FBI and the DoJ have been contacted for comment.