Marco Rubio Fires Warning to Biden Over Trump Mar-a-Lago Raid
Florida Senator Marco Rubio has warned the Joe Biden administration is "playing with fire" after Donald Trump said the FBI had raided his Mar-a-Lago resort.
The former president announced in a statement Monday that his home in Palm Beach, Florida, was "under siege, raided, and occupied by a large group of FBI agents" who were taking part in an "unannounced raid."
The FBI conducted the raid and searched for documents at Mar-a-Lago as part of an ongoing investigation into Trump's potentially unlawful removal and destruction of White House records after he left office in January 2021.
Trump said the search at his home amounted to "prosecutorial misconduct," that "such an assault could only take place in broken, Third-World Countries" and the U.S. is now "corrupt at a level not seen before."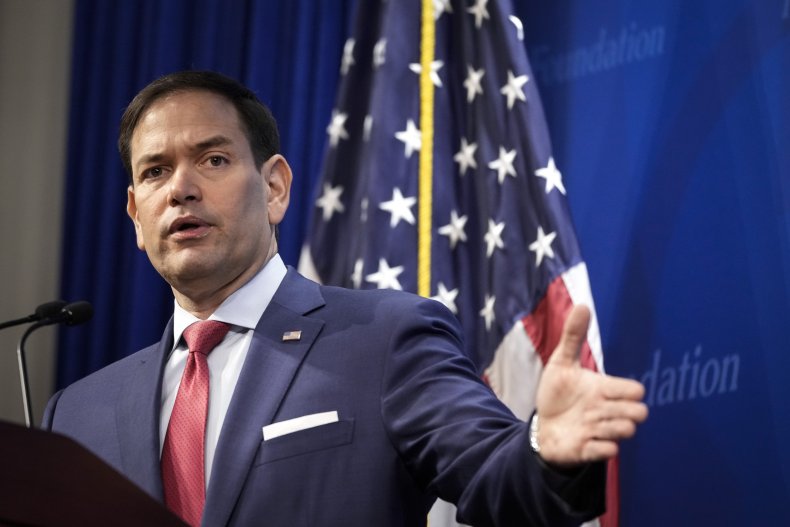 In a series of tweets and video statements, Rubio also suggested the FBI raid during Biden's presidency against a potential political opponent in 2024 is akin to what the world has seen "many times from 3rd world Marxist dictatorships" but never before in the U.S.
Rubio, whose parents are natives of Cuba, also warned the Biden administration and federal departments over the unprecedented escalation of a law enforcement inquiry into a former president.
"I'm telling you, you're playing with fire," Rubio said. "This is dangerous, because someone else will be in power one day, and now you have created the precedent for them to do this back to you.
"And then we become the Third World, and then we lose our country, and our system of government and the meaning of being one nation under a real constitution.
"This needs to stop and the people responsible for this decision, [Attorney General] Merrick Garland, the director of the FBI [Christopher Wray], need to be held to account for going along with something so undemocratic, unconstitutional, and flat out destructive and dangerous to our republic."
Rubio likened the raid to what happened in Nicaragua, where several political opponents of President Daniel Ortega were arrested in the lead up to the Central American country's election in 2021.
"Thirty FBI agents raided Mar-a-Lago not looking for a fugitive, not looking to save someone's life whose life was in danger inside that building, not looking to track down some serial killer or drug kingpin," Rubio said. "No, 30 FBI agents and a high profile raid over a documents dispute."
The FBI raid comes after the National Archives and Records Administration confirmed in February that it had found 15 boxes containing classified material in Trump's Mar-a-Lago home which had been removed from The White House.
In his statement, Trump asked what the difference is between his home being raided and the Watergate scandal where "operatives broke into the Democrat National Committee" in 1972.
"Here, in reverse, Democrats broke into the home of the 45th President of the United States," Trump said.
"The political persecution of President Donald J. Trump has been going on for years, with the now fully debunked Russia, Russia, Russia Scam, Impeachment Hoax #1, Impeachment Hoax #2, and so much more, it just never ends. It is political targeting at the highest level!"
The FBI and Justice Department have been contacted for comment.