Donald Trump Blasts Georgia 'Witch Hunt' as Criminal Investigation Heats Up
Donald Trump has once again called an ongoing investigation against him a "witch hunt" as an criminal inquiry into his attempts to overturn the state's 2020 election results ramps up.
The former president hit out at the investigation led by Fulton County District Attorney Fani Willis into whether Trump's phone call, asking Georgia Secretary of State Brad Raffensperger to "find" 11,780 votes to reverse the state's results, constituted election interference.
Trump criticized Georgia prosecutors as a special grand jury is set to begin hearing testimony on Wednesday, June 1.
As many as 50 people could be subpoenaed by the special grand jury to give evidence to the criminal investigation, according to The New York Times. CNN reported that Raffensperger, Interim Deputy Secretary of State Gabe Sterling, and former Elections Director Chris Harvey are among those who have been ordered to give evidence.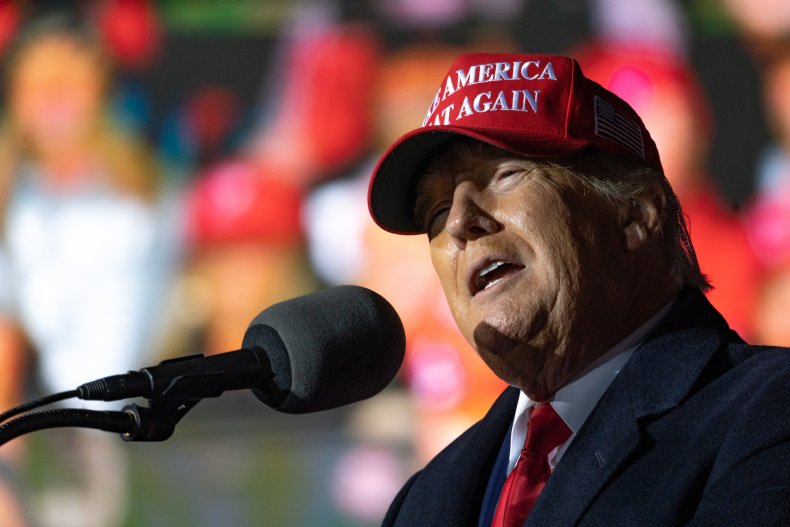 "The young, ambitious, Radical Left Democrat 'Prosecutor' from Georgia, who is presiding over one of the most Crime Ridden and Corrupt places in the USA, Fulton County, has put together a Grand Jury to investigate an absolutely 'PERFECT' phone call to the Secretary of State," Trump wrote on social media platform Truth Social.
"Many lawyers, from both sides, were knowingly on the call. I also assumed it was taped. I called to fight a Rigged & Stolen Election, and they go after me instead of the people that Rigged and Stole it. God Bless America!"
Trump went on to claim that violent crimes are "just about at an all time high" in Fulton County but Willis is spending "VAST amounts of time, energy, and money going after me for making a PERFECT phone call, instead of the criminals that are systematically destroying our Nation.
"Even The Washington Post was forced to do a major retraction on this ever continuing Witch Hunt!" Trump added in an apparent reference to a correction given by The Postin March 2021 which falsely claimed the former president told Georgia's lead elections investigator, Frances Watson, that she could become a "national hero," if she could "find the fraud" in the state's 2020 election results. In its correction, The Post reported that he instead told her that she would find "dishonesty" if she probed the ballots and that she had "the most important job in the country right now."
Willis said she was not limiting her investigation to the Trump phone call. She was also looking into the fake electors who tried to falsely declare Trump the winner of the state in 2020.
"There are so many issues that could have come about if somebody participates in submitting a document that they know is false," Willis told The New York Times. "You can't do that."
The special grand jury, who ultimately cannot issue an indictment but can issue subpoenas for evidence, will work for no longer than 12 months. The process to hear testimony is likely to last several weeks.
Newsweek has contacted the Fulton County District Attorney's Office for comment.