Republicans Tie Hunter Biden to Human Trafficking, Announce Probe
House Republicans announced an investigation into President Joe Biden's family, including his son Hunter Biden, on Thursday just a day after winning control of the lower chamber of Congress in the midterm elections.
Republican Representative James Comer, the ranking member of the House Committee on Oversight and Reform, said during a press conference that the probe looked at Hunter Biden's business dealings and Joe Biden's alleged involvement in them. At one point, he alleged that one Suspicious Activity Report (SAR), a type of document that banks have to file with the Treasury Department, "connects Hunter Biden and his business associates to international human trafficking, among other illegal activities."
"The SAR shows that Hunter Biden was conducting business with suspected human traffickers," Comer said. "The money gained through influence peddling was funneled to a suspected criminal enterprise, again, one linked to human trafficking."
Comer's probe announcement followed through on promises that House Republicans would launch an investigation into the Biden family if they won a majority in the midterms. Comer told Politico in April that the House Oversight Committee "is going to be all over Hunter Biden." On Tuesday, the House GOP managed to secure a slim majority by winning the 218th seat.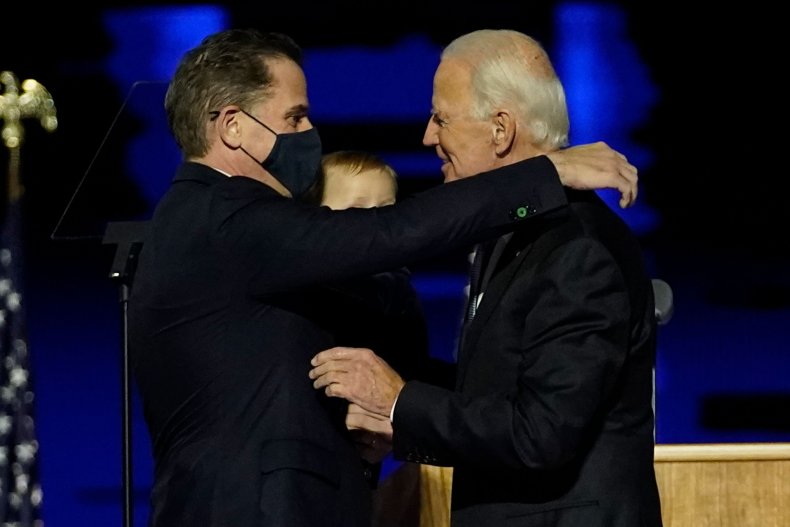 Comer said that the investigation was looking to determine if Joe Biden was "compromised" and directly involved with his son's business dealings.
"We have repeatedly called on the Biden Treasury Department to release additional financial documents to committee Republicans, but thus far Treasury has refused," he said. "We want to know what the Biden administration is trying to hide from the American people and why they're not being transparent."
Comer added that they had found "evidence" that Hunter Biden allegedly tried to evade the SARs, and that they would "continue to pursue all evidence and specifically the SARS and bank records in the new Congress."
"As part of our investigation, we have evidence that the finances, credit cards and bank accounts of Hunter and Joe Biden were commingled, if not shared," Comer said. "And on some accounts, at least red flags were raised by banks to the account owner or owners indicating suspicious or illegal activity."
Hunter Biden has been under federal investigation since 2018, with the probe concerning his financial and business activities in foreign countries during the time his father was vice president. Federal investigators have been looking at possible money laundering and violations of U.S. tax laws, as well as whether Hunter Biden may have acted as an unregistered foreign lobbying agent while working for foreign interests as a consultant and investor.
The House Republicans said that they had obtained evidence of crimes including money laundering, tax evasion, wire fraud and violation of the Foreign Agents Registration Act, according to Fox News.
"Instead of working with President Biden to address issues important to the American people, like lower costs, congressional Republicans' top priority is to go after President Biden with politically-motivated attacks chock full of long-debunked conspiracy theories," Ian Sams, a spokesman for the White House Counsel's office, said in a statement provided to Newsweek.
"President Biden is not going to let these political attacks distract him from focusing on Americans' priorities, and we hope congressional Republicans will join us in tackling them instead of wasting time and resources on political revenge."
Newsweek reached out to a lawyer for Hunter Biden for comment.
Update 11/16/22, 12:15 p.m. ET: This article was updated with additional information and background.