Republican's Book Where Anne Frank Muses About Jesus Deemed 'Antisemitic'
Critics are condemning a Texas GOP candidate's novel as "antisemitic," arguing that it reimagines Holocaust victim Anne Frank warming up to Jesus prior to getting killed by the Nazis. The author, though, rejects such claims and insists he stands with the Jewish people.
The offending book was written by congressional hopeful and evangelical pastor Johnny Teague, who's running for a 7th District seat in the Houston area, the Jewish Telegraphic Agency (JTA) reported on Monday. It comes at a time when many in the Lone Star State are pushing for banned books and antisemitic remarks have made headlines.
Titled The Lost Diary of Anne Frank, Teague's book provides a speculative account of Frank's last days in the Holocaust's concentration camps, per JTA. The way the novel tells it, the Jewish teen may have become curious about Jesus in the days leading up to her death.
The famed Holocaust victim in Teague's book doesn't plainly specify that she'd like to convert, but she does laud Christians in the camp, according to JTA. At one point, Frank says of a woman she encounters: "What I love about her is her faith in God and her faith in Jesus."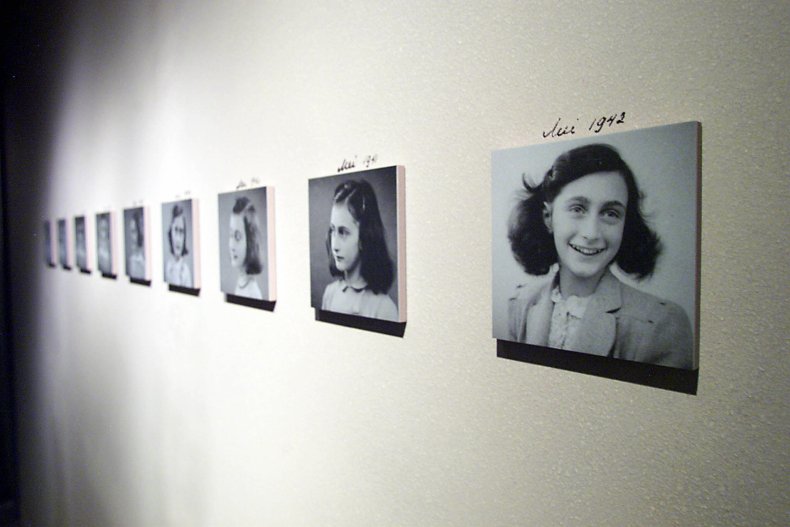 The GOP candidate's Frank diary was published in 2020 and "picks up where her original journal left off," its Amazon summary reads. Teague notes that he's studied at various Holocaust museums and spoken with survivors as part of his research.
Texas has led the nationwide charge in the push to ban certain books from school shelves. One such GOP lawmaker, state Representative Matt Krause, attracted fierce blowback last year for compiling a list of some 850 titles—largely touching on racism, reproductive rights and LGBTQ+ issues—that he claimed could make some kids uncomfortable.
More recently, rap megastar Kanye West has come under fire for making repeated antisemitic statements. A message was projected onto a football stadium in Jacksonville, Florida, over the weekend that read, "Kanye is right about the Jews."
Michael Phillips, senior research fellow at Southern Methodist University, told Newsweek that he reacted to the news of Teague's book with "sheer disgust and horror."
"There's a long history in Europe of Jewish people being forced to convert and being tortured to death if they couldn't convince the authorities of their conversion to Christianity," said Phillips, an expert on racism and antisemitism. "And metaphorically, this is the same thing. This goes back to the Spanish Inquisition before that."
Newsweek previously reported that reviewers scoffed at a passage in the book wherein Frank recites the Lord's prayer, instead of one more in line with her own Jewish faith. But Frank's life doesn't need to be revised for improvement, Phillips said.
"She stands as a person of dignity, nobility and love, without someone trying to write a new ending to her life story," Phillips said. "And to erase her identity when she was murdered for being Jewish is really appalling—just so immoral."
News of Teague's book has further outraged Jewish and progressive groups, as well as certain watchdogs.
Jewish Democratic Council of America CEO Halie Soifer wrote to Newsweek that the book "represents a form of antisemitism that has been normalized among the Republican Party.
"To allege that Anne Frank 'found Jesus' is deeply offensive for many reasons, not least of which is that she was murdered for exactly one reason—because she was Jewish," she continued. "Jewish Americans don't need an evangelical pastor telling us a story about Anne Frank abandoning Judaism any more than we need another Republican extremist in Congress."
Teague's take is also "incredibly disrespectful" to Frank's memory, plus the 6 million Jews who perished in the Holocaust, according to Wendy Via, co-founder, CEO and president of the Global Project Against Hate and Extremism.
"Intentional or not, taking up Anne Frank's story and extending it to the possibility that she contemplated converting to Christianity in the camps is antisemitic in itself," Via wrote to Newsweek. "It denies the heart of this brave young girl and her faith by suggesting that her life would be bettered by becoming a Christian. It is insensitive to the extreme to co-opt Anne's story, a global symbol of the Holocaust, and proselytize through it."
Teague, who's open about his Christian faith on his campaign's website, told Newsweek that he'd tried to paint an empathetic portrait of Frank. He noted that her father wanted to get her a copy of the New Testament in real life.
He also claimed that JTA's article was riddled with inaccuracies and that his book never suggests Frank embraced or converted to Christianity.
Writing to Newsweek by email, Teague said that when "the Jewish people were suffering so much torment and suffering, it is impossible to imagine them not contemplating in their turmoil the longing for a Messiah to rescue them." However, he later said by phone, he never stated that the Messiah was Jesus.
Teague maintains that he's "always been greatly grieved and touched by the Holocaust," adding that he's also spoken out against antisemitism.
"[The Jewish people are] the ones who gave us the teachings that we have and the morality we have and the commandments we have," he continued. "And the Bible is clear: If we bless Israel, we'll be blessed. If we curse them or mistreat them, we'll receive the same."