Republicans Split on Whether to Back or Condemn Trump Jr.'s Russia Meeting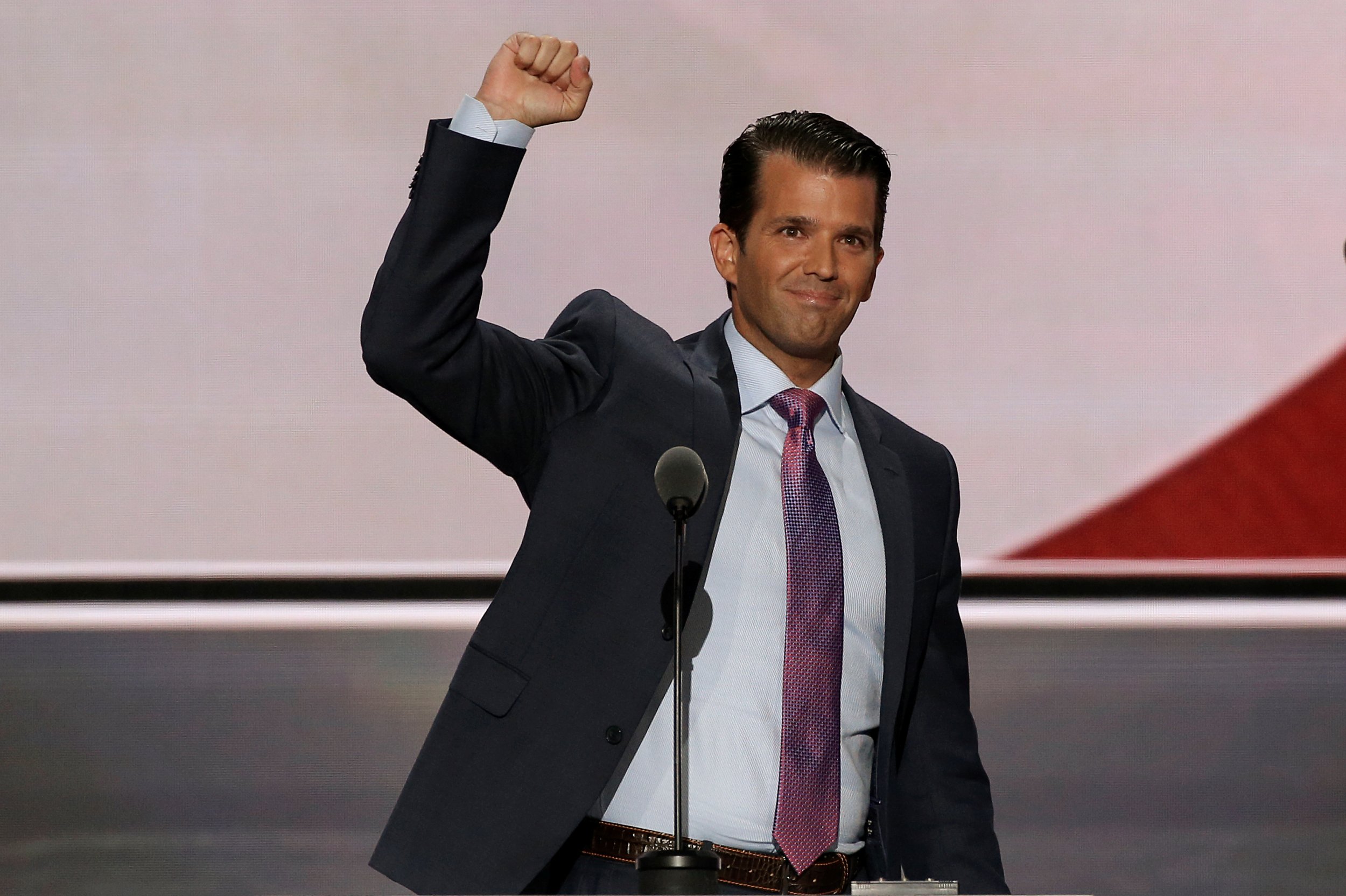 Republicans are both attacking and defending Donald Trump Jr.'s meeting with a Russian attorney he was told had damaging information about his father's election adversary, Hillary Clinton.
The implications of "the email thread are serious & disturbing," Michigan Congressman Justin Amash tweeted Tuesday. "We deserve answers, not an ever-changing story. If there's more, tell us now."
Amash wasn't the only Republican to lay into President Donald Trump's eldest son about his acceptance of the meeting in June 2016. Trump Jr. attended after being told the attorney's information on Clinton "is part of Russia and its government's support for Mr. Trump." Trump Jr. responded: "If it's what you say I love it." He has previously said the meeting was fruitless.
Republican Fox News commentator Charles Krauthammer summed up his thoughts with an analogy.
"If you get a call to go to a certain place in the middle of the night to pick up stolen goods and it turns out the stolen goods don't show up, but the cops show up, I think you're going to have a very weak story saying 'well, I got swindled here,'" Krauthammer said during an interview on Fox News.
Trump Jr. defended his actions Tuesday night during an interview on the Fox News politics show Hannity. "For me this was opposition research," Trump Jr. said, adding he thought the source—Kremlin-connected lawyer Natalia Veselnitskaya—would have "concrete evidence to all the stories I'd been hearing" about Clinton.
Read more: Does Trump Jr.'s Admission He Met Russian Lawyer Suggest the President and VP Lied?
Yet his admission comes amidst several ongoing investigations into whether the Trump campaign worked with Russia to interfere in the 2016 election. Russia's interference has been affirmed by President Donald Trump's top intelligence chiefs.
Krauthammer said he has been defending the Trumps against accusations against the campaign's involvement because "up until today there was no 'there' there. Well now there is a there.
"Now to say, as some are saying, 'oh collusion, we all do it in Israel, the Ukrainians are colluding.' Come on. That is pathetic," he said.
The fact is, Krauthammer said, "the Russians are an adversary, probably our most dangerous in the world, and when you get information that the Russians want to dig dirt on your opponent and give it to you and support you in your election you go to the FBI, you don't go to the meeting."
Other ardent Trump supporters are changing their tune, too. New York Congressman Lee Zeldin backed the Trump campaign nearly from the beginning. He dismissed the stories revealing Trump Jr.'s meeting with the Russian that ran in the New York Times over the weekend as "a big nothingburger."
But after the email revelations he flipped. "I voted for @POTUS last Nov. & want him & USA to succeed, but that meeting, given that email chain just released, is a big no-no," Zeldin tweeted.
Other Republicans who have never warmed to Trump—including Senators Lindsey Graham and John McCain, were even more critical. McCain called it a "classic scandal" and predicted "more shoes will drop."
Even Vice President Mike Pence distanced himself from the churning controversy, telling reporters through his press secretary that he was "not aware of" the meeting and won't comment on things that happened before he joined the Trump campaign.
When asked about the email chain, Republican Senate Majority leader Mitch McConnell—who is currently trying to shepherd the GOP's health care bill through Congress—said he has "a lot of confidence in the Senate Intelligence Committee" and their Russia investigation.
Senate Finance Committe Chairman Orrin Hatch of Utah played down the revelations about the meeting, stating that the whole story is "overblown.
"I know Donald Jr., he's a very bright young man, he's a very nice young man. I think one of the things that endears the president to me is how nice his children are, and they all love him," Hatch said. But when asked if he would have taken a similar meeting for his own campaign he said "no."
Nevertheless die-hard Trump supporters remain after the latest revelations. Tennessee Trump loyalist Congressman Scott DesJarlais dismissed the scandal around the meeting as part of a "great witch hunt" against the Trump administration.
The president shared DesJarlais sentiments early Wednesday. "This is the greatest Witch Hunt in political history," Trump tweeted. "Sad!"