Republicans Chances of Beating Mark Kelly With 3 Months to Election
Democratic Senator Mark Kelly of Arizona is set to maintain a grip on his U.S. Senate seat, polling and election models have determined, with a little more than three months until the anticipated midterm elections on November 8.
GOP candidate Blake Masters, a venture capitalist who received a coveted endorsement from former President Donald Trump, on Tuesday secured the Republican nomination in Arizona's primary elections, with the race being called by the Associated Press. He beat fellow GOP candidates Mark Brnovich, Arizona's current attorney general, and businessman Jim Lamon.
Though Masters prevailed in the primary, there are indications that he may face a tougher run in his bid to flip the Democratic-held seat.
The midterm elections in November will be key for both parties as Democrats seek to secure a Senate majority and widen their House majority, while Republicans look to flip seats that will allow them to obtain majorities in both chambers of Congress. The Senate is currently evenly divided between 50 Republicans and 48 Democrats along with two independents, both of whom caucus with Democrats. In the House of Representatives, Democrats lead Republicans in a 220-211 divide.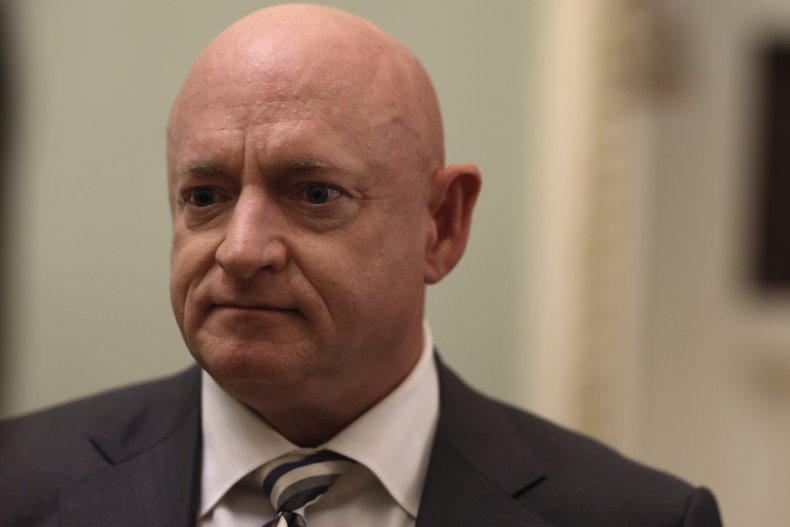 Incumbent Kelly, who ran unopposed in the Democratic Senate primary, was elected to his current seat in a special election in 2020. At the time, the retired NASA astronaut beat former GOP Senator Martha McSally, who had been appointed to serve out the remainder of the late Senator John McCain's term after his death in August 2018.
A model from FiveThirtyEight that simulates the general election 40,000 times found that Kelly came out on top more often, with 65 out of 100 outcomes showing a Kelly victory and the remaining 35 going to Masters. The model was updated on Tuesday, so the results are recent.
When Newsweek contacted Masters' campaign for comment, adviser Katie Miller said: "Is it the same 538 who gave President Trump a 28% chance he would win in 2016?," using an alternate way to refer to FiveThirtyEight.
In the 2016 presidential election, FiveThirtyEight gave Democratic nominee Hillary Clinton a 71.4 percent chance of winning and a considerably lower 28.6 percent chance to Trump, who ultimately won the race.
Race to the WH, a site launched during the 2020 election that provides polling and predictions for political races, forecasted that Kelly has a 78.7 percent chance of winning compared to Masters' 21.3 percent. The site also took an average of three polls conducted between mid-May and late July by Beacon Research, Change Research and BluePrintPoll, and found that Kelly was still leading, however, by a considerably lower percentage at 48.4 percent compared to Masters' 39.4 percent. The remaining 12.2 percent in the poll average were unsure.
Because some pollsters may differ in accuracy, methodology and political lean, FiveThirtyEight has given grades of B/C and B- to Beacon Research and Change Research, respectively. Newsweek was unable to find a rating for BluePrintPoll on FiveThirtyEight.
Newsweek reached out to Kelly's campaign for comment.
Update 08/03/22, 9:50 a.m. ET: This story was updated with a comment from Masters' campaign.