Republicans Declare War on Sex Education
Republican lawmakers in several states are seeking to impose dramatic restrictions on sex education amid an ongoing culture war over the teaching of topics like contraception and gender identity in public schools.
In Texas, a school superintendent in Fort Worth recently abandoned the district's proposed $2.6 million adoption of a sexual education curriculum after the state's Republican-led Legislature passed legislation in 2021 requiring a parent's written consent for their children to receive sex education.
In neighboring Oklahoma, Republican lawmakers filed numerous bills this session looking to impose or otherwise expand on existing restrictions of certain expressions of gender identity and blocking teachers from teaching subjects like sex ed, with some seeking to outlaw a state-funded sex education initiative started in 2020 to address high teen birth rates in various hotspots around the state.
And in Florida, Broward County school officials already find themselves modifying their sexual education curriculum as a direct result of 2022's so-called Don't Say Gay bill, duplicates of which have recently emerged in states like Wyoming and Indiana.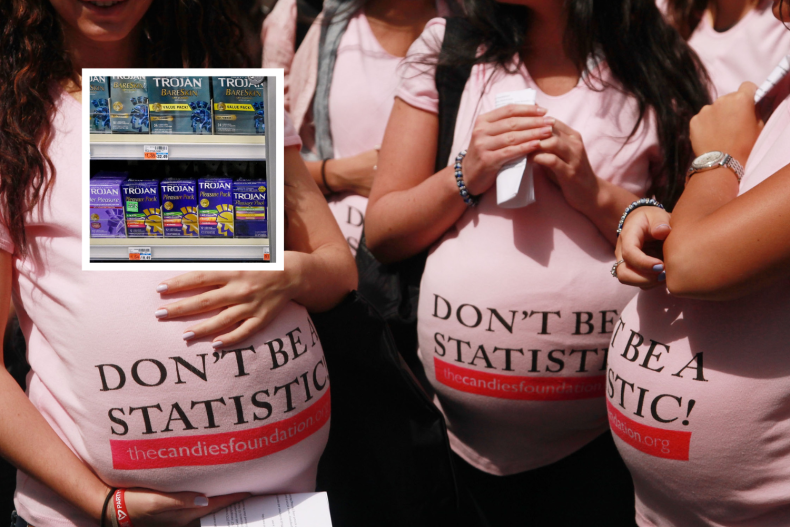 "Sex education in this country is governed by a patchwork of laws and policies at the state, district and even individual school level," Diana Thu-Thao Rhodes, vice president for policy, partnerships, and organizing with Advocates for Youth, a sex education advocacy organization based in Washington, D.C., told Newsweek.
"Sex ed isn't required everywhere, and from school to school, what students may learn can vary greatly. We're seeing a concerted effort in communities across the country by anti-sex-ed activists to limit or even remove comprehensive, effective sex education from schools and replace it with abstinence-only programs," Rhodes added.
For some, the move away from unvarnished education about human sexuality is a step in the wrong direction and, in fact, denies the reality of what is actually going on outside of the classroom.
A rolling survey by the Guttmacher Institute found that a majority of U.S. high school students—19 percent of freshman, 57 percent of seniors—reported having sexual intercourse before graduation.
Meanwhile, other research bears out that states engaged in sexual education often report better public health outcomes for those students.
A recent 20-year study by researchers at New York University found that funding for more comprehensive sex education actually led to an average county-level reduction in teen pregnancy rates of up to 7 percent over a five-year period.
A more comprehensive review published by the Journal of Adolescent Health last year found that expanded sex education—particularly around gender identity—also led to decreased rates of homophobic bullying in schools as well as reduced rates of sexual harassment and intimate partner violence.
"A review of the literature of the past three decades offers strong support for comprehensive sex education," researchers concluded. "The findings provide evidence for the effectiveness of approaches that address a broad definition of sexual health and well-being and take positive, affirming, and inclusive approaches to human sexuality, across multiple grade levels.
"Notably, they reinforce the guidance to public schools provided by the National Sex Education Standards and further strengthen the justification for their widespread adoption," researchers added.
The states moving away from sexual education, critics say, are actually the ones that likely need it most.
In Mississippi—which data from the Centers for Disease Control shows boasts the nation's highest teen pregnancy rates—state law requires abstinence-based sexual education be taught in schools, despite research showing such programs often have the opposite intended effect.
Others like Louisiana, the third-ranked state, ban the teaching of sexual education through the sixth grade, with longstanding difficulties introducing comprehensive legislation at the state level.
States like Oklahoma have experienced similar difficulties.
"Oklahoma's teen birth rate is the fourth-highest in the nation," Heather Duvall, executive director of Amplify Youth Health Collective, told Tulsa's KTUL-TV this week in response to the bills filed in the state. "We're concerned that people don't understand what effective sex education in schools is. It's not political. It should not be ideological. It's basic public health."
The issue for Republicans is largely about perception.
In Oklahoma, a 2020 event sponsored by the conservative Heritage Foundation sought to inform parents and educators on how to oppose what it described as "the sexualization of children" via "medically unsound comprehensive sexuality education and sexual orientation and gender identity curriculum on schools."
"The best-kept secret in every state is what's actually being taught to the children," Sharon Slater, president of Family Watch International, said in a policy brief for the conservative Oklahoma Council for Public Affairs at the time. "Because they know if parents find out, they're going to go crazy and they're going to try to stop it."
The best solution, proponents say, is a more comprehensive, federal solution through legislation like the Real Education and Access for Healthy Youth Act, which advocates say would eliminate federal funding streams for abstinence-until-marriage programs and establish five-year grants for comprehensive sex education programs that include honest education about LGBTQ peers—a challenging prospect under a Republican-controlled House of Representatives.
Proponents of the bill maintain it's a necessary solution. And backed by the science.
"Students need sex education so they have information that can help them protect their health and plan their futures," said Rhodes. "Sex ed not only provides potentially lifesaving health information, but it teaches many other invaluable lessons—healthy relationships, consent, positive communication, accepting and affirming others, and more.
"But social conservatives are intent on asserting their own ideology on all students, regardless of what other parents and students want. We need to turn this situation around and make sure every student has access to the information they need and deserve."